City of Liberty, Missouri, Protects Public and Bridges by Installing SafeLane® Surface Overlay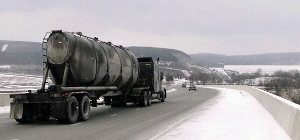 The City of Liberty, Mo., will install SafeLane® surface overlay on two of its bridges.
LIBERTY, Mo. – Oct. 15, 2013 – The City of Liberty, Mo., is taking early action to keep the public safe this coming winter season by installing an anti-icing pavement overlay on two of its bridges, hoping to reduce weather-related accidents when the snow starts to fall.
The pavement selected is SafeLane® surface overlay, Cargill Deicing Technology's patented, epoxy-aggregate pavement surface that provides anti-icing capability through naturally reactive deicer release. The aggregate in the overlay stores deicing and anti-icing chemicals, such as brine, and releases when needed, helping prevent slippery conditions such as frost, black ice and snow pack formations.
"We are pleased to have an option like SafeLane® surface overlay available to us. Not only will Liberty's citizens realize an improvement in safety, but they will also benefit from the increase in service life of the bridge structure itself," said Steven Hansen, Director of Public Works for the City of Liberty, Mo.. "The city maintenance crews were able to install the material as opposed to having outside contractors perform the work. I believe they did an excellent job, and the assistance we received from Cargill representatives Kent Watson and Anthony Hensley insured that the installation was done correctly."

Specially designed for roads and bridges to provide fast-acting anti-icing, increased surface friction, and greater infrastructure protection against corrosion, SafeLane® surface overlay has helped to reduce the number of weather-related accidents in addition to extending the life of bridge decks. The impermeable epoxy layer seals the pavement and creates a durable bond with the aggregate, which helps prevent water, chlorides and chemicals from permeating and damaging the infrastructure.
By pre-treating the surface with better-targeted applications the amount of chemicals used is greatly reduced, resulting in less run-off into surrounding vegetation and a more environmentally-friendly winter maintenance solution.
In addition to bridges, SafeLane® surface overlay is also effective for dangerous intersections and curves or stretches of roads, entrance and exit ramps, approaches to toll barriers and steep grades. The product is available for both vehicle (HDX) and pedestrian (CA-48) traffic.
###
More about Cargill Deicing Technology
Cargill Deicing Technology is committed to providing customers with deicing solutions that save lives, enhance commerce and reduce environmental impact. Located in North Olmsted, Ohio, Cargill Deicing Technology understands the science behind ice melters and is committed to sharing that knowledge with customers and using it to improve offerings. As well as SafeLane® surface overlay, Cargill Deicing Technology offers additional products to the winter maintenance industry, including the AccuBrine® automated brine maker, the AccuBatch® brine maker and ClearLane® enhanced deicer.
For more information, visit www.cargilldeicing.com.
About Cargill
Cargill provides food, agriculture, financial and industrial products and services to the world. Together with farmers, customers, governments and communities, we help people thrive by applying our insights and nearly 150 years of experience. We have 142,000 employees in 67 countries who are committed to feeding the world in a responsible way, reducing environmental impact and improving the communities where we live and work. For more information, visit Cargill.com and our News Center.