Cargill recognized by Indonesian government for its women's health program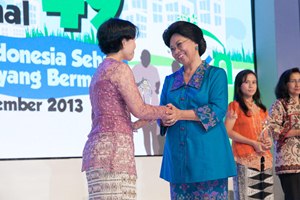 Dr. Merryah Duani (right) receiving the Mitra Bakti Husada (Dedicated Health Partner) award from Indonesia Minister of Health, Dr. Nafsiah Mboi, So.A, MPH.
Indonesia, December 9, 2013 –Cargill today announced that PT Hindoli, its palm oil plantation in South Sumatra, has been presented with the Mitra Bakti Husada (Dedicated Health Partner) award by the Indonesian Ministry of Health.
The Mitra Bakti Husada award, which recognizes a company's commitment towards the implementation of health programs for employees and local communities, was presented to Hindoli for its support of the United Nations Millennium Development Goals (MDGs), one of which is to improve maternal health. The award was presented by the Minister of Health, Dr. Nafsiah Mboi, Sp.A, MPH at Indonesia's prestigious annual National Health Day celebrations on November 15 at Jakarta International Expo, Kemayoran, Jakarta.
Indonesia's Ministry of Health also commended Hindoli for its extensive women's health program, which includes the implementation of reproductive health awareness activities, as well as providing a breastfeeding-friendly workplace.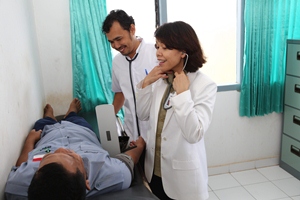 Resident doctor of PT Hindoli, Dr. Merryah Duani (right), tending to a patient.
"It is a great honor for Cargill to be recognized by the Indonesian government for our efforts in women's health," said Anthony Yeow, President Director, PT Hindoli. "We value each and every one of our employees, and their well-being is most important. Our focus on health and safety even extends to the local communities as we aim to improve the level of awareness of good healthcare practices among community members."
"The clearest demonstration of our long-standing commitment to our employees' welfare is the effort we put into providing the best possible healthcare to them," said Jennifer Lee, Human Resource Leader, Cargill Tropical Palm. "This extends to giving them knowledge on preventive care so they are healthier for the long term. Cargill continues to support the Indonesian government's efforts towards improving healthcare in rural areas and is proud to play our part in this very worthy cause."
The Mitra Bakti Husada awards are conferred to NGO's and private organizations that implement effective healthcare programs which promote general healthcare awareness. Cargill is one of six companies in Indonesia to receive the Mitra Bakti Husada accolade this year.
# # #

About Cargill
Cargill provides food, agriculture, financial and industrial products and services to the world. Together with farmers, customers, governments and communities, we help people thrive by applying our insights and nearly 150 years of experience. We have 142,000 employees in 67 countries who are committed to feeding the world in a responsible way, reducing environmental impact and improving the communities where we live and work. For more information, visit Cargill.com and our News Center.
About Cargill in Indonesia
Cargill began doing business in Indonesia in 1974 by establishing a feed mill in Bogor, West Java. Today, Cargill is headquartered in Jakarta and has over 11,000 employees. We have 26 locations with offices, manufacturing plants and facilities throughout the country. Business activities comprise animal nutrition, cocoa, grain and oilseeds, palm oil, copra and sugar. Cargill is a responsible corporate citizen of Indonesia, and its local programs foster responsible and sustainable development, help protect the environment, and nourish the people and possibilities that reside in local communities. For more information, visit www.cargill.co.id