Cargill invests to double capacity at Belgian chocolate facility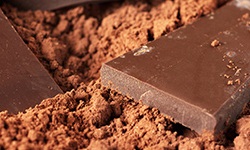 The additional capacity of Cargill's cocoa and chocolate business in Mouscron, Belgium, will meet growing demand from European customers for chocolate in confectionary, bakery, dairy and artisanal applications.
Mouscron, Belgium – 16 December 2013 – Cargill's cocoa and chocolate business broke ground today on a U.S. $48 million (€35 million) investment to double the capacity of its Belgian chocolate production facility in Mouscron over the next two years. The additional capacity will meet growing demand for chocolate in confectionary, bakery, dairy and artisanal applications from European customers.
Cargill's cocoa and chocolate business provides its customers with a large variety of Belgian chocolates, including custom made recipes and chocolate of sustainable origin. The investment will increase capacity of both liquid dark or milk chocolate and solid chocolate drops and chunks. The new facility will source raw materials like cocoa butter from Cargill's integrated cocoa processing plants in The Netherlands and in France.
"With this investment, Cargill demonstrates its commitment to providing our customers with a broader and more bespoke service and enlarged range of chocolate recipes to meet their individual needs," said Jos de Loor, president, Cargill Cocoa & Chocolate. "The extension of our state-of-the-art facility in Mouscron along with our food ingredient expertise will support our cocoa and chocolate growth strategy."
The new production lines will be operational in summer 2014 and will lead to the creation of approximately new 40 jobs over the next two years.
Cargill's cocoa and chocolate facilities in Belgium are part of its wider cocoa and chocolate network in Western Europe, Africa, Brazil, Canada and the United States. Cargill has been supplying quality cocoa and chocolate products to customers around the world in the chocolate, confectionery and food industry for over 50 years.
- ends -
Notes for editors:
About Cargill
Cargill provides food, agriculture, financial and industrial products and services to the world. Together with farmers, customers, governments and communities, we help people thrive by applying our insights and nearly 150 years of experience. We have 142,000 employees in 67 countries who are committed to feeding the world in a responsible way, reducing environmental impact and improving the communities where we live and work. For more information, visit Cargill.com and our News Center.
Cargill was established in Belgium via a grain importing office in Antwerp in 1953. We now have over 1000 employees in nine locations: Antwerp (two locations), Izegem, Gent, Herent, Vilvoorde, Mechelen, Mouscron and Villers-le-Bouillet. The company has a number of different and diverse operations in the country, including the production of food ingredients and the processing, distribution and trading of a variety of agricultural products. Cargill's European Headquarters for its food businesses and Cargill's R&D Centre Europe, Cargill's primary technical centre serving Europe, the Middle East and Africa are also located in Belgium.
About Cargill Cocoa & Chocolate:
Cargill Cocoa & Chocolate offers the food industry a wide range of both standard and customised cocoa and chocolate ingredients to be used in delicious bakery, confectionery, and dairy applications all over the world. Our product range includes high quality Gerkens® cocoa powders, chocolate including Wilbur®, Peter's® and Veliche®, coatings, fillings, cocoa liquors and cocoa butters. With years of experience in technical food expertise Cargill supports its customers in new recipes and new product development.
Our facilities in Belgium, Brazil, Canada, Côte d'Ivoire, France, Germany, Ghana, the Netherlands, UK and the USA are fully dedicated to produce in accordance with the highest food safety standards.
To secure a good quality and sustainable supply of cocoa beans we have our own cocoa bean sourcing operations for buying, handling and/or exporting of cocoa beans in Brazil, Cameroon, Côte d'Ivoire, Indonesia and Vietnam. Presence in all the leading producing countries allows Cargill to oversee the supply chain from beans at origin to cocoa and chocolate products on our customers' doorstep. In addition, extensive market research and analysis proves to be a source of valuable information to our customers.