Cargill donates a total of US $500,000 for Yolanda relief & rehabilitation efforts
Employees respond to disaster by volunteering at affected area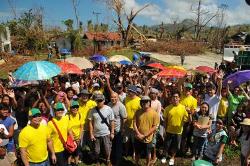 Apart from cash donations, Cargill and its employees have also been actively participating in various on-site volunteer projects. The above shows Cargill employee volunteers (center, in yellow shirts) during a relief goods distribution in Capiz, Leyte. Philippines.
MANILA, Philippines – 16 December, 2013: Cargill, an international producer and marketer of food, agricultural, financial and industrial products and services, continues its efforts to aid the survivors of Super Typhoon "Yolanda" (international name: "Haiyan") by giving an additional US $120,000 (PHP 5.2 million) to support the immediate relief and rehabilitation operations in affected areas. This takes the total amount of donation to US $500,000.
Cargill responded immediately when the company learnt of the impact of the Typhoon on the lives of the people in The Philippines by giving its first donation of US $100, 000. In the week following, its employees actively participated in various on-site volunteer projects, such as the re-packing and distribution of relief goods in Capiz and Ormoc City in Leyte and, most recently, Bantayan Islands in Cebu.
Partnering with the Philippine Business for Social Progress (PBSP), the largest corporate-led, non-profit social development foundation in the Philippines, the cash donation will be used to deliver life-saving and early recovery assistance, including food and comfort packs that adhere to the internationally-accepted SPHERE standard in disaster response. The funds will also be used to distribute shelter repair kits which are intended to help mend survivors' damaged houses.
"We deeply sympathize with those who have been affected by the recent disaster and remain committed to standing by them by ensuring that their basic needs are fulfilled," said Philip Soliven, Cargill's Philippines -resident, who shared that the company also is developing long-term rehabilitation and reconstruction programs to create livelihood opportunities for the affected communities.
To date, the company has raised more than US5$00,000 (PHP 21.5 million) for its Yolanda relief efforts, including a US $130,000 (PHP 5.6 million) contribution to the United Nations World Food Programme's (WFP) emergency response plan.
"Giving back to the impacted communities is reflective of how we conduct our business at Cargill and how we measure our success," adds Soliven.
Founded in 1865, Cargill entered the Philippine market in 1947. It established its first office in the country—which was also its first in Asia—in 1948. Presently headquartered in Makati City, Cargill Philippines' local operations include animal nutrition, grain and oilseed origination, processing and marketing, and food and beverage ingredients.
About Cargill
Cargill provides food, agriculture, financial and industrial products and services to the world. Together with farmers, customers, governments and communities, we help people thrive by applying our insights and nearly 150 years of experience. We have 142,000 employees in 67 countries who are committed to feeding the world in a responsible way, reducing environmental impact and improving the communities where we live and work. For more information, visit Cargill.com and our News Center.