Bridging the digital divide in Ghana's cocoa growing communities
Thinking 'inside' the box – first Zubabox is installed in local cocoa community in Ghana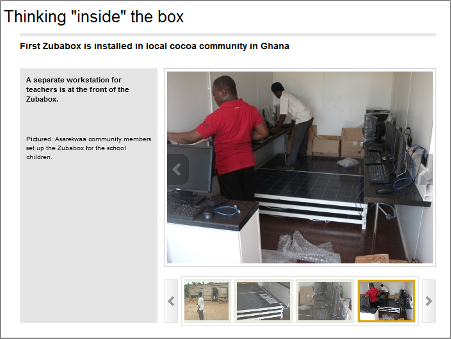 View the Zubabox slideshow to see the Zubabox journey from Tema, Ghana, to the Asarekwaa community.
25th March 2014 - In the rural and fairly isolated cocoa growing communities of Ghana, electricity is limited and the cost of internet access highly inflated compared to incomes. This digital divide limits the opportunities for rural communities to acquire crucial information and communications technology (ICT) skills and access the host of information available in the digital world.
So what do you do when you have an empty container, a number of used computers and a solar panel? You think 'inside the box' and call on Computer Aid International to send a Zubabox – a solar powered, all-in-one, internet-enabled IT classroom, equipped with 11 reconditioned computers.
Today, with the support of Cargill and Maersk Line, the Asarekwaa community and Asarekwaa Al Furqn Islamic School in Ghana are celebrating the opening of their very own Zubabox – the first of its kind in Ghana. Zuba is the word for Sun in Nyanja - a language spoken in Zimbabwe, Malawi and Southern Zambia
The Zubabox is made from a converted shipping container, shipped ready-to-use and operates without the need for electricity connections and internet wiring. This ICT solution was designed by Computer Aid International to support rural communities in Africa.
The school, which has over 390 children and only 11 teachers, is located approximately 150km from the port of Tema.
Speaking at the ceremony, Mr Alfred Fuah, ICT Teacher at the School said: "We are absolutely thrilled that the Zubabox is being placed in the Asarekwaa community and at our school. ICT is an important part of the school's curriculum, which until now has largely been taught as theory. This computer room will allow our students to put theory into practice, and enable our teachers to research new and exciting lessons. We would like to thank Computer Aid International, Cargill and Maersk Line for helping to link us with the wider world through technology."
Initially, the Zubabox will be used by the school but there are already plans to open this up to the broader cocoa community particularly farmers.
"The ZubaBox concept was designed to help rural communities access the internet and IT equipment which can have a huge impact on poverty reduction. Learning IT skills at school means children will be able to gain better paid employment in the future. As we have seen in other locations, extending the box to local farmers can help them access local weather forecasts thereby allowing them to adjust the planting and harvesting times of their crops which in turn leads to increased agricultural productivity and food security," says Keith Sonnet, Executive Chair for Computer Aid International.
Kojo Amoo-Gottfried, Country Manager for Cargill Ghana said: "We are really excited to be a part of this project and provide the school with what is in effect an all-in-one computer library. Research shows that access to computers and the internet can improve education and learning by 40-60%. In Ghana, we work with cocoa farming communities, as part of the Cargill Cocoa Promise to enhance quality of life and tackle issues such as education, health care and gender specific skills. While Ghana's literacy rates are relatively high, standards of education in rural Ghana are inconsistent. Technology can help rural communities to be better connected and help equip children for the future."
Speaking on behalf of Maersk Line, Syed Naved Uz Zafar, Managing Director of Maersk Line Ghana said: "To Maersk Line, Africa is one of our key growth markets and we have proudly served the continent for decades, enabling African producers and buyers to link more effectively to regional and global markets. The Zubabox is a great example of how we can work with our customers, NGOs and local communities to further empower rural communities in Sub-Saharan Africa to partake more actively and assertively in the global economy."
Following the ceremony, the school and the community will start to learn to use and care for the Zubabox.
[Photographs available on request]
Notes for Editors
About Cargill
Cargill provides food, agriculture, financial and industrial products and services to the world. Together with farmers, customers, governments and communities, we help people thrive by applying our insights and nearly 150 years of experience. We have 142,000 employees in 67 countries that are committed to feeding the world in a responsible way, reducing environmental impact and improving the communities where we live and work. For more information, visit Cargill.com.
Cargill has been sourcing cocoa from Ghana for over 40 years and constructed a state of the art cocoa processing facility which has been operational since 2008. Cargill already works with over 50 Ghanaian cocoa farmers in the Asarekwaa region as part of our Cargill Cocoa Promise focusing on providing farmer training, community support and farm development. Under the Cargill Cocoa Promise, Cargill invests and provides financing, training and support to not only secure a sustainable cocoa supply chain but also helps to address broader issues facing cocoa producing communities.
About Maersk Line
Maersk Line is the container shipping leg of the Maersk Group. At Maersk Line we serve our global customers through 325 offices in more than 125 countries. Every day our 7000 seafarers and 25.000 land-based employees help customers optimise their supply chains by delivering second-to-none products and services, and making it possible for commodities to reach new markets. Maersk Line is known to be amongst the most reliable carriers in the world, epitomising our devotion to create simple and reliable solutions so our customers can fulfil promises to their customers. For more information, visit maerskline.com