Cargill's Friona beef plant marks 6 million worker hours without a lost time injury
Workplace safety sewn into cultural fabric for 2,000+ people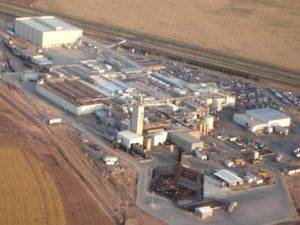 FRIONA, Texas — It was June 2013 when the last lost time injury occurred at Cargill's large beef processing plant here, which employs 2,000-plus people and produces nearly 900,000 tons of beef annually. Established in 1898 by a Kansas City land development company, Friona was little more than a stop on the fledgling Pecos Valley & Northern Texas Railway predecessor of Santa Fe Railway, now BNSF.
Entering the 20th century, it was obvious that beef would become important to this Texas Panhandle town. By 1968, beef's importance to the region led to construction of the current plant, which harvests approximately 4,500 head of cattle daily.
With more than 900,000 square feet under roof, and myriad activities required to harvest and process beef and its by-products, employee safety is critical and lost-time injury potential is ever-present. Yet, through a concerted effort by all employees to embrace Friona's "safety culture," no lost time injury has occurred at the Friona plant for nearly a year-and-a-half, a remarkable achievement by any measure.
"We expect everyone who works at this plant to return home to their families in the same condition as when they left for work that day," explained Matt Leu, the plant's general manager. "Creating and maintaining a 'safety culture' requires that each person who works here to look for opportunities to continuously improve safety and work to minimize the potential for lost time injuries. That requires focus in an environment where there's a lot of machinery with moving parts, heavy beef carcasses moving through the facility and many activities requiring precise motion by people using knives, saws, hooks and other equipment required to do their job. We care about each other, and are vigilant to ensure people do not get hurt."
Friona is one of four Cargill U.S. fed beef cattle processing plants in the U.S., the others located in Colorado, Kansas and Nebraska. Beef from Friona is shipped throughout the U.S. and around the world. Friona's importance to Cargill is underscored by $4 million in capital investment at the facility in 2014, in addition to significant upgrades to the plant's fresh water storage and wastewater treatment system.
"To meet the needs of our customers and consumers who purchase beef from them, we understand that we must be competitive regarding our products and service, and to do that we need to have an engaged team working at the plant," stated Leu. "Our team is extremely focused and engaged in all aspects associated with the success of this facility, and safety is a major piece in that puzzle. The work performed here can be demanding, yet the pride with which everyone approaches their role is inspiring, and has helped get us to a high level of safety awareness. We're at a good place, but won't rest on our accomplishments. While we are very proud of the safety achievements we have earned, we understand that our safety journey continues. As part of that journey, we are excited to set our sights on the horizon, so we may implement programs that will yield even greater future results for the Friona team."
# # #
About Cargill
Cargill provides food, agriculture, financial and industrial products and services to the world. Together with farmers, customers, governments and communities, we help people thrive by applying our insights and nearly 150 years of experience. We have 145,000 employees in 67 countries who are committed to feeding the world in a responsible way, reducing environmental impact and improving the communities where we live and work. For more information, visit Cargill.com and our News Center.