A welcoming workplace for LGBT employees
For the 14th consecutive year, Cargill scored 100 percent on the Human Rights Campaign's Corporate Equality Index. But it's the culture behind the score that makes a difference.
January 29, 2018
When Chris Garland interviewed for a job at Cargill during Minneapolis Pride Week in June, one of the first things he noticed was the rainbow flag flying outside the corporate headquarters building. "When you interview at a new company, these are the things you look for," he said. "That flag told me this is a safe place for me."
As an outward sign of a welcoming mindset, the rainbow flag, long a symbol of LGBT (lesbian, gay, bisexual and transgender) pride, is one small gesture. But Cargill's commitment to its current and prospective employees of diverse sexual orientations and gender identities goes much further.
That was illustrated recently, when the company received a 100 percent score on the Human Rights Campaign's 2018 Corporate Equality Index, which quantifies how well employers do on the inclusion of LGBT employees. The index includes indicators such as non-discrimination policies, benefits for LGBT employees and their families, and public commitments to LGBT equality. A record-breaking 609 companies received top honors. For Cargill, it was the 14th 100 percent score in a row.
But while the achievement is valued public recognition, it doesn't tell the whole story, said Garland, who serves as vice president of business communications at Cargill's Corporate Affairs department. "The HRC score is just one measure. You need a culture that supports inclusion. To give your best to the company, you have to feel welcome."
How is Cargill doing that? Read on to find out.
The view from HQ: "Differences should be embraced and encouraged"
James Klein, an IT business relationship manager for Cargill's starches and sweeteners business, is the head of Cargill's global Pride Network, a group for LGBT employees and their supporters. To members of the LGBT community thinking about taking a job at Cargill, the HRC score matters, he said.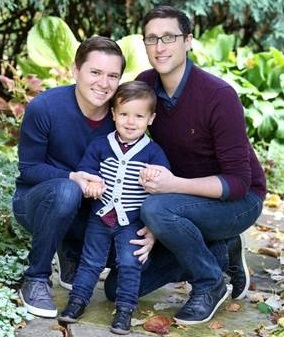 James Klein (left) with his son and husband: "Frequently, people will say, 'He's such a cute kid, he must look like your wife.'"
"But probably the greater piece is that Cargill is actually working to address the needs of LGBT employees and making sure that we have the policies, procedures and practices in place to create a culture of inclusion."
Klein lauded the four weeks of adoption leave that Cargill introduced last year as an example. "That is obviously a solid step forward for gay couples, for whom adoption or surrogacy is the only way to grow their families."
"Another piece of it is the Global Anti-Discrimination Policy the company just launched," he said. "That's a commitment that shows all employees and customers should be treated equally, and with dignity and respect. It's not only good for LGBT people, but also for people of all colors, religions, ages and physical abilities."
But not everything is about formal policies and regulations, explained Klein, who has a picture of his two year-old son on his laptop. "Frequently, people will see it and say, 'He's such a cute kid, he must look like your wife.' But I have a husband and our kid came into our family though adoption."
What's an innocent question to most people, especially when it's meant as a compliment, can create an uncomfortable situation for LGBT employees. That's why one of the next steps toward full inclusion can be the use of inclusive language, explained Klein. That doesn't mean that people should be fearful of saying the wrong thing and offending their co-workers, but it does require an openness to the fact that everybody's relationships and family arrangements are not the same.
"It's always nice when I hear people use language like, 'Are you married?', 'Do you have a family?' or 'Do you have a significant other?' Those are great ways to ask without making assumptions about somebody's sexual orientation or their family situation," he said. "Differences should be embraced and encouraged. That will help us be a better, more diverse, more forward-looking company."
The view from the plant floor: "Nobody treated me any differently"
Megan Seelye has been with Cargill for a year. She is an operations supervisor at Cargill's plant in Lake Odessa, Michigan, which makes egg products. On her first day at Cargill, she had some trepidation. "Whenever you start a new job, it's always like you have to come out all over again," she said.
But what she didn't know was that the plant has an LGBT Ally program which distributes "Ally" stickers and magnets to employees who wish to make their support for LGBT colleagues known. For Seelye, seeing those stickers on safety helmets and name badges on day one gave her a sense of relief.
"Before I even came out to anyone, it was really impressive that there was this culture of tolerance here," she said. " It meant a lot to me to know that people who aren't gay or lesbian would make it known that they'd be accepting of me."
Like James Klein, Seelye is an advocate for the use of inclusive language. "I've lived in a heterosexual world so long that it doesn't really bother me when people assume I have a husband, but it is comforting when they do use inclusive words. It means you can keep the conversation going without having to correct them."
Seelye says she has continued to feel comfortable with her new colleagues.
"I took my wife to the first holiday party after I had only worked here for two months. You could tell that some people were surprised, but when I came back to work on Monday, nobody treated me any differently. I think there's definitely still room to improve, but out of all the companies I've worked for, this one is leaps and bounds ahead."
The view from Japan: "People's hearts are big enough to understand."
Cargill has Pride Networks all over the world. One of its newest programs is in Tokyo, Japan.
Yui Sato, who coordinates sugar distribution for Cargill's food ingredients and bio-industrial enterprise, helped launch the Japan Pride Network in October of 2016, and just recently started an LGBT Ally program.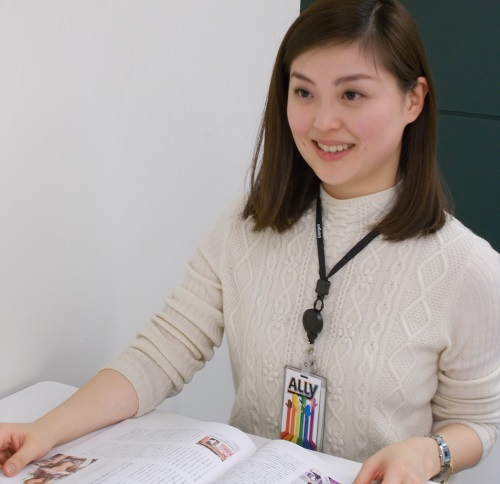 Yui Sato: Wearing the Ally badge with Pride.
As an ally herself, she felt it was important to let everyone know they could be themselves at work.

"We made a poster with the faces of all our ally members on it, so we can be visible and show that we are welcoming to our LGBT colleagues," she said. "They don't have to come out, but if they want to, we need to have an environment where they are safe. That's why we always wear our Ally badges."
To educate her co-workers, Sato and her group held an office information session about the Pride Network and what they were trying to accomplish through the ally program.
"After the information session, I noticed that most of our employees don't care what somebody's sexual orientation is," she recounted. "You notice that most people have hearts that are big enough to understand this topic. In the end, we want people to understand that acceptance is good for all of us."