His Cargill career? 47 years (and counting). Meet Lyle.
Read Time: 3 minutes
June 28, 2023
Monday, March 15, 1976, was an important day for Lyle Kaut.
He was 19 years old, newly married to his high school sweetheart, and living in Memphis, Tennessee — when he got a job as a starch operator at Cargill.
It was the first day of what would become a long, fruitful tenure at the company — a 47-year career spanning numerous U.S. plants, various positions and professional (and personal) milestones. Lyle has seen a lot during his nearly five decades at Cargill: from the company expanding in areas like animal nutrition and health to cultural shifts in plants to a global pandemic. 
But much remains the same, the construction and demo leader at our Cedar Rapids, Iowa, plant, says, including Cargill's commitment to our people and to doing the right thing.  
These are Lyle's reflections through nearly half a century at Cargill.
Q: Take me back to the beginning, when you were a young man starting your career. What led you to Cargill?
A: My wife, Kelly, and I got married after she graduated high school. We didn't have any money, and we were living in a bad-shaped trailer house in Iowa.
Kelly wrote a convincing letter to a senator from Arkansas, asking for a Federal Housing Administration loan, which helped us get a house  600 miles away in Memphis, Tennessee.
"
"
My uncle and cousin worked for Cargill in Cedar Rapids, Iowa, and they encouraged me to apply at the newly built corn plant in Memphis. I ended up interviewing at the corn plant and my wife interviewed to work at a bean plant. I was there until 1984 when we moved to Iowa.  
Q: What are your proudest accomplishments during your career — both professionally and personally?
A: My proudest personal accomplishment? Having twins five years after we moved to Memphis, and our youngest son, Brian, two years later. I'm so proud of my wife Kelly — we've been married for 47 years.
Reflecting on my time at Cargill … I remember a flood in Eddyville that ended up changing how we thought of safety in the early '90s. We had to get rid of all the water and sewage out of the town, working with state officials and the federal highway administration. 
We made a big effort to change and improve safety. After that, we started the first safety committee in Eddyville.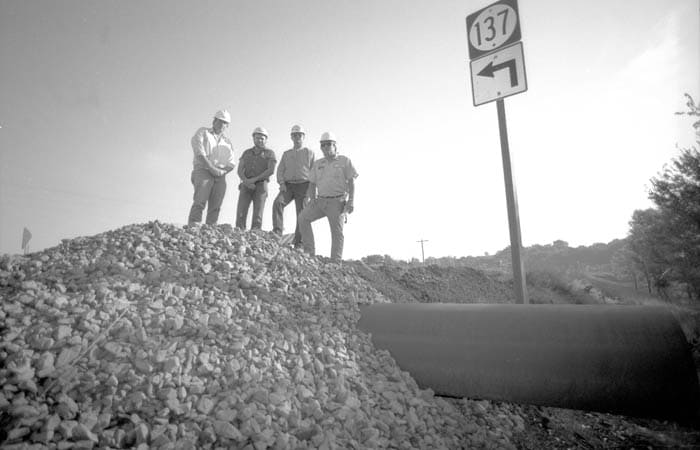 Plant engineers helped install a culvert under Highway 137 in Eddyville, Iowa, to reopen the road after it had been closed by flooding. This is the main route in and out of the plant.
Q: You've met many people over the course of your career. If you had to pick one mentor that has had the biggest impact on you, who would that be? 
A: Christy Venne, who is the first full-time dedicated leader for Cargill's Global Women in Operations initiative, was there for me through tough times. Supporting me through cancer, my career — you name it.
I've had some incredible managers over the years, some pushing me to do night classes since I didn't go to college. I'm glad they challenged me to become more analytical.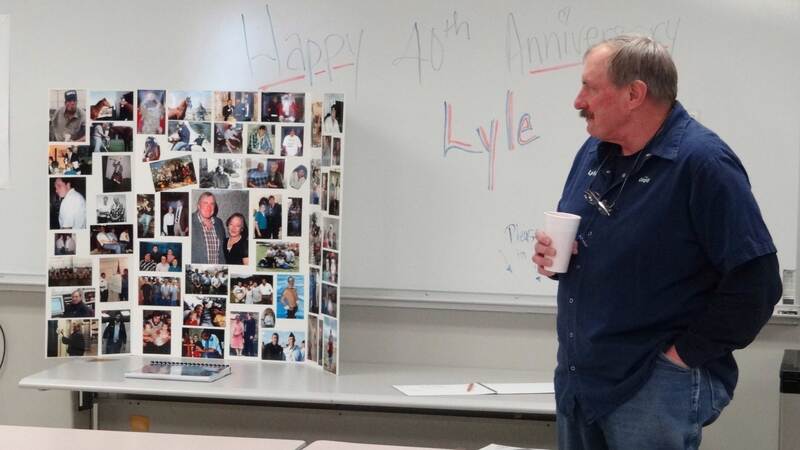 Lyle celebrating his 40th work anniversary in 2016.
Q: What are your plans for the future? What are you looking forward to next? 
A: I hope to keep working for a few years! I enjoy what I do.
More stories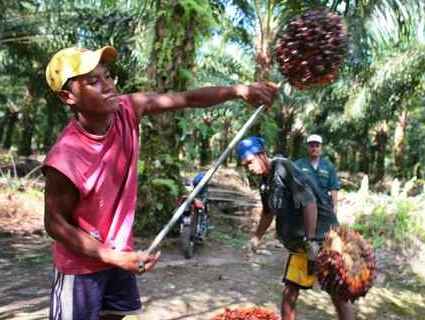 My grandfather's legacy: Why I choose to champion human rights, every day
Cargill's refreshed human rights policy is helping us address the most pressing human rights issues facing our operations and supply chains.
[]/[]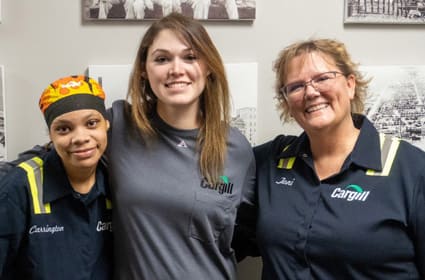 How Cargill empowers women in our supply chains, workplaces and communities
It includes supporting women's economic empowerment, purchasing from women-owned businesses and advancing women in operations
[]/[]
Her first management role? At age 20 during a deployment to Kuwait. Meet Cargill veteran Liz Lindskoog.
Liz is an IT product manager by day and a U.S. Army Reserve member by night.
[]/[]