How Cargill empowers women in our supply chains, workplaces and communities
Read Time: 4 minutes
March 08, 2023
When Elisa "Ely" Alvarado tells people she owns a quick-service restaurant in Honduras, sometimes they simply don't believe her.
In fact, she used to hesitate to tell her own customers.
"I would keep quiet and say, "Yes, it's my husband's business," and let it go," Ely says. "But not anymore. I shouldn't be ashamed to tell them I am the owner."
Ely's confidence grew after she learned more entrepreneurial skills — from writing a business plan to balancing a budget — through a program with Cargill and global organization CARE. It is one of many ways Cargill is working to empower women economically in communities around the globe.
It matters in Honduras, where women are key agents for achieving economic, environmental and social change. In many countries, especially in rural communities, women lack the resources — like economic tools, productive assets, access to markets and proper training — to reach their full potential.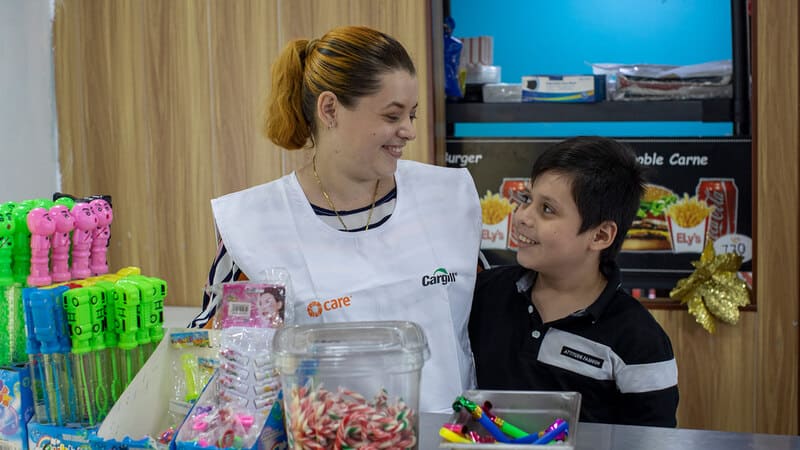 Ely poses with her 10-year-old son who is selling toys at Ely's storefront in Honduras.
Ely started her business, "Ely's," with only 1,000 lempiras — or about $40 — in her pocket seven years ago. Today, she is expanding into new locations, creating new fast-food offerings like hamburgers, and investing in food trucks — all with help from Cargill and CARE loan options through rural savings banks initiatives.
The loan options have helped support 300 women micro-entrepreneurs who sell food. With rural savings banks supporting women like Ely, these loans help keep businesses open and have led to more than 20 new woman-owned enterprises in Honduras.
Ely is also passing the torch to her 10-year-old son, Delmer Josue, by teaching him how to sell other goodies at her storefront.
"
Thanks to the trainings CARE gave us, I understood that I must speak up — that I shouldn't be ashamed to tell them I am the owner."
Inclusive uniforms from an inclusive supplier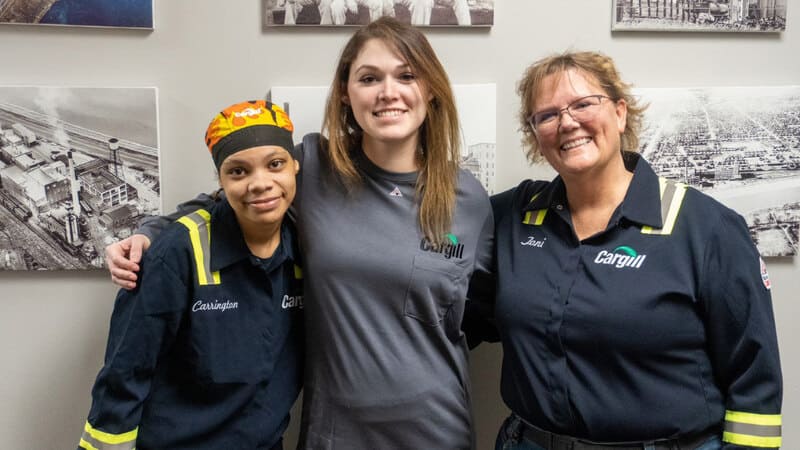 Cargill employees pose in custom-made uniforms at one of Cargill's Indiana plants in the U.S. Cargill purchases the uniforms from a woman-owned business, Hiviz.
Lisa Hutson knows that what you wear to work matters. That belief is behind her clothing company, Hiviz, which supplies inclusive uniforms for operations employees.
Traditionally, operations uniforms have not always accounted for people with varying body types — especially for women, Lisa says. She's witnessed sleeves rolling off fingertips, engineers needing pockets to hold tools, pregnant women unable to fit in their attire, and uniforms that don't accommodate extended sizes.
That is why Hiviz started creating more inclusive uniforms for women in plant facilities in 2022 — including at some of Cargill's U.S. facilities. Today, the company also provides maternity and other customized uniforms.
"
Everyone deserves to feel comfortable and confident in their clothing. It's life changing when people look and feel good about what they're putting on."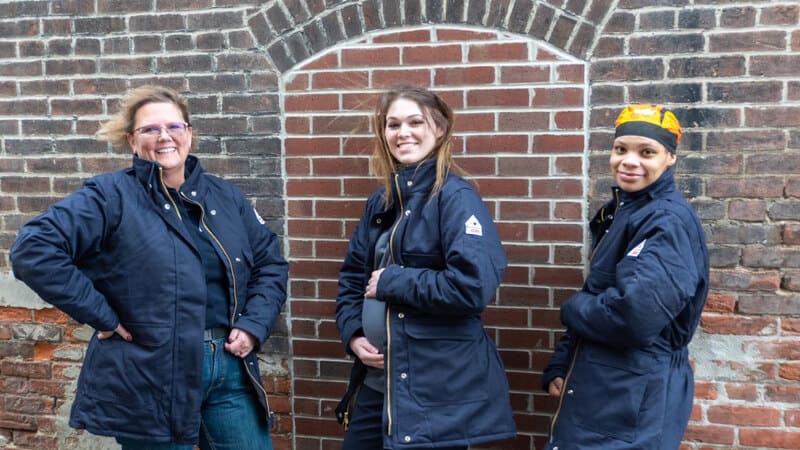 Hiviz makes inclusive uniforms for men and women. Pictured in the middle is one Cargill colleague sporting Hiviz's maternity wear.
Purchasing from a woman-owned business like Hiviz not only helps us improve inclusion inside our workplace, but also advances our supplier diversity goals, says Lisa Svendgard, category manager on Cargill's strategic sourcing team who oversees sourcing from Hiviz. At Cargill, we strive to spend $1 billion with minority and women-owned businesses around the world.
"In order to have more women in operations and senior roles, they need to feel comfortable and have a good work experience, which includes inclusive facilities and proper uniforms," Lisa Svendgard says.
"
Women-run companies like Hiviz are helping us make an impact in our plants."
Did you know?
Cargill signed on as a founding member of Paradigm for Parity in 2015, the same year we made our global commitment to gender parity.

Cargill is a CEO signatory to the United Nations Women's Empowerment Principles underlying our commitment to advance gender equality in the workplace, marketplace and the community.

In 2022, Forbes named Cargill as one of "America's Best Employers for Women," ranking No. 27 out of 400 U.S. companies.

The Cargill Women's Network, one of nine employee-led business resource groups, empowers women at Cargill by building advocacy and sponsorship of women globally, while also advancing Cargill's gender parity aspirations.
Paving the way for women in operations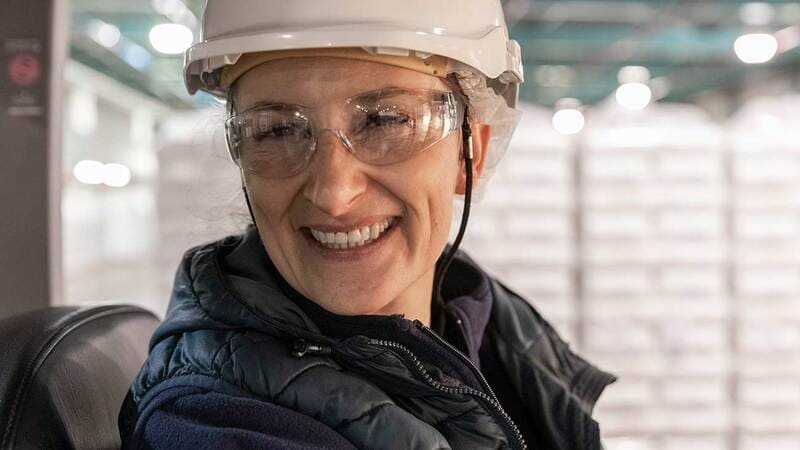 Cargill's Global Women in Operations initiative aims to create inclusive and supportive environments for women in our facilities around the globe.
Christy Venne knows what it's like to be "the first."
During her 24 years at Cargill, Christy became the first female plant manager at Cargill's largest corn milling facility in Brazil. She was the first woman managing our starches and sweeteners plant in Cedar Rapids, Iowa. And the first female plant manager at our bioindustrial facility in Blair, Nebraska.
It's emblematic of a larger issue: Women in the U.S., for example, make up 47% of the workforce, but only 30% work in manufacturing, according to the Census Bureau. And only one out of four management positions are held by women, according to the data.
Today, Christy has a new "first" — the first full-time dedicated leader for Cargill's Global Women in Operations initiative, which aims to create inclusive and supportive environments for women in our facilities around the globe. Christy works with Cargill colleagues every day to help advance our commitment to gender parity, increase diversity, build inclusive facilities and support women's career progression.
"
We're removing legacy barriers that should have never existed in the first place to level the playing field for all."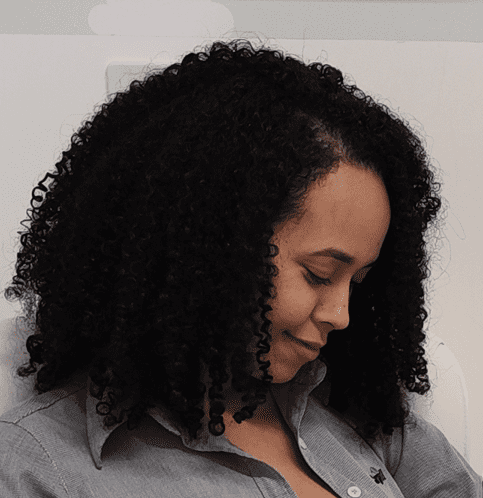 Inara uses the nursery room available on site while she returns to work after maternity leave. Building inclusive facilities is one way Cargill empowers women in operations. It includes women like Inara da Silva, an administrative assistant in Brazil. When Inara's maternity leave came to an end in 2022, she felt "real concern" over how she would continue breastfeeding while working.
That was, until she returned and was given a breast milk storage kit and was introduced to a new breastfeeding room — "a cozy, reserved space just to myself." So far, over two dozen facilities have these types of rooms.
"I am very grateful to Cargill for providing this support," Inara says, "and helping me continue being a source of food for my son."
Learn more about Cargill's commitment to diversity, equity and inclusion.

The challenges to our food system are growing more complex, urgent and interconnected. These global issues call for big thinking and bold action. For us to reimagine what's possible for food and agriculture. From Cargill's seat at the heart of the food supply chain, we are making the connections that bring new possibilities to our food system.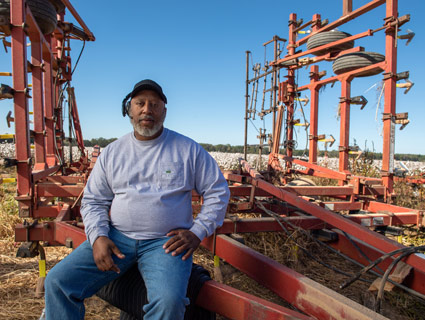 How Cargill connects Black farmers to new possibilities in agriculture
Cargill's Black Farmer Equity Initiative addresses decades of racial inequity for Black growers, ranchers and producers.
[]/[]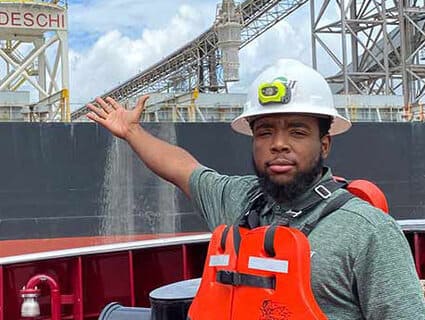 They told Ernest college wasn't for him. He proved them wrong. Here's how Cargill supported his journey.
Cargill's University thrive program provides scholarships, development opportunities for underrepresented college students.
[Latin America]/[Colombia]