Ensuring access to food: On the scene with protein
Cargill expands partnership with FareShare, creates supply chain to distribute fresh chicken
July 11, 2017
Protein is a critical part of a nutritious diet – in fact, it is often referred to as a building block of life. But for people facing food insecurity, food such as protein-rich fresh meat can be challenging to access.
"Fresh meat is the most in-demand food category for FareShare, and demand always outstrips supply," said Charlie Mason, an operations manager for the U.K.-based organization that saves good food destined for waste and gets it into the hands of people who need it.
To help FareShare grow its capacity to fight hunger and provide sustainable nutrition, Cargill has launched a new agreement to supply it with fresh chicken every week – free of charge. The agreement will help Fareshare redistribute even more food to communities in need in the South West of England. Cargill has partnered with FareShare since 2009 to provide more than £600,000 in funding to address food waste and turn an environmental problem into a social solution.
"By setting up a fresh chicken supply chain, we're helping FareShare provide communities with access to a steady supply of safe, nutritious and affordable food," said Chris Hall, general manager for Cargill's fresh chicken business. "Around the world, we partner with organizations focused on improving nutrition and ending hunger. Our work with FareShare is an example of how we're addressing food loss and advancing sustainable solutions."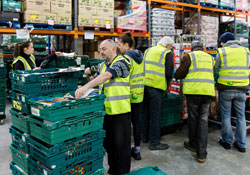 Volunteers working in the FareShare distribution center in Bristol In the U.K. alone, an estimated 8.4 million people – equivalent to the entire population of London – are struggling with food insecurity.* At the same time, at least 270,000 tons of surplus food from the U.K. food and drink industry could be redistributed to feed people each year – enough for 650 million meals.**
According to Mason, the partnership with Cargill helps it address a new face of hunger, one that requires tackling both the growing environmental impacts of food waste and the struggle that many people face to afford fresh fruit, vegetables and protein to maintain a nutritious, balanced diet. "The new Cargill chicken supply chain is providing our charitable partners and community groups with a regular source of high quality protein to offer to the people that use their services."
To learn more about how FareShare helps feed half a million people each week, check out this interview with FareShare CEO Lindsay Boswell.
* Food and Agriculture Organization of the United Nations, Voices of the Hungry, 2016
** WRAP, Quantification of food surplus, waste and related materials in the grocery supply chain, 2016