Protecting crops in Cote d'Ivoire
Our Yiri+ program provides training and access to better crop protection
October 16, 2017
Our experience has shown that, out of all the inputs cocoa farmers can use to achieve higher revenues and better yields, crop protection has the highest return on investment. But farmers will only use agricultural resources if they can easily access and afford to buy them. In many cases, training is required to enable farmers to apply them effectively.
So in 2012, we launched the Yiri+ program in partnership with Syngenta as a pilot in Côte d'Ivoire. Yiri means 'tree' in a local Ivorian language. Like the tree, our program aims to give farmers solid roots, including access to better crop protection products, and hands-on training on how to use these products more effectively. We successfully rolled out the program in Côte d'Ivoire and Cameroon in 2015, with a target to reach 70,000 farmers every year.
Farmers benefit from competitive prices and flexible credit so they can afford to invest in products, access to high-quality equipment and storage facilities, practical in-the-field training and a training toolkit for ongoing reference. Demonstration plots show an average 40% increase in yields when crop protection is applied effectively.
Yiri+ is an example of a highly effective public-private partnership as we work closely with local cooperatives to implement the program. Because we do not provide finance, the hope is that the program's impact will last long beyond our direct involvement.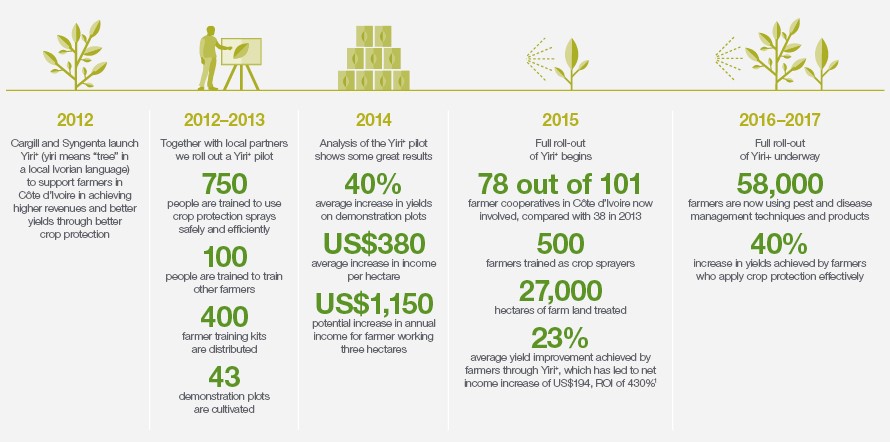 Data highlights
58,000 farmers are now using pest and disease management techniques and products.
40% increase in yields when crop protection is applied effectively.
Looking ahead
We aim to ensure that 100% of farmers use crop protection by 2017/2018, with a 10% increase in the area of land treated with crop protection.
"It is amazing to see the results that the Yiri+ project has achieved since its start in 2012. Improving yields and increasing farmers' income to support their families is something that all involved should be very proud of. We could not have achieved that alone."
Jan Suter, Head of Africa and Middle East, Syngenta
"Through the Yiri+ program, I got access to efficient products that help growers with their work. These have a positive effect as they improve the plant and protect cocoa pods from disease. As a result, things are better, the yields are greater."
Ablassé Tiendré Béogo, Farmer, San-Pédro region, Côte d'Ivoire
Find out more about our approach to Farm Development