She manages vision loss. He navigates ADHD. Here's how Cargill helps them (and others) thrive at work.
Read Time: 3 minutes
December 02, 2022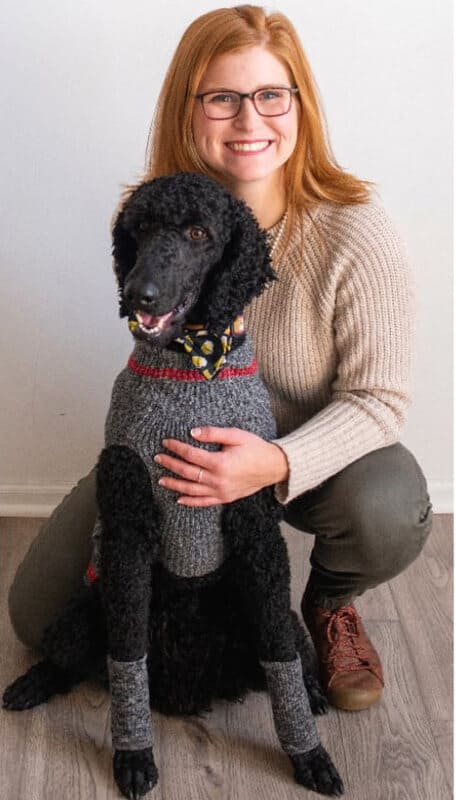 Zophia, who has partial vision, poses with her service dog Roman, who helps guide her. Zophia Raleigh always knew she wanted to work at Cargill.
At age 15, she found a mentor at the company. In 2019, her dream was realized when she was officially hired.
Today, Zophia is a senior business analyst. Although her career journey has been relatively smooth, she faced some turbulent times as a child — starting in fifth grade when she lost her vision.
It all began when she developed shingles, a viral infection like chicken pox. The virus went away, but weeks later she woke up unable to see. Tests later confirmed the virus had attacked the cornea in her left eye, leaving her with permanent damage.
Zophia recalls her parents sitting her down and telling her that life would be more challenging. She was going to have to make decisions in a different way than her three siblings because of her disabilities, they told her. It was a tough reality, but that conversation set Zophia on a path to live intentionally.
Every day is a gift, and I don't want to waste it," Zophia says.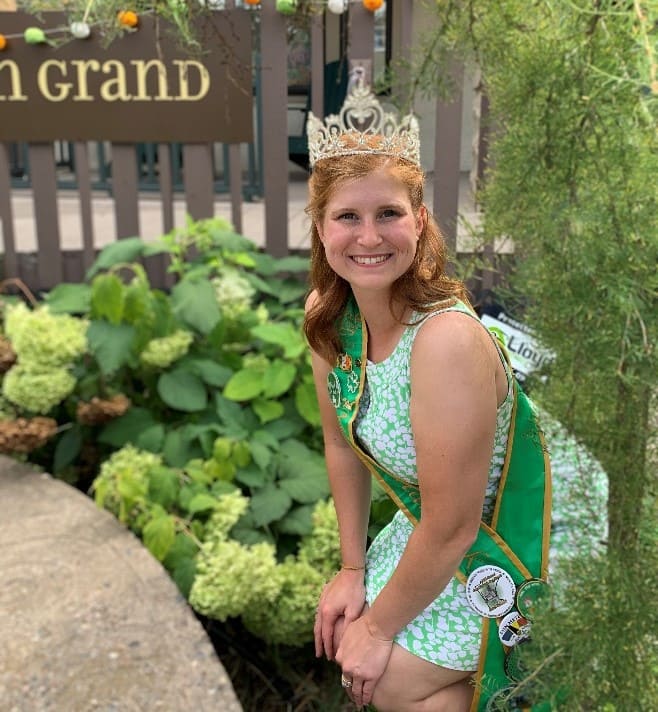 Zophia poses as "Miss Shamrock," representative of St. Paul, Minnesota's Irish community and culture. Today, Zophia has regained some of her vision and is living a healthy life alongside her service dog, Roman.
She's also flourishing at Cargill. She reports feeling accepted, and that the people around her have gone above and beyond to help her be successful at work.
"I feel like I matter," Zophia shares. "I feel like Cargill cares."
In fact, her teammates showed her compassion from the beginning. Zophia is still sensitive to light, so she often wears a hat at work. Without any prompting, her teammates started wearing hats in meetings to show their support.
"Nobody in my life has ever done something like that," she says.
A top spot on the Disability Equality Index
Earlier this year, Cargill earned the highest possible score on the 2022 Disability Equality Index — Disability:IN's comprehensive benchmark for disability inclusion in business. Our score makes us a Best Place to Work for Disability Inclusion for the fifth time in the last six years.
"We're honored to receive a 100 on the 2022 Disability Equality Index," says Jon Nash, executive sponsor of the Cargill Ability Network. "This award shows we're on the right path, but we know there's more work to be done to ensure everyone feels included and that they can thrive."
The Cargill Ability Network — one of nine employee-led resource groups at Cargill — supports employees with any kind of disability and works to create an environment where people of all abilities can be empowered to succeed. Learn more about the Cargill Ability Network and diversity, equity and inclusion at Cargill.
'A company that puts people first'
Disabilities come in many shapes and forms. Some aren't visible at all.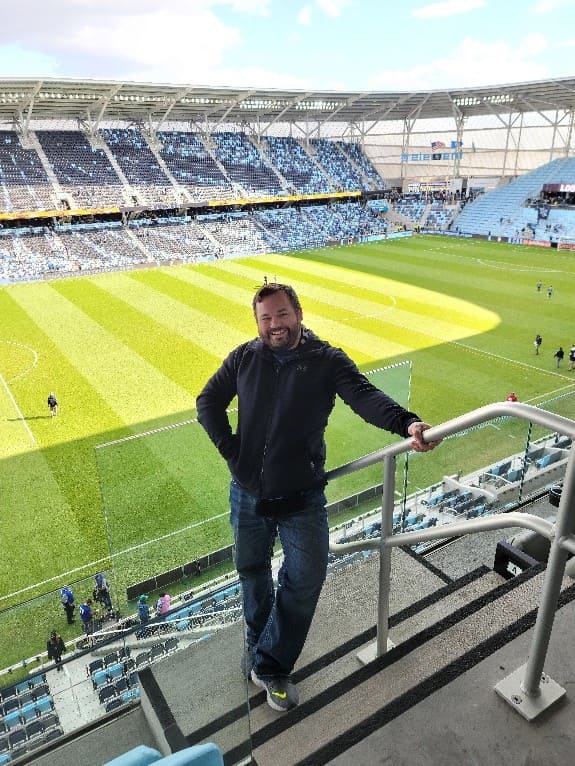 Patrick enjoys attending sports events as one way to cope with anxiety and depression. Patrick Welch, a Cargill senior portfolio and project manager, has struggled with anxiety and depression for most of his life. Recently, he discovered he also was living with attention deficit hyperactivity disorder (ADHD). With an official diagnosis and proper treatment, Patrick has seen big improvements in his life.
"Things started to really turn around once I was diagnosed with ADHD," says Patrick, who's worked for Cargill for about 15 years. "My productivity tripled when I treated my ADHD and I've experienced less anxiety and depression."
Like Zophia, Patrick says the support he's received from colleagues has been amazing. Recently, he was experiencing a particularly tough day and let his manager know. His manager asked if Patrick was comfortable sharing a bit more so that he could see if there was a way to support him better.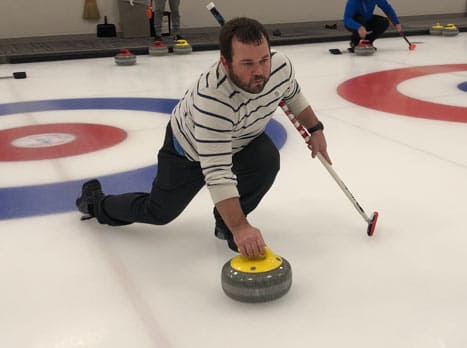 Patrick trying a new hobby: ice curling. "It's never too late to live your best life," he says.
"His compassion just blew me away," Patrick recalls. "I feel privileged to work for a company that puts people first."
Patrick hopes his story shows others they're not alone and encourages people to get the help they need. It's a big reason why he's been an active member and supporter of the Movember Foundation, a charity focused on raising awareness for men's health issues and mental health in particular.
"Society gets really uncomfortable talking about mental health, and men are even worse," Patrick admits. "A lot of us don't go to the doctor and don't like talking about our feelings."
Through his own health journey, Patrick has seen what can happen when you get the help you need. His life is better today, he concludes, because of his persistence and the health professionals who helped him along the way.
"If we can unlock people's capabilities to live their best lives, that's awesome," he says. "It's never too late to live your best life."
More stories
For employee Michelle Anderson, memories from her past medical trauma came flooding back during the pandemic.
Read Time: 3 minutes
[Latin America]/[Colombia]
Cargill's University thrive program provides scholarships, development opportunities for underrepresented college students.
Read Time: 4 minutes
[Latin America]/[Colombia]
'By embracing our employees' uniqueness, we create an environment where all employees can thrive ,' says one Pride Network leader.
Read Time: 3 minutes
[]/[]