They told Ernest college wasn't for him. He proved them wrong. Here's how Cargill supported his journey.
Read Time: 4 minutes
June 17, 2022
Ernest Dixon III wasn't supposed to graduate high school. At least, that's what people told him.
To some, the Atlanta native's auditory processing disorder — a condition that disrupts the way his brain understands what he's hearing — meant he wasn't supposed to make it past 10th grade, that he should consider working instead. To Ernest, it meant he had to work harder to pursue his goal: going to college for agriculture.
And he did. Ernest recently graduated with honors from Alcorn State University in Mississippi, receiving an agriculture degree from the U.S.'s oldest public, historically Black land-grant institution.
Cargill was there to support his journey. Ernest was part of the inaugural class of scholars in the Cargill University thrive program. Launched in 2021, the initiative aims to ensure more equitable access for college students from underrepresented groups in agriculture, business and STEM careers. Cargill provides scholarships and development opportunities through the program to help students advance to meaningful careers.
For Ernest, thrive meant more exposure to agriculture careers beyond working on his grandfather's farm outside Atlanta. And the opportunity to graduate debt-free — no small feat for a Historically Black College & University (HBCU) student like himself, he says.
"I always get worked up or tear up, because I don't know what I would've done if I didn't get the scholarship," Ernest confides, recalling a Cargill scholarship he received last year. "I'm very thankful for that."
Helping students like Ernest thrive …
Cargill created the University thrive program to address barriers college students face — from affording tuition to accessing career paths — and to invest in future food and ag leaders.
In year one, Cargill partnered with eight universities and associations providing opportunities for underrepresented students. The list includes two HBCUs (Alcorn State and Tuskegee University in Alabama), a Hispanic-Serving Institution (Texas A&M) and other associations (Minorities in Agriculture, Natural Resources and Related Sciences and the Association of Latino Professionals for America). Cargill selected more than 200 student scholars and awarded more than $900,000 in scholarships in year one alone.
"The financial support is very important as lack of money to pay tuition is a barrier to attending and completing college," says Sheri Kelly Leath, Cargill's university recruiting senior specialist who helps oversee the program. "Many Thrive scholars have expressed appreciation and shared that they may not have been able to continue in their collegiate journey without the support."
University thrive is also part of Cargill's broader commitment to diversity, equity and inclusion (DEI), which includes combatting anti-Black racism, advancing people from underrepresented groups in leadership roles and achieving gender parity.
"One of the great aspects of DEI is celebrating and acknowledging different dimensions of diversity," says Greg Jones, Cargill's chief diversity, equity and inclusion officer. "Cargill's bold stance in addressing anti-Black racism is powerful — especially as we think about the spirit of Juneteenth and our continued journey to dismantle systemic racism.
"As an HBCU graduate myself, Ernest's story fills me with pride in knowing that I get to be part of a company that is truly making actionable strides in making everyone thrive."
What else is Cargill doing to address anti-Black racism? Learn more here.
Black Farmer Equity Initiative: In its second year, Cargill's Black Farmer Equity Initiative is addressing systemic inequities through partnerships with Black producers that build greater equity into agriculture.
OneTen: Cargill is a founding member of OneTen, a consortium of CEOs committed to working to reverse institutional Black racism through attracting, retaining and upskilling Black talent.
Black Equity at Work: Through Management Leadership for Tomorrow, Cargill is in the second year of a certification process that treats Black equity in the workplace like any other business priority — with ambitious goals, clear action plans and accountability.
… so they can help others thrive.
Ernest loves to lend a helping hand. In fact, it's how he got introduced to agriculture years ago: helping his grandfather — also an Alcorn State alum — run a local 4-H camp in Atlanta.
These days, when he's back home, Ernest works with his grandfather on the Metro Atlanta Urban Farm, a five-acre plot in College Park that helps combat the "food desert" in his community.
He's brought the same passion to Cargill. Last summer, Ernest interned at Cargill's export terminal in Reserve, Louisiana — an eye-opening experience, he says. After his internship, he partnered with Cargill and the Georgia Agribusiness Council to create the "Agriculture Job Tour," which gives students industry exposure, professional connections and development opportunities.
"We're working toward getting Cargill on the map with HBCUs by showing our faces and giving opportunities," he explains.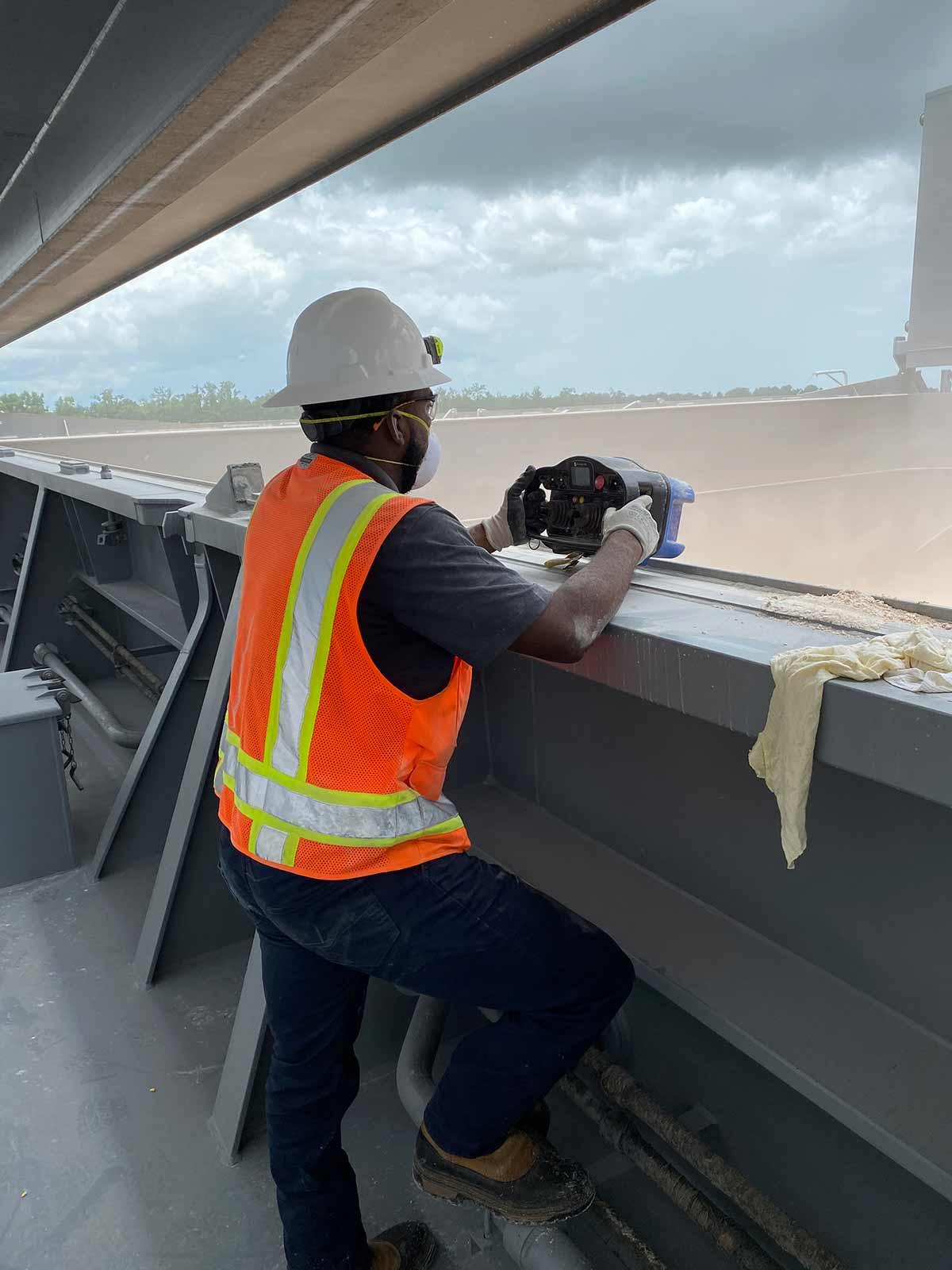 Walking to class one morning last fall, Ernest answered a call from an unlisted Minnesota number: It was Cargill, and they were offering him a full-time job. And soon after, the University thrive program awarded Ernest a $6,000 scholarship that covered his tuition — a weight off his shoulders, he says.
"Now I graduate debt-free, I have a job opportunity and I get to work for a great company. You don't really see that every day."
Ernest will soon start as an operations management associate at Cargill's facility in Savage, Minnesota. As he ponders his future, he's grateful for the ways Cargill has invested in him so far.
"Cargill has really helped me have a seat at the table," he says. "And not only have a seat at the table, but also have my voice heard."
More stories
Cargill partners with Black farmers to build a more equitable future in agriculture
Read Time: 3 minutes
[]/[]