Whiteboards and the 4 "L's" of leadership
Jen Hartsock brings her love for these things (and much more) as Cargill's new chief information and digital officer
Read Time: 3 minutes
July 22, 2022
Jen Hartsock loves whiteboards.
That may seem a bit strange for Cargill's new chief information and digital officer. Whiteboards, after all, are rather… analog.
Like any technology, though, Jen appreciates most what the whiteboard allows her to do — like designing cool things with others. It goes back to her days as a software developer.
"You have this great tool [in the whiteboard] to feed this process where you can co-create with others and innovate," says Jen, who brought 20-plus years of information technology (IT) leadership when she joined Cargill and its executive team earlier this year.
From that perspective, it's easy to understand why a leader like Jen sees a blank board and marker as a prime opportunity — especially since she cites collaboration, candor and transparency as keys to her leadership style. And she'll have plenty of opportunities to innovate with others as she leads our technology, digital and data strategies to help Cargill grow with its customers.
"We want to do amazing things and we have the opportunity to have huge impacts," says Jen, who was most recently Baker Hughes' chief information officer. "I want to help Cargill win for its stakeholders. I want to work together to help customer outcomes, drive efficiencies and grow our capabilities."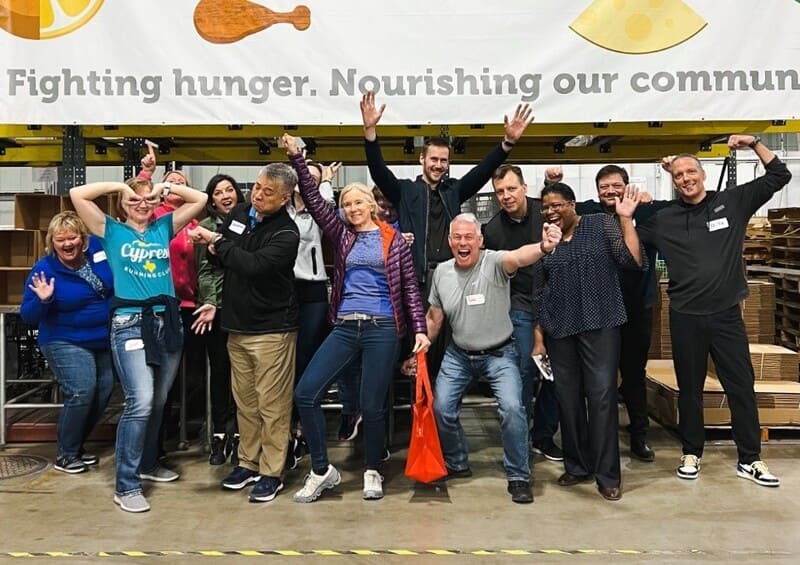 Jen (lower left, teal shirt) volunteering.
Jen Hartsock loves the "Platinum Rule."
Throughout her career, Jen has long championed efforts to diversify science, technology, engineering and math (STEM) fields, an ongoing challenge for industries where men are historically overrepresented. It started with her mentors at Caterpillar, where she spent the first 17 years of her career.
"Growing up from a professional perspective at Caterpillar, I was mentored by several heterosexual white men from the U.S.," Jen says. "They saw the value in coaching and mentoring diverse talent, and I'm a beneficiary of that investment... Those types of experiences allow me to consider the values I want to lead with and to help me be more sensitive to underrepresentation and what it feels like to be an outsider."
Those experiences also shaped Jen's preference for the Platinum Rule — "Treat others how they want to be treated" — over the Golden Rule ("Treat others how you want to be treated").

Jen and her husband, James.
Jen Hartsock loves the letter "L."
Living. Loving. Learning. Legacy.
To Jen, those "four Ls" — which she learned from a former colleague — are a big part of the leadership style she brings as a Cargill executive.
· Living. For Jen, this means supporting employees' lives, including the right balance and flexibility between work and everything else.
· Loving. Our workplace and company culture should allow us to be authentically ourselves, fully welcomed and included, she says.
· Learning. "I want to be an organization that challenges every one of us to grow and develop," Jen emphasizes. That includes formal learning opportunities, everyday work experiences, mentoring and coaching.
· Legacy. Are we working on things that matter? "Hopefully that's a slam dunk for anyone that works here because we literally nourish the world," Jen says.
Jen Hartsock doesn't love the phrase "IT."
Instead, you will hear Jen pushing her team and colleagues to think of themselves as business people who are also digital experts. It's part of a shift in mentality.
"In my world, digital is a very inclusive phrase," Jen says.
"The fact of the matter is, any ambition we have to help digitally transform Cargill will take all of us," she adds. "… We all have to work on this together."
Together. It's a word at the center of Jen's approach to work — and how she plans to lead as chief information and digital officer.
It's a mouthful — and a 'brainful' — that will take time. But if there's one more thing we know, it's that Jen Hartsock loves a challenge.
Anyone got a whiteboard handy?
More
We're partnering with stakeholders across the globe to make an impact on child labor.
Read Time: 5 minutes
[]/[]
Through innovative programs, Cargill supports Brazilian farmers like Joel in protecting native vegetation — today and for generations to come.
Read Time: 3 minutes
[]/[]
'By embracing our employees' uniqueness, we create an environment where all employees can thrive ,' says one Pride Network leader.
Read Time: 3 minutes
[]/[]