Climate Change and Health
Improving the sustainabillty of our operations and leading the maritime industry to a more sustainable future
As the world's seaborne trade continues to increase, so does its impact on climate change and health. At Cargill, we are committed to improving the sustainability of our operations and we are taking a leading role in moving the maritime industry towards a brighter and greener future.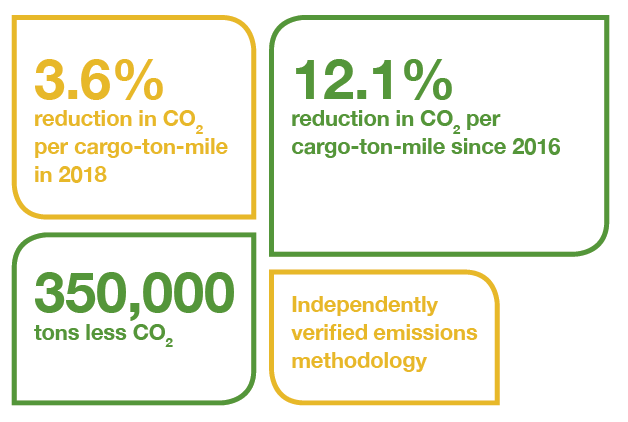 Given the size of our fleet (around 600 vessels chartered at any one time) and the scale of our operations, climate change and health are the areas of highest material relevance for our ocean transportation business. As a charterer and vessel operator, we have four ways to influence our environmental performance: the type of vessels we charter; how we operate the vessels; ensuring future ships are designed to be more energy efficient; and upscaling our parceling services.
In 2018, we made several important strides, including further reducing our carbon emissions, chartering more energy-efficient vessels and preparing for the upcoming changes to sulphur emission regulations.
Making progress
Last year, we set 3 key targets to reduce CO2 emissions, charter more efficient vessels and ensure 100% compliance with sulphur regulations.
15% reduction in CO2 emissions per cargo-ton-mile in our time-chartered fleet by 2020
80% of Cargill's fleet will be rated A through D by RightShip by 2020
100% compliance with Global Sulphur Cap in 2020
We committed to participating in and leading a number of workstreams in carbon pricing, reporting and the development of new technologies. These include our CO2 Challenge (in partnership with DNV GL and Rainmaking) that aims to uncover and scale technologies that will move shipping to carbon-neutral in the long-run. Read more about the CO2 Challenge.
Cargill is also an active participant in the Global Maritime Forum (GMF) Taskforce on Decarbonizing Shipping. This group is working to develop a standard methodology for measuring and calculating carbon emissions across the maritime industry and launched the first component in June 2018 - the "Poseidon Principles". These principles provide a global framework that sees climate considerations integrated into financial institutions' lending decisions for the first time to incentivize decarbonization of the shipping industry. Read more about the Poseidon Principles.
Over the last 12 months, we have made steady progress in all of our 3 targets, including a 3.6% reduction of CO2 per cargo-ton-mile in our time-chartered fleet. This takes us to a 12.1% reduction since 2016 and means that we are on track to achieve our commitment to a 15% reduction by 2020. The improved efficiency of our fleet allowed Cargill to transport the same amount of cargo while reducing our gross CO2 emissions by 4.5% compared to 2017. This equated to a reduction of 350,000 tons of CO2, bringing our annual CO2 output down to 7.382 million tons (down from 7.732 million tons in 2017).
We also exceeded our target that 80% of our fleet is rated A through D by RightShip by 2020 and have already reached 82%.
You can read more about the progress for each of these targets in our 2018 Corporate Responsibility Report.