Cargill in Indonesia lending hands to communities in this challenging time
Jakarta, 24 April 2020 – Cargill is working with our nonprofit partners around the globe to help address food security, health safety needs and challenges due to the spread of COVID-19. In Indonesia, Cargill is providing support to local communities through its Corporate Responsibility programs with value of more than 500,000 USD. In this challenging time, Cargill priorities are to put people first and provide the ingredients, feed and food that nourish people and animals.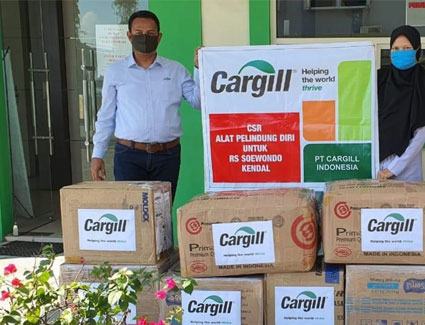 The COVID-19 situation has started to impact the wellbeing of some families and communities. For vulnerable families, food insecurity is becoming a concern. Cargill in Indonesia, in line with our purpose to nourish the world is providing more than 20,000 basic staple food packages, consist of rice, cooking oil, sugar and egg /other protein to local communities surrounding Cargill operations across Indonesia.
In addition, as the situation continues to evolve in Indonesia, there is urgent need to support the frontline heroes, our doctors and nurses, as they are in dire need of safety equipment and medical tools to support them. Cargill is donating Personal Protective Equipment (masks, goggles, coverall suits) to 17 local hospitals across Indonesia surrounding our operations.
In doing this, Cargill is strongly collaborating with local partners as well as local government, so we can truly support with the right tools and contribution needed to help government in fighting the COVID-19 case in Indonesia.
Through education socialization program, Cargill is helping to educate the local communities on the risk of COVID-19 and how to prevent it, encouraging them to regularly practice good personal hygiene. Meanwhile, Cargill is also supporting the nearby communities by disinfecting communities' housing areas and public facilities, providing hand wash facilities in public facilities. In addition, Cargill also distributed personal care packages that includes mask and hand sanitizers to local communities, our employees and their families.
"For Cargill it is our purpose to nourish the world and all our employees around Indonesia are putting their best to ensure that our customers are able to get food and feed ingredients in order to have food available for people in this critical time. This is the time to care for one another, and the way to navigate this circumstance is by supporting one another. Our appreciation to Indonesian government and NGOs who are our partners and compatriots together in our efforts to respond to COVID-19", said Sunit Dhoka, Cargill Indonesia Country Representative.
These local activities are part of Cargill's global effort to work with our nonprofit and NGO partners to help address food security, health and safety needs and agriculture and food industry challenges due to the spread of COVID-19. In addition to monetary donations, we are collaborating with nonprofits around the globe to donate food, ingredients and other high-need products for those who are vulnerable during this pandemic. For example, Cargill has donated over 1 million pounds of food to food shelves and hunger relief efforts in local communities where our employees live and work. Cargill's global and regional COVID-19 response is guided by our purpose to nourish the world in a safe, responsible and sustainable way.
Dewi Mayasari, (62) 21 57891882, [email protected]
---
About Cargill
Cargill's 155,000 employees across 70 countries work relentlessly to achieve our purpose of nourishing the world in a safe, responsible and sustainable way. Every day, we connect farmers with markets, customers with ingredients, and people and animals with the food they need to thrive. We combine 155 years of experience with new technologies and insights to serve as a trusted partner for food, agriculture, financial and industrial customers in more than 125 countries. Side-by-side, we are building a stronger, sustainable future for agriculture. For more information, visit Cargill.com and our News Center.
About Cargill in Indonesia
Cargill began doing business in Indonesia in 1974 by establishing a feed mill in Bogor, West Java. Today, Cargill is headquartered in Jakarta and has more than 19,000 employees. We have 59 locations with offices, manufacturing plants and facilities throughout the country and business activities comprise animal nutrition, cocoa, copra, seaweed, processed food exporting, grain and oilseeds, palm oil, as well as starches and sweeteners. For further information, please visit http://www.cargill.co.id.