Cargill and partners announce first Gold Standard-approved methane emissions reduction methodology for beef producers
The groundbreaking methodology will help beef producers better understand the impact of feed supplements, enabling projects to measure and quantify the reduction of methane emissions.
MINNEAPOLIS (July 19, 2023) — Beef producers are leading the way toward the future of sustainable agriculture and hold the ability to mitigate methane emissions that address climate change. To recognize these efforts and enable reduction value to be quantified, Cargill partnered with TREES Consulting to develop a Gold Standard-approved beef methodology that offers the global beef industry a framework for measuring methane emissions reduction using feed supplements that have been incorporated into beef cattle diets, such as SilvAir™*. Gold Standard's certification process allows climate and sustainable development initiatives to quantify, manage and maximize their impacts toward climate security, and requires verifiable impact toward three or more of the United Nation's Sustainable Development Goals.
The new beef methodology defines a set of parameters that beef producers can adopt to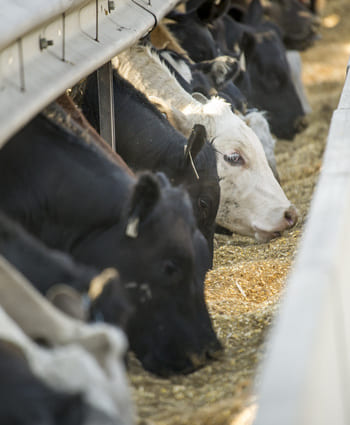 quantify reductions in methane emissions, a greenhouse gas (GHG) that is derived from enteric fermentation (digestion process) in cattle through eructation (burping), as well as from manure handling. The new methodology is now available for beef producers worldwide to quantify, audit and verify methane reductions, enabling them to register their GHG mitigation project for Gold Standard certification. Gold Standard's Verified Emissions Reductions (VERs) can be traded in carbon markets, allowing credit purchasers to directly support the projects. These efforts can also be recognized in corporate value chains, whereby beef producers and food companies account for the reduction in supply chain GHG emissions, which contributes to their Scope 3 targets.
As a leader in animal agriculture and the beef supply chain, Cargill is in an ideal position to support its network of beef producers with the resources and innovation they will need to meet sustainability challenges. Through its Reach4Reduction program, Cargill is taking a holistic approach to methane reduction by uncovering the potential of feed management and nutrition to do more with less, helping to ensuring food security while protecting the planet. Although methane emissions from the enteric fermentation of cattle are a normal occurrence, Cargill recognizes there's opportunity to reduce the intensity of methane, through its global animal nutrition business.
Cargill is working to accelerate progress by supporting producers with managing on-farm
productivity to improve feed conversion rates, optimizing animal health and nutrition, and innovating with new additives and solutions that reduce methane and nitrogen emissions directly. For beef producers who are adopting these technologies, the new methodology "Reducing Methane Emissions from Enteric Fermentation in Beef Cattle through Application of Feed Supplements" will enable them to accurately quantify the reduction of methane emissions and can provide them with opportunities to valorize their efforts.
"We know that the industry is looking for more accurate tools to measure methane reduction," said Joanne Sharpe, Cargill's global ruminant sustainability lead. "As producers look at their current levels of production efficiency and work toward sustainability goals, we are committed to finding ways to ensure they can be recognized and rewarded for their efforts. As part of our methane reduction priorities, this methodology is a key step toward opening new possibilities to reduce GHG emissions in the beef supply chain."
"Changing agricultural practice can help reduce methane emissions, and this new methodology provides beef producers with a way to reliably measure the impact of those changes." said Margaret Kim, CEO, Gold Standard. "Cargill's support is helping pave the way for the animal agriculture industry to reduce methane emissions and is complements Gold Standard's other efforts to reduce the impact of agriculture on our planet - such as our recently published methodology which reduces the methane emitted by rice production".
In practice, projects using the new methodology first establish a baseline for emissions during "business as usual" activities for a minimum of three continuous years. The cattle given feed supplements must be clearly identified and tracked over the course of the project. The project crediting period is set at five years, and can be renewed for an additional five years, excluding the baseline years.
"We were thrilled to collaborate on the development of the methodology, which will provide the beef industry with an important framework for advancing methane reduction," said Martin Gehrig, TREES Consulting.
For further information about the newly approved methodology and Cargill's sustainable initiatives, visit Cargill's Feeding Intelligence site.
*SilvAir™ is not available in all markets.
Media Contact: [email protected]
---
About Cargill
Cargill's 160,000 employees across 70 countries work relentlessly to achieve our purpose of nourishing the world in a safe, responsible and sustainable way. Every day, we connect farmers with markets, customers with ingredients, and people and animals with the food they need to thrive. We combine 158 years of experience with new technologies and insights to serve as a trusted partner for food, agriculture, financial and industrial customers in more than 125 countries. Side-by-side, we are building a stronger, sustainable future for agriculture. For more information, visit Cargill.com and our News Center.
About Gold Standard
Gold Standard (www.goldstandard.org, @goldstandard) was established in 2003 by WWF and other international NGOs as a best practice standard to help the world #GrowToZero. All Gold Standard-certified projects and programmes accelerate progress toward the Net-Zero ambition of the Paris Climate Agreement while catalyzing impact toward the broader Sustainable Development Goals. Its standard, Gold Standard for the Global Goals, allows climate and development initiatives to quantify, certify, and maximise their impacts toward climate security and sustainable development. Certification against the standard provides the confidence that these results are measured and verified, enabling credible impact reporting. ISEAL Code Compliant and backed by a broad NGO Supporter Network, Gold Standard has 1900+ projects underway in over 90 countries, creating billions of dollars of shared value from climate and development action worldwide.
About TREES
TREES was founded in 2009 to drive innovations in sustainable farming and forestry practices to combat climate change and strengthen resilience. Today, TREES covers all Nature-based Solutions activities in GHG markets, including forest, agriculture, and blue carbon. TREES work includes comprehensive, sustainable land use change solutions covering strategies for greenhouse gas reduction and sustainability, carbon credit programs including GHG accounting methodology development, scope 3 value chain activities as well as SDG impact accounting.