Animal Welfare
Our products and programs help support good animal health and husbandry conditions around the globe
Healthy animals, today and tomorrow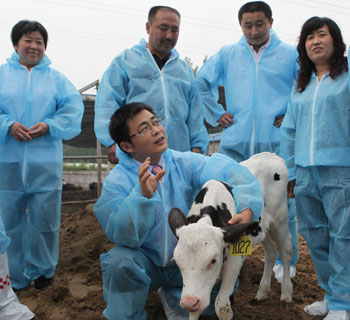 Cargill's animal nutrition business doesn't raise animals, but our products nourish millions of them every day. Helping them live up to their full potential is a key part of what we do. Through our research, we have developed feeding programs and nutritional solutions to keep animals healthy today while maintaining robust lines of defense for animal and human health in the future. And our training programs with farmers in many countries share best practices that improve the overall wellbeing of the animals they raise. This is what we mean by better nutrition for better lives.
Sustainable business models
We have designed nutritional solutions that support animal physiology and can help maintain animal performance while lowering the use of growth-promoting antibiotics. Our nutritional solutions utilize carefully selected ingredients for their beneficial effects on feed intake, digestive function and intestinal microflora that help maintain good health in animals.
Other programs are supporting animal health and well-being. Our SmartShield™ EMS program helps address the risk of a disease that has greatly impacted shrimp production around the globe, one that can carry mortality rates as high as 100 percent. The program combines targeted feed solutions with on-farm technical supporting growers in challenging conditions. Customer trials have shown that SmartShield™ generates an average increase in yield per unit area of up to 59 percent, and an average daily gain in growth rates of up to 13 percent.
In countries like Poland, India, Korea and China, our farmer training programs are giving producers a leg up on best practices that improve the wellbeing of their animals. In Poland, we offer more than 100 training courses taught by our expert team members to small farmers, training more than 6,000 farmers in the last two years. Working with local animal husbandry bureaus in China, our teams have worked across two decades to educate more than 3.4 million farmers on best practices that raise quality of life and productivity of their animals.