Cargill has the capabilities, expertise and ingredients you need to help you create new product formulations or enhance existing ones.
In today's complex and competitive beverage industry, growth comes through innovation. If you are looking for a partner to enhance your existing product lineup or drive brand excitement and sales with new products, turn to Cargill.
From ideation through launch, we offer the marketplace knowledge, technical capabilities and ingredients you need to develop breakthrough beverages that will delight your consumers and help your business thrive.
Capabilities
The people, ideas and imagination to help you succeed
To our customers we offer much more than high-quality ingredients. As our partner you have access to our Innovation Center and to our extensive technical knowledge of science and food technology and experience in product development and applications - both macro and micro ingredients.
Everyday around the world, we collaborate with customers to help them solve problems, meet challenges and uncover new opportunities
Superior research, development and technical expertise
Cargill has technical development centers in the U.S., Europe, Asia and Latin America, providing the ability to develop and scale up customer solutions. We use global knowledge to find the best local solution.
Rapid delivery of concepts, prototypes and formulations
Through collaboration with our technical experts, you can benefit from rapid delivery of concepts and prototypes for customer projects and consumer testing. We own application laboratory where we can produce carbonated soft drinks, powdered beverages, sport drinks, flavored water and read to drink beverages, as well as analytical equipment to evaluate the prototypes.
Excellence in sensory and pilot testing
The resource for sensory analysis available in our Innovation Center allows us to test characteristics and acceptance for their products in development. With our expertise in this area we can help you achieve the correct formulation of their new products through analysis of flavor, aroma and texture.
Technical support
Our team of Technical Assistance, highly qualified and experienced, is always available to assist our customers in using our ingredients, and assist them in developing new products.
Supply chain and risk management
Our team works in efficient solutions to ensure the supply of ingredients and systems. Risk Management tools allow us to offer greater predictability of costs of your products.

Ingredients & Systems
We have an unmatched portfolio delivering the tastes of today
At Cargill, we offer the beverage industry's broadest and deepest ingredient portfolio, backed by state-of-the-art technical and formulation capabilities. Whether you want to enhance your existing product lineup or launch new on-trend beverages, we can help.
Marketplace Knowledge
Our history of success in ingredients gives us a unique window into the consumer trends that are driving change in the beverage category. We use these in-depth insights to help our customers both enhance their current products and develop innovative new offerings that generate incremental sales for their brands. What trends are currently impacting the beverage category? Read on.
Functional and fantastic
Today, consumers choose beverages not just for refreshment, but also to help improve wellness and to address health needs. They look for beverages with ingredients that match their specific need and they are not willing to sacrifice great taste. Cargill has expertise in ingredient development and beverage formulation to produce great tasting beverages to meet some of today's most pressing health concerns. Examples of Cargill's ingredient offering includes CoroWise™ cholesterol reducers for heart health and for Oliggo-Fiber® chicory root fiber for digestive health.
Reduced-calorie satisfaction
Driven by obesity concerns and an overall desire for better health, there is a growing emphasis on calorie reduction in beverages – especially in schools. At Cargill, we have a family of natural zero-calorie sweeteners including Truvia™ rebiana, a high intensity sweetener and Zerose™ erythritol, a bulk natural sweetener. We also have a broad range of texturizers and other taste modifiers that our developers use to "rebuild" the flavor and mouthfeel that are removed along with the calories.
Explore beverages applications
Understanding the "Sober Curious" Consumer
Consumers across all age groups are dialing back their alcohol intake. Learn what's behind the "sober curious" movement – and how to tap into it.
Download
Beverages Ingredients - North America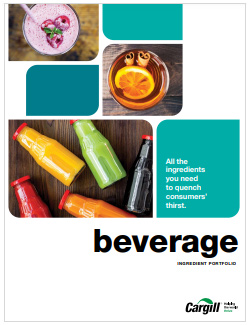 We have the ingredients you need to quench your consumers' thirst.
Download
Beverage Basics & Beyond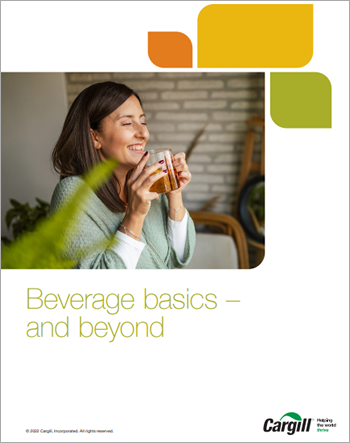 The demand for new and better beverages transcends all beverage types, with growing consumer interest in functional beverages across the spectrum. Read our article to learn more about what consumers desire from their beverages.