Cargill has the capabilities, expertise and ingredients you need to help you create new product formulations or enhance existing ones for both chocolate confectionery and sugar confectionery.
In today's complex and competitive confectionery industry, growth comes through innovation. If you are looking for a partner to enhance your existing product lineup or drive brand excitement and sales with new products, turn to Cargill. From ideation through launch, we offer the marketplace knowledge; technical capabilities and ingredients you need to develop confectionery products that will delight your consumers and help your business thrive.
As a trusted ingredient supplier to the confectionery industry, Cargill has the ingredients you need — whether it is a core ingredient like glucose syrup, a specific texture you are targeting, or a premium chocolate like Peter's™ Swiss-style chocolates.
Capabilities
The people, ideas and imagination to help you succeed
To our customers in confectionery manufacturing, we offer much more than high-quality ingredients. As our partner, you have access to some of the world's most advanced Research and Development (R&D), technical and food science expertise — for both macro and micro ingredients.
Every day, around the world, we collaborate with customers to help them solve problems, meet challenges and uncover new opportunities with:
Superior research, development and technical expertise
Cargill's R&D capabilities and facilities are global, with technical development centers in the U.S., Europe, Asia and Latin America. We have technical expertise in chocolate confection preparation, coatings, panning, marshmallow and aerated products, bars and most types of starch molded confections.
Rapid delivery of concepts, prototypes and formulations
Our pilot facilities and capabilities enable us to test formulations and jointly develop new products with our customers, which result in shortened development time. These include state-of-the-art high solids confection preparations with stoving capability, microbiological labs, and texture analysis.
Excellence in sensory and pilot testing
Our sensory testing capabilities make it easy for us to test food attributes and consumer acceptance for your new product. We can help you achieve the right formulation of your new products with skills in sensory analysis, texture, taste and flavor.
Ingredient systems support
With food science and culinary expertise in ingredients, ingredient systems, finished food systems and taste technologies, we provide technical assistance to support new systems development, process data gathering and technical documentation to support finished products.
Nutrition, regulatory, supply chain and risk management
Cargill's nutrition scientists help identify new health opportunities for our ingredients and develop the science in support of those benefits. Our experts can help you address the regulatory challenges of bringing new opportunities to market. And our supply chain and risk management professionals can help you develop efficiencies in ingredient sourcing and transportation while managing ingredient risk.
Ingredients & Systems
A broad, deep portfolio of the most in-demand ingredients
Our confectionery ingredient lineup includes everything you need to create amazing, on-trend confectionery products that will connect with today's consumers. Our vast portfolio includes sweeteners, chocolates, texturizers, emulsifiers, whole grains, fibers, oils, proteins, salt and more. We even offer specialty ingredients to help you capitalize on specific nutritional demands such as reduced sugar, reduced sodium, zero trans fats per serving and increased fiber.
Marketplace Knowledge
Turning insights into innovative new products
Our breadth of experience across a wide variety of food categories gives us a unique perspective on the trends and preferences that are driving consumption. We use these valuable insights to help our customers improve existing products and develop new products that capitalize on emerging opportunities and add to their sales.
As one of the largest suppliers to the confectionery industry, Cargill is uniquely positioned to meet your needs with high quality ingredients and expertise you can rely on to get the best results. Whatever formulation needs you have, we can deliver the ingredients and solutions.
What's hot in the confectionery category?
Conscientious consumption
This movement is growing beyond merely purchasing increasingly popular "natural" and "organic" products, to include such things as "buying local." Confectionery manufacturers are responding by using more sustainable production methods (e.g., limiting CO2 emissions) and minimizing "food miles," donating a portion of profits to certain causes, and using recyclable and/or less packaging to reduce impact on the environment. We invite you to talk with us about how partnering with Cargill can help you work within these evolving conditions.
Affordable indulgence
With rising prices now the reality across many different aspects of everyday life, confectionery and chocolate products tend to be viewed as indulgent, yet affordable products. Chocolate is commonly used as a gift for others or a reward for the person buying it. As prices rise, consumers may move from expensive gifts to something smaller like a decadent bar of chocolate or a small box of truffles.
Many new premium chocolates are on the market from mass producers as well as high-end chocolatiers. As ingredient prices continue to rise, Cargill has the portfolio and capabilities to supply functional ingredient systems offering equivalent performance while delivering cost savings.
Explore confectionery applications
Confectionery Ingredients - North America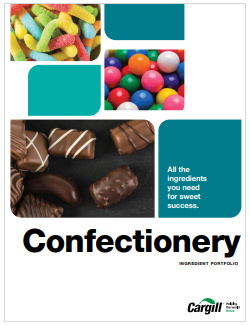 We have the ingredients you need for sweet success.
Download
Create Cutting-Edge Confectionery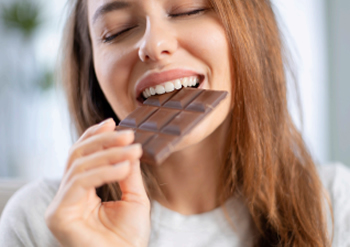 Over the past couple of years, consumers turned to indulgence for a boost…then realized that too much isn't a good thing. Confectioners now have the opportunity to remake sweets in a healthier image.
Download
Comforting Confections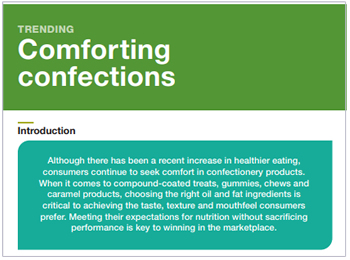 View the latest consumer trends on confectionery fats and oils.
Download
Some Cargill products are only approved for use in certain geographies, end uses, and/or at certain usage levels. It is the customer's responsibility to determine, for a particular geography, that (i) the Cargill product, its use and usage levels, (ii) the customer's product and its use, and (iii) any claims made about the customer's product, all comply with applicable laws and regulations.