An Innovative Program Changes Farming for Good
Cargill AgHorizons launches in 1997, helping the company better understand its farmer customers and meet their needs.
January 01, 2015
In a highly competitive and often unpredictable industry, Cargill's broad agricultural expertise helps farmers build and sustain profitable businesses. With the company's support, farmers are able to improve crop yields, forecast prices, ensure efficient transportation and delivery, and increase their profits to grow successfully.
Cargill's collaboration with the agricultural community dates back to the company's early days. In the 1990s, Cargill discovered that its approach to farmer support needed to change. Though Cargill's customers gave the company high ratings for its global resources and technological capabilities, they were concerned that it was slipping in other areas, most notably customer communication and marketing support. To help strengthen the company's relationships with its farmer customers, Cargill established Cargill AgHorizons in 1997.
The program symbolized a new approach to Cargill's partnerships with farmers, introducing new, much-needed methods for anticipating and responding to the changing conditions, needs and expectations of the industry. Cargill AgHorizons set out to improve the company's overall operations and customer service through an innovative hybrid approach, combining grain, seed and crop input businesses into one operation. The new structure simplified processes, allowing Cargill to present a unified offering that enhanced operations and productivity to increase profitability.
Next, Cargill AgHorizons set up four pilot programs in North America to improve customer communication and educate farmers on effective marketing methods. Focused on the local needs of operations in rural Indiana, South Dakota, Manitoba and Ontario, the initiative showed instant promise.
"The database that has been developed will help us not just identify our current customers, but our best potential customers."
—Grant Reckseiderler, Manager of Manitoba Facility, Cargill
At one grain division facility in Indiana, the Cargill AgHorizons team presented a marketing seminar for area producers to learn how to create and implement a marketing plan. The team in Manitoba explored different ways to use a database to increase farmers' selling opportunities, including identifying new customers for farm producers in the area.
Today, Cargill AgHorizons serves customers in more than 250 locations across the United States and Canada, solidifying its standing as a trusted partner to the farming sector. As the agricultural community's needs continue to evolve, so will Cargill's approach to helping customers succeed.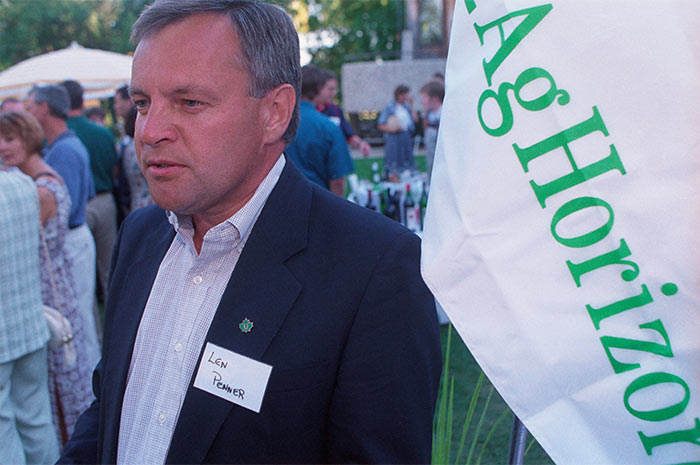 [image caption] "Producers are asking us to partner with them on the whole…operation," says Len Penner, President of Cargill Canada. "Cargill AgHorizons provides the…tools to do exactly that."