Linking the Soy Flake Supply Chain
In its efforts to produce specialty soy ingredients on a mass scale, DuPont Nutrition & Health turns to Cargill as the partner of choice.
January 01, 2015
Soy is among the most natural, reliable and renewable sources of protein on earth. Able to grow in countries around the world, it is a versatile, all-in-one nutritional supplement that can be added to many foods. For over 70 years, Cargill has embraced the potential of soy, sourcing and processing it for markets worldwide. In recent years, as consumer demand for soy products has increased, Cargill's customers have also taken notice of the benefits of soy, expressing a desire to incorporate it into their products.
For more than 15 years, Cargill has collaborated with DuPont Nutrition & Health, a leader in specialty food ingredients, including soy ingredients, to meet the growing demand for soy protein. In the beginning, Cargill helped DuPont Nutrition & Health produce soy flakes, which were then processed into soy isolates, a specialty ingredient that adds protein, digestible fiber and metabolism-boosting vitamins to a variety of foods.
Cargill's partnership with DuPont Nutrition & Health took on new complexity in 2011. Seeing an opportunity to do more, Cargill proposed lending its unique expertise across DuPont's entire supply chain, from soybean origination to final delivery.
Today, Cargill is involved in a number of aspects of DuPont Nutrition & Health's soy protein business. It is integral in DuPont Nutrition & Health's soybean supply and takes part in many areas of production with supportive services such as grower insights, freight scheduling, delivery and storage. DuPont Nutrition & Health also uses Cargill's expertise to manage costs in the increasingly volatile commodity market. By working together, the two companies are able to create market opportunities for farmers while meeting the needs of customers who want to incorporate the benefits of soy into their products.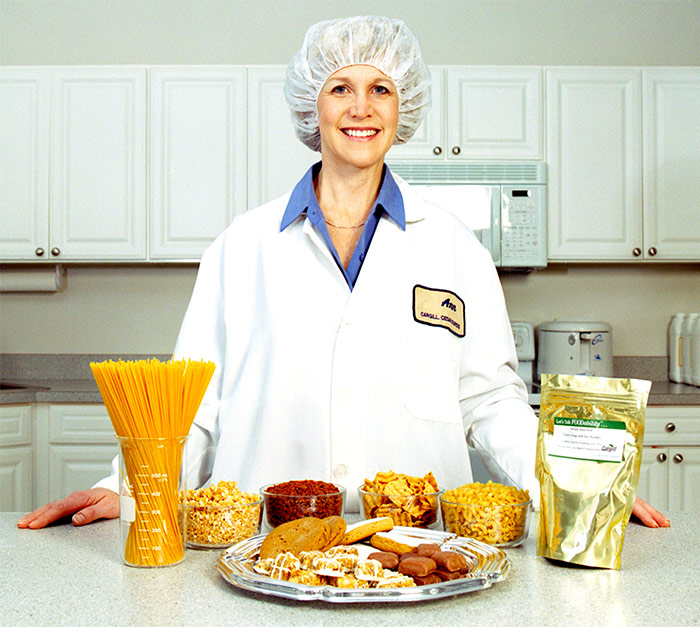 [image caption] Rich in protein and vitamins, soy is a complete source of nutrition. Cargill helps DuPont Nutrition & Health produce soy flakes, which are added to a wide array of foods.