Harvesting the Unharvested to Feed Millions
With millions of pounds of American crops left unused each year, Cargill saw an opportunity to help families who struggle to put food on the table.
January 01, 2015
In 2011, Cargill provided a $1 million (USD) grant to help launch Hunger-Free Minnesota, a program focused on feeding people in need with surplus crops. The unprecedented, statewide effort aimed to close the gap of 100 million meals that go to waste each year in Minnesota by leveraging unharvested crops and unsold food.
To make the greatest impact, Hunger-Free Minnesota established eight unique initiatives including Agricultural Surplus, Retail Food Rescue, Prepared Food Rescue and After-School Meals.
Given its agricultural expertise and wide range of resources, Cargill, along with other locally-based companies, focused on Agricultural Surplus, an effort to distribute surplus crops from Minnesota farms and processing companies that would otherwise perish.
In addition to the grant, Cargill donated surplus produce from its network of farms and facilities, and encouraged employees to volunteer their time. In 2013, after the season's corn harvest, Cargill employees and retiree volunteers processed unharvested crops at a nearby grain facility, then repacked and loaded the corn onto refrigerated trucks. The food was then deployed across Feeding America's food bank network—a system of over 200 sites that reaches well beyond the borders of Minnesota.
By the close of 2013, Cargill had helped deliver 1 million pounds of surplus sweet corn to food banks, contributing to approximately 833,000 nutritious meals for low-income families throughout 16 states.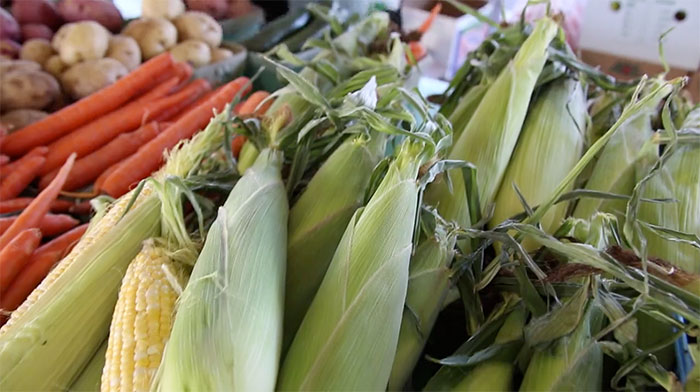 [image caption] Cargill has since helped process and deliver hundreds of thousands of pounds of additional crops—proof that this movement won't slow down.
Today, the momentum continues: employing the same strategy, Hunger-Free Minnesota hopes to harvest and distribute an additional 10.4 million meals by 2015.