Think Pink: Insulation Gets a Makeover
After successfully removing formaldehyde from their insulation, industrial powerhouse Owens Corning is poised for future growth.
January 01, 2015
If anyone can be considered an expert on insulation, it is Owens Corning. The global company invented their proprietary FIBERGLAS™ insulation in the 1930s. Decade by decade, the company has steadily evolved its portfolio, developing products and services for industries ranging from aerospace and automotive to public infrastructure and consumer goods.
Owens Corning's building insulation—cast in their trademark pink color—has remained a cornerstone of their FIBERGLAS™ business. In the early 2000s, direct competitors began responding to a new trend: removing formaldehyde, which is often used as a glue to hold together the glass fibers found in insulation, in favor of bio-based ingredients.
In 2009, Owens Corning approached Cargill to help them keep pace with the competition. Experts at Cargill developed an innovative substitute exclusively for the company: liquid maltodextrin, a solution similar to starches and glucose syrups that binds glass fibers.
"Our entire team was impressed by Cargill—both by the breadth of their product offerings and by the technical talent of their scientists."— Dave Mirth, New Product Development, Owens Corning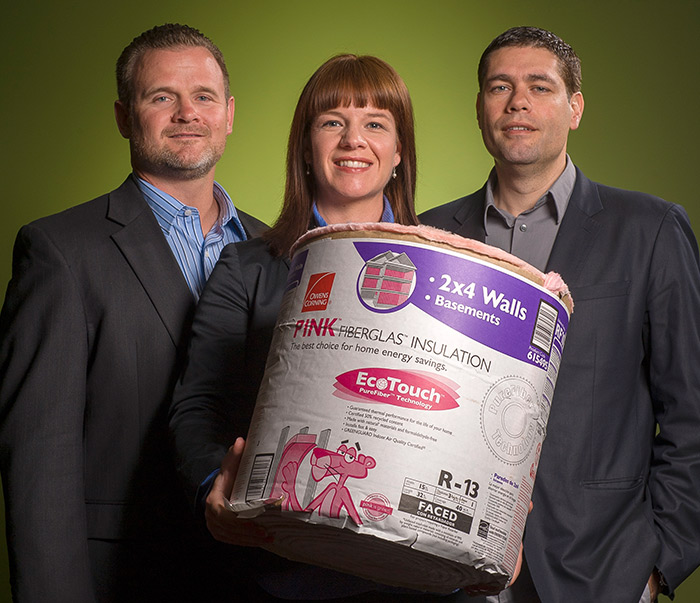 [image caption] After the launch of EcoTouch® insulation in 2011, Owens Corning honors the Cargill team (above) for its innovative work with the prestigious Supplier of the Year award.
In just 18 months, Cargill and Owens Corning finalized the new insulation, which premiered in 2011 as EcoTouch® after receiving the US Department of Agriculture's (USDA) first certification of a bio-based insulation. Later that year, the company received Owens Corning's Supplier of the Year Award, applauding Cargill for its integrated, forward-thinking work.
Since the success of EcoTouch® insulation, the two companies have engaged in continuous collaboration. Owens Corning is already sourcing risk management and energy products from Cargill. In addition, both businesses have identified more commercial insulation products that use the liquid maltodextrin ingredient. John Hillenbrand, Owens Corning's vice president and chief innovation officer, has recognized the partnership's unique potential: "We need a partner to help us continue to have a pipeline of innovative, bio-based products and Cargill is our preferred partner."