5 reasons why food banks matter
We asked food banking partners around the world what they wanted you to know. Here's what they said.
Read Time: 4 minutes
February 13, 2023
When you fill up a grocery bag to donate to a food bank, what should go in it? What happens after you drop it off? And where does it make a difference?
We asked food banks around the world to weigh in on what people should know about food bank donations — and what people might not think about. Here's what they told us:
No. 1: Need is everywhere
More than 825 million people worldwide face hunger, according to the World Food Programme — one in nine people on earth. And hunger knows no borders, with serious challenges in high- and low-income nations alike. In India, nearly one in six people go hungry; in the United States, more than 34 million people, including 9 million children, are food insecure.
"As the world faces extraordinary challenges — from climate change to food insecurity — delivering on Cargill's purpose to nourish the world in a safe, responsible and sustainable way is more critical than ever before," says Michelle Grogg, vice president of corporate responsibility at Cargill. "We collaborate with strategic partners across the globe to bring this purpose to life by empowering farmers, protecting the planet and nourishing people and communities."
No. 2: There's enough food — but much of it goes unused
Hundreds of billions of pounds of food go to waste around the world each year, with upward of 30% of food lost in the food supply chain and at retail and consumer levels, according to the United Nations Environment Programme. In the United States alone, that adds up to more than 100 billion pounds and $100 billion of food waste per year, according to the United Stated Department of Agriculture.
Food banks play a crucial role in eliminating food waste, sourcing large amounts of food and making it available to smaller, local food shelves and food pantries. They can then provide free groceries and healthy meals to our neighbors experiencing hunger and food insecurity, according to Second Harvest Heartland, a Minnesota-based food bank and one of Cargill's longstanding community partners. This is especially needed during natural disasters and other crises.
No. 3: What you give matters
It's not just about food — it's about healthy food. That means donating things like fruits, vegetables, whole grains, low-fat dairy and lean proteins. In the Feeding America network, for instance, 71 percent of the food collected is categorized as healthy — with a goal of bringing in enough fruits and vegetables to serve 1.7 billion meals a year through produce by 2025.
Cargill provides tens of millions of meals per year to global and local food bank partners. "Thanks to Cargill's support of The Global FoodBanking Network, food banks in 44 countries served 1.4 billion meals to families facing hunger last year, says Lisa Moon, president and CEO of The Global FoodBanking Network. "Unfortunately, the number of those suffering from food insecurity are steadily on the rise. In a world where millions experience food insecurity and public resources for food assistance are severely limited, food banks are playing an increasingly pivotal role in alleviating hunger."
No. 4: Food banks do heavy lifting
When you give, your job might be done. Theirs isn't.
Food banks are in the logistics business of getting meals across their networks to people who need it. The 341 food banks of the European Federation of Food Banks (FEBA) alone have provided 907,280 tons of redistributed food.
That expertise also gives food banks a long reach.
"Food banks are integral to the world's food system," says Pete Stoddart, Cargill's North American corporate responsibility lead. "Whether by building technology to increase food donations, setting up regional distribution hubs or coordinating with producers, retailers, the food service industry or distributors, food banks are the networks to move food to where and when it is needed most to the people who need it the most."
No. 5: The goals go beyond food
Even with the central role of providing food, support for food banks goes well beyond the food itself. Cargill has partnered with Feeding America since 1986, providing financial, product, volunteer and leadership support in food safety, product donations, produce capture and farmer engagement. Our work together includes innovative food sourcing, improving food safety, community health and nutrition, product donations and employee volunteerism.
"Nourishing the world means doing more with less — food banking is an important part of responding when people are in crisis as we work to build solutions that make the food system work better for everyone," Pete says.
Cargill supports hundreds of food banks around the world through funding, logistics, volunteers and more. Learn more about food security and food waste here.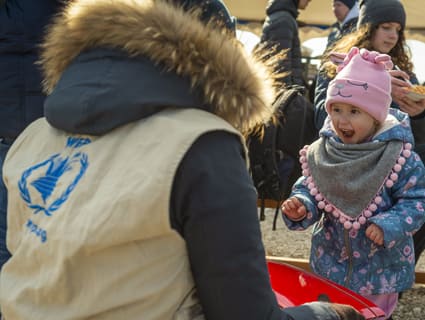 Meeting colleague, community and farmer needs in Ukraine
Through Cargill's 158 years, two things have remained constant: We always put people first, prioritizing our employees' safety, and we do everything we can to nourish the world.
[]/[]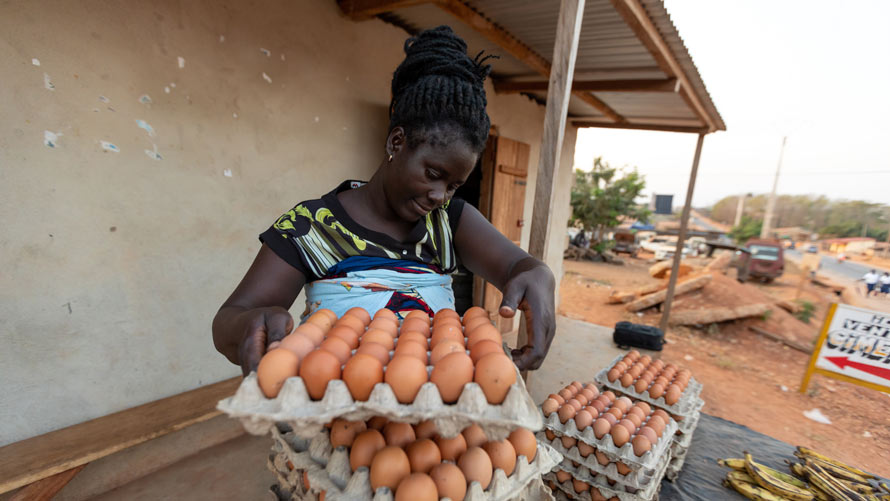 What is ESG? Breaking down these 3 small letters with big significance at Cargill.
Learn how we delivered during a year of disruption in Cargill's new environmental, social and governance (ESG) report.
[]/[]