Meeting colleague, community and farmer needs in Ukraine
July 27, 2022
The people of Ukraine are living an unthinkable and horrifying reality. Since their country was invaded, many have lost their lives, their families, their homes — everything.
It's estimated the crisis has displaced more than 14 million Ukrainians. Up to 47 million people globally could face acute hunger as a result of the crisis, according to the World Food Programme.
Through Cargill's 157 years, two things remain constant: We always put people first, prioritizing our employees' safety, and we do everything we can to nourish the world.
Care for colleagues in need
Ensuring our employees are safe and cared for is paramount.
Relief during disaster
Cargill's Employee Disaster Relief Fund — created in 2020 to support our colleagues around the world during times of catastrophe and disaster — is providing critical emergency funds to all Ukrainian employees. These urgent financial relief grants support basic needs, such as housing, childcare, food, clothing, transportation and utilities.
A connection to much-needed resources
Cargill opened a global relief center to support displaced colleagues and their families.
For displaced Ukrainian colleagues, life in a new country can bring challenges. Cargill is here to help.
We recently created the Ukraine Support Hub, a global relief center to support our displaced colleagues and their families. Based in Poland, the hub helps employees who have evacuated to other countries with their basic needs, including housing, medical care, travel, immigration, employment, finances and children's education.
"
"I am proud to work in a company that cares about their employees like this."
Supporting the wider community across Ukraine
To date, Cargill has committed to donating a minimum of $40 million, directed to several global partners (see below) as well as to local relief organizations supported by our employee-led Cargill Cares Councils in Ukraine, in neighboring countries and across Europe.
Food for more than 3,000 people per day
Cargill helped start the Kyiv City Charity Foundation Food Bank in Ukraine in 2012. Today, the food bank is a central point of relief efforts. © Copyright Kyiv City Charity Foundation Food Bank
When Cargill helped start Ukraine's Kyiv City Charity Foundation Food Bank in 2012, no one could've predicted the humanitarian crisis unfolding today. Now the food bank is a central point of relief efforts, serving more than 3,000 people per day and delivering more than 400 tons of food and supplies as of mid-March.
The Kyiv food bank is part of the European Food Banks Federation (FEBA), a Cargill partner that is providing support to food banks in Ukraine, Hungary, Moldova, Poland, Romania and Slovakia to grow their capacity to serve Ukrainian refugees. Cargill supports FEBA and its broad network of more than 300 food banks across 30 European countries.
"
"This is a real-life example of why and how we invest in local food security. We lean on our strong partnerships and build networks that support people where it is most needed — not only in times of crisis but every day."
Employee volunteers: Global effort, local impact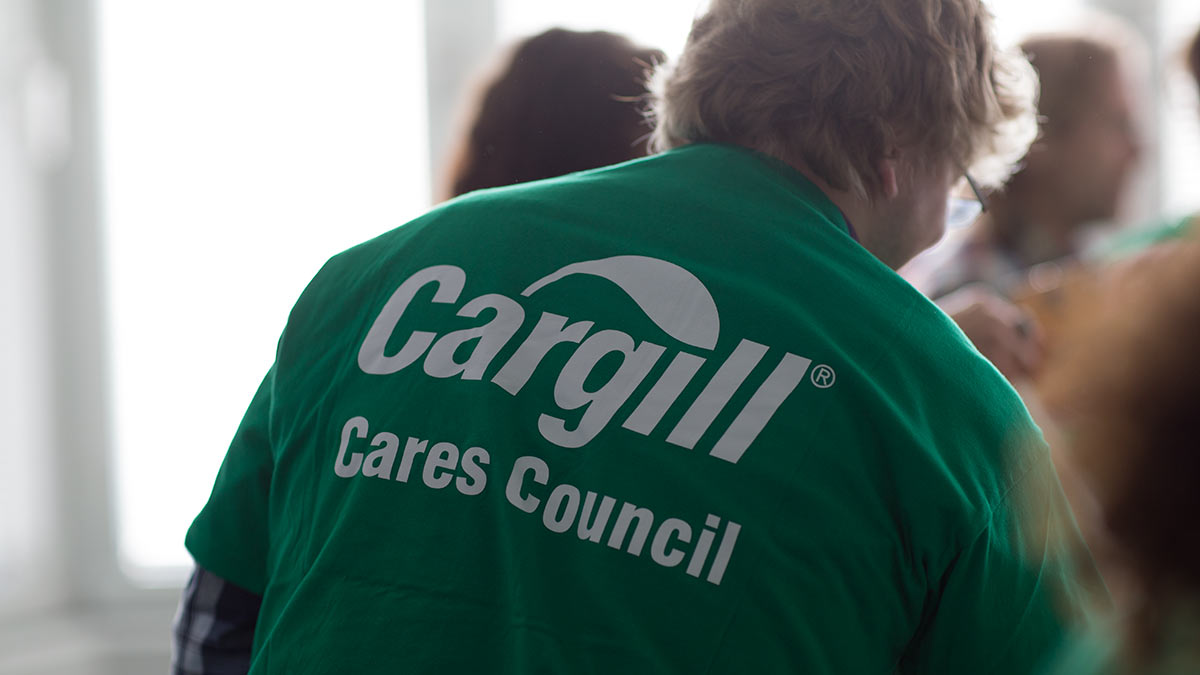 Cargill Cares Councils, our employee-led volunteer groups, are working with local partners to support relief efforts across the region.
Cargill Cares Councils — our employee-led volunteer groups — live up to their name every day. And today, these employee groups are working with local partners in European countries to support relief efforts across the region. Below are some examples of the important work our employees are leading.
Employee volunteers in Ukraine are supporting hospitals and municipalities providing shelter, food, medicine and equipment.
In Poland, employee volunteers offered food and supplies to Ukrainians as they traveled through a local train station. They also donated about 5 tons of protein products and more than 2,600 pounds of pet food to Ukrainian refugees and their pets.
Volunteers in Hungary have shipped essential products, made financial contributions, and organized food, medicine and bedclothes collections.
In Bulgaria, Cargill employees partnered with the Red Cross to create a drop point for clothes, bedding, hygienic materials, heaters and tents, and provided a financial donation to the Red Cross.
Employees in Belgium worked with the local municipality in Mechelen to support activities such as creating welcome packages for refugees, organizing volunteer activities for refugee children, and making financial contributions to procure food and hygiene products.
In Romania, Cares Councils are supporting World Vision, an organization providing relief to the most vulnerable Ukrainian refugees, as well as mobile medical care for refugees.
Employees in Germany raised money for the Red Cross and for a food bank in Krefeld, which is facing shortages.
In France, employees have organized a donation to the French Federation of Food Banks.
In Switzerland, employees organized fundraisers for non-governmental organizations and local community organizations supporting vulnerable, displaced communities in Ukraine.
A partner to leading humanitarian organizations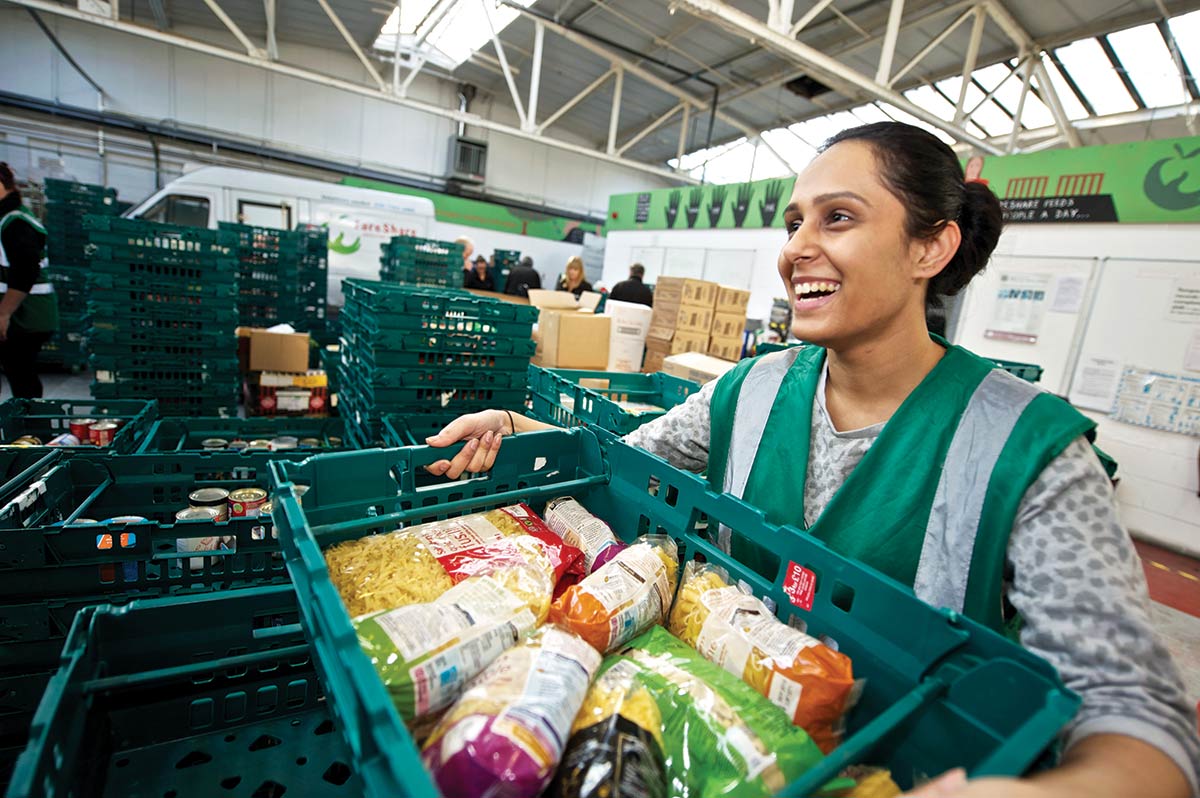 Cargill is supporting global and local partners leading the humanitarian response in Ukraine and across the region.
Cargill also is supporting other global and local partners helping lead the humanitarian response, including these organizations:
Helping Ukrainian farmers keep food flowing
Cargill is supporting Ukrainian farmers to help mitigate a global food crisis.
The crisis in Ukraine is impacting hundreds of millions of people around the globe. Among them are Ukrainian farmers, who need additional support to produce food the world depends on. Every farm and harvest matters at this moment.
Cargill is supporting Ukrainian farmers to help mitigate a global food crisis. We have invested in World Central Kitchen's seed pilot project, which supports farmers' livelihoods and helps ensure crops are planted this season. The project helps buy sunflower and corn seeds from a Ukrainian supplier and distributes them to mid-sized farmers in the most impacted areas.
For the latest information on our operations in Eastern Europe, read our most recent statement.