Traceability through Mobile Banking
Creating the first fully traceable cocoa supply chain in Ghana
October 16, 2017
In Ghana in November 2016, Cargill Cocoa & Chocolate secured a direct purchasing license from the Ghanaian Cocoa Board (Cocobod), allowing us to directly source cocoa beans from farmers. This enabled us to set up Cargill Kokoo Sourcing Ltd – our own licensed buying company.
So far, over 25,000 farmers are registered with the company, of which 9,000 are actively seeking to sell beans through Cargill's direct sourcing network.
Our innovative, high-tech purchasing model is based on the principles of full traceability, with mobile banking a key tool. Farmers deliver their cocoa to community warehouses where beans are digitally weighed and assigned a fully traceable bar code. This means we can trace each individual bag of Ghanaian cocoa beans to the originating individual farm – creating a fully traceable supply chain down to farmer level for the first time in Ghana.
Once the beans have been weighed the farmers are paid using E-Money through our partnerships with E-Zwich, MTM mobile Money, Tigo Mobil Money – straight to the farmers phone or E- Wallet. The use of a mobile banking application means our employees and farmers carry no cash, which contributes to improved safety and security. Farmers receive payment immediately, accessing funds quicker and reducing time spent traveling to and from a bank. The system provides access to the world cocoa market and pricing – connecting farmers to the cocoa market and providing a transparent process, which they both want and appreciate.
The introduction of this model reflects Cargill's commitment to transform the Ghanaian cocoa sector for the benefit of all stakeholders.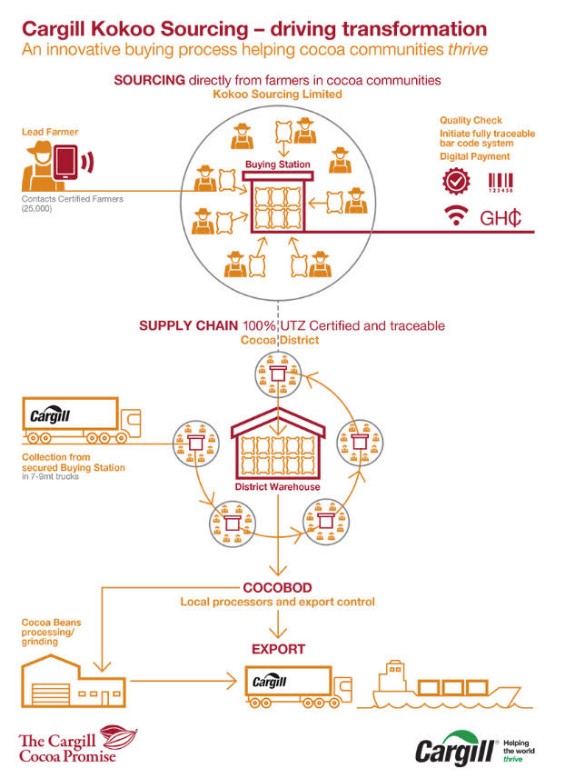 Highlights
25,000 farmers registered within the first year.
Looking ahead
Currently, we are sourcing cocoa from four districts, comprising almost 9,000 farmers. A fifth sourcing district is in the pipeline to be included in the coming year.
"The new model of trade adopted by Cargill has been very helpful. First, the system is so transparent and I receive value for the cocoa I sell. The electronic mode of payment also makes it easier for me to save my money without fear of losing it and I do not need to travel long distances to get my money saved."
Theresah Asante is a 60 year old cocoa farmer in Ghana who owns a three-hectare cocoa farm. She discusses the benefits of being a member of Cargill Kokoo Sourcing Ltd