Cocoa Sustainability Progress Report
2018/2019 Cocoa Sustainability Progress Report
As one of the world's leading cocoa and chocolate producers, we act at the heart of the cocoa sector, connecting all stakeholders in the value chain and taking into consideration the many distinct yet interconnected issues that feed into the future sustainability of the sector. The 2018/19 sustainability report was included on the List of GRI Standards Reports as well as on the GRI Sustainability Disclosure Database.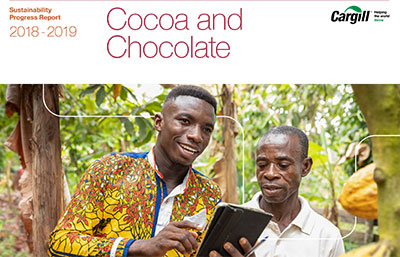 Also available in: French Portuguese
For previous versions of the Cocoa Sustainability Report, click here >>
Partner now with Cargill Cocoa & Chocolate on sustainability to:
Gain greater insight into your sourcing of sustainable cocoa and better adhere to the expectations of your stakeholders regarding the key challenges facing the cocoa sector.
Make your own and meaningful impact in your cocoa supply chain in line with your company's brand values and sustainability commitments.
Reinforce your company's reputation and brand image as an organization committed to sustainability, transparency and securing an ethical supply chain for generations to come.
Contact us today to learn more about how we can help you take action on the sustainability issues that matter most to you, whilst making a positive impact on your cocoa supply chain.