Food Safety
For more information about our products and services and to see how we can support your future innovations, please
Ensure your peace of mind with cocoa and chocolate products that are guaranteed
Food safety is paramount at Cargill, so you can be certain the products your customers buy are safe. Our aim is to ensure your trust by delivering assured quality every time – through stringent food safety processes and tight microbiological specifications of all our cocoa and chocolate products.
Ensuring safety through rigorous control
During production, important parameters such as the fat and moisture content and pH are continuously measured.
Products are also tested for health risks such as salmonella. When deviations occur, processing is adjusted accordingly. After production the final product is analyzed according to key safety criteria, as well as the properties agreed with you in advance.
The Cargill Cocoa & Chocolate Laboratory (CCCL) is responsible for monitoring in-line samples, analyzing the final product and generating certificates of analysis. This means the highest standards are maintained. Every product and process is tested according to the strict international regulations and the highest international standards such as the Food Safety Certification FSSC 22000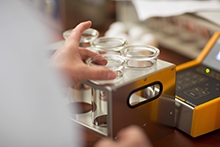 Food Safety
Testing every product to provide you greater peace of mind