Farmer Livelihoods
Enabling farmers to achieve better incomes is at the heart of the Cargill Cocoa Promise
We believe that the best way to safeguard the future of cocoa is to improve the livelihoods of farmers and their communities. Our ultimate ambition is that all the farmers we work with will acquire the skills to become empowered entrepreneurs who manage professional and responsible farms. Farmers must be able to secure a stable and profitable income and see growing cocoa, potentially along with other crops, as a positive and essential contributor to earning a living income and making socio-economic progress.
To achieve this, we have committed to championing professional cocoa farming practices and to strengthening the socio-economic resilience of cocoa farmers and their communities.
This means we will:
enable the farmers we source from to maximize the profitability of their farms through better productivity per hectare and income diversification
enable farmers we source from to benefit from professional farmer organizations, as we see this as a key pathway to long-term cocoa sustainability in the regions we source from
deliver the above by offering products, services, training and coaching to all the farmers we source from
A sequential approach
Through our experience, we believe a sequential approach is the best way to enable farmers to make their farms more profitable and productive. To deliver measurable improvements in farmer livelihoods, we invest in two key areas:
Farmer training: Empowering farmers to run their farms as successful businesses by providing training, personal coaching and tools that promote good agricultural, social, business, environmental, and health and safety practices.
Farm development: At the individual farm level, we develop plans to optimize cocoa production and ensure inputs are accessible and used efficiently and responsibly, including:
Training comes first, because it allows farmers to see how much they can achieve by applying the better agricultural practices they learn about. After this, they can introduce crop protection and assess its impact on yields. Depending on the age and productivity of their trees, the logical next step is to plant more robust, productive, high-quality varieties of cocoa seedlings. Fertilizer comes last in the sequence, once the other stages have made sure the land is "fertilizer ready" and farmers understand when and how best to use it. We provide farmers with access to these resources to make their farms viable and more productive – including shade trees, plant material, crop protection, fertilizer and finance. Having access to these inputs, and actively and appropriately applying them, helps to deliver both cocoa productivity increases and improved cocoa profitability.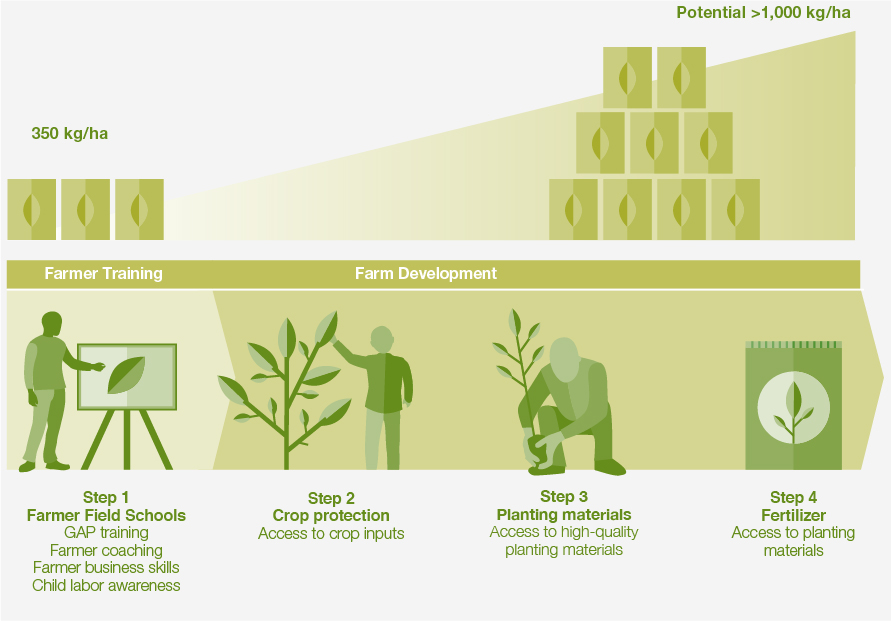 What is a living income?
The World Bank has defined an international poverty line, the absolute minimum required to lift a person out of poverty, as US$2 a day. This is slightly different to a living income. Until we have defined clear regional benchmarks for living income for cocoa smallholder farmers we can refer to the World Bank's poverty line as a reliable equivalent.
We define living income for farmers by totaling all the expenses they incur to achieve a decent livelihood in their local area, taking into account food prices, housing costs, service costs, school fees and other charges. We then assume that farmers must achieve this level of income as an absolute minimum and ideally, a higher amount.
We will base our living income calculations on what we know about the cocoa farmers we work with – the size of farms and their families, the quality of their cocoa trees, whether or not they produce some or all of the food they consume, or have other sources of income.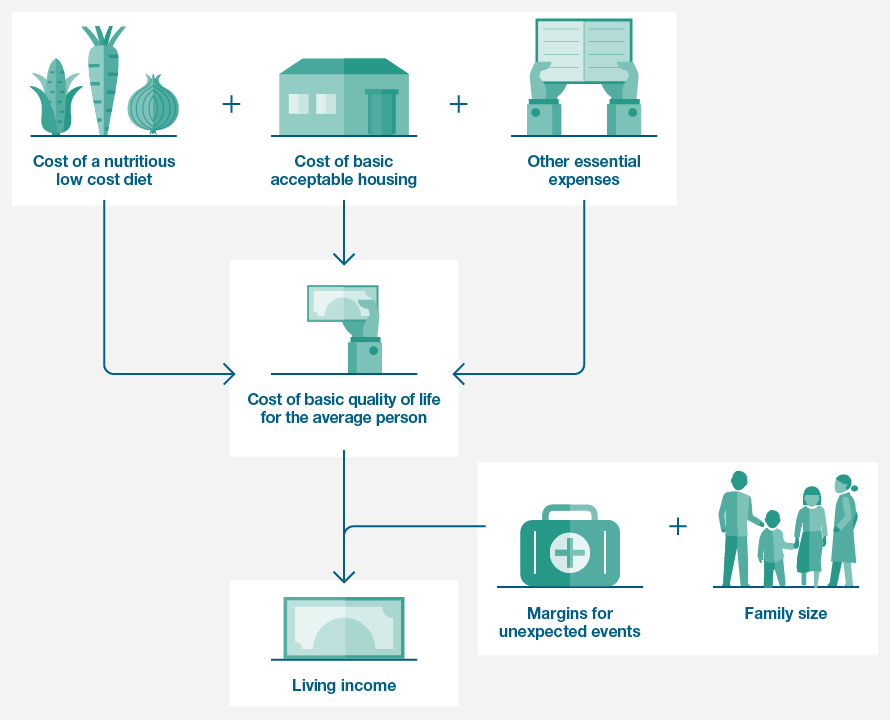 Strengthening farmer socio-economic resilience
As we continue to learn and evolve our approach, we have increased our focus on improving farmers' socio-economic resilience so that they can withstand challenges they may face such as unfavorable weather or global cocoa price fluctuations. We are looking beyond just cocoa by promoting community livelihoods and diversification of income as a way for farmers and their communities to better respond to short-term fluctuations in cocoa profitability. By building up these additional income streams, communities will be more resilient to fluctuations in cocoa, which will help to improve the supply for our industry. Read more about how we are strengthening farmers' socio-economic resilience in our 2017 report.
Affordable finance and mobile banking
Farmers will only use better agricultural resources if they can easily access them and afford to buy them. We are helping them achieve this in a number of ways. Our Doni Doni, Yiri+ and the Cacao Allyie fertilizer initiatives provide affordable finance and access to tools and equipment to cooperatives and farmers. Mobile banking is another way we are providing opportunities: by gaining access to banking services and increasing their capacity to save, farmers are better able to plan and invest in the future. Find out more about mobile banking.
Progress and highlights
3,199 Farmer Field Schools set up across our five origin countries, providing training to 145,064 farmers

62,000 farmers in Côte d'Ivoire have benefited from one-to-one coaching through which they have developed farm development plans

49% yield improvement achieved by farmers who adopted the actions set out in their farm development plans in the first year of implementation in Côte d'Ivoire (see case study)
Related links
To learn more about these topics: