A change for cocoa
communities benefits all
From producers to suppliers, and from farmer to chocolate lover, there's room in the future of cocoa and chocolate for everyone to thrive and grow.
That is an integral part of the Cargill Cocoa Promise - the sustainability program we created to formalize and solidify our sustainability efforts stretching back nearly two decades - and we are proud to expand on this promise with each passing year.
Today, we have raised the bar on our sustainable cocoa and chocolate offerings to respond to broader, increasingly diversified market needs, so you can get the most for your brand while creating real, meaningful impact for cocoa farmers and their communities.
Find the right promise for you
With many options for making meaningful change in cocoa farming communities, it is sometimes hard to know which path is the right one to take. Cargill acts in the center of the cocoa sector and has taken a leadership role in addressing cocoa sustainability since the early 2000s. We connect with key stakeholders in the value chain to ensure our solutions portfolio addresses the sector's evolving issues and society's expectations.
We take our customers' evolving needs and expectations seriously, considering the different stages they might be in on their sustainability journey. We are excited to introduce an innovative portfolio of sustainability solutions, the Promise Solutions, to meet our customers' diverse needs and targets in terms of desired impact, access to data and information, sourcing models and more.
Our Sustainability Coaches are ready to work hand in hand with you to help define and realize the right promise for your brand.
Get in touch with our Sustainability Coaches
Promise Solutions: Grow at your own pace
Fundamental to the success of our shared journey to bring sustainability to the next level is the ongoing strengthening of our direct global sourcing network. Our refreshed sustainability portfolio capitalizes on the strengths of this direct sourcing network offering a more secure and transparent supply chain to our customers.
In addition to third-party certified cocoa, we introduce Promise Cocoa, sustainable cocoa sourced directly from known and trusted farmers and farmers organizations benefiting from a wide range of Cargill Cocoa Promise activities. Promise Cocoa responds to our customers' increasing desire to gain more transparency and confidence in their sustainable supply chain, visibility into the allocation of their investments in sustainable products, and the opportunity to further steer their investments towards the areas that matter to their consumers and other key stakeholders the most.
Explore our interactive Cargill Cocoa Promise Sourcing Partner Network map to understand where Promise Cocoa beans are sourced from.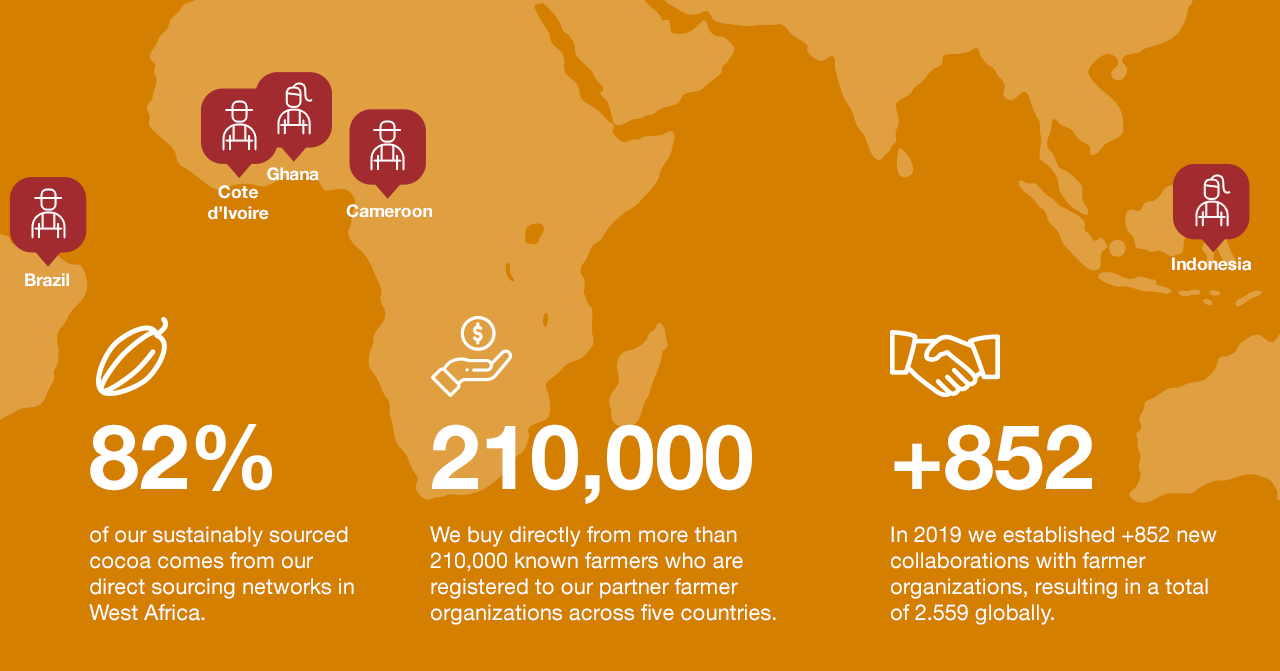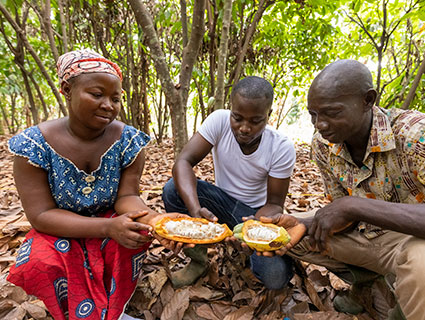 With your selection of Promise Cocoa comes the option to add supplementary products and services on additional products and services and grow your involvement at your own pace.
Working closely with our Sustainability Coaches you may choose to invest in a high impact project linked to a key challenge facing the cocoa sector—such as gender inequality, deforestation or child labor. Or you may choose to invest in gaining greater insight into your supply chain by investing in a physical traceability solution. Either way, our portfolio is designed to support you on your journey to realize your sustainability commitments, reinforce your brand values through a differentiating story, and ultimately help you to build brand equity and preference amongst your customers.

To create more value for our customers, Promise Solutions come with access to a digital reporting platform and the latest consumer insights.
CocoaWise™ Customer Portal
Unlock valuable information and insights
We strive to offer maximum transparency to our customers in relation to their sustainable sourcing and the impact investments in our shared cocoa supply chain. To that end, we are heavily investing in the digital transformation of our direct supply chain and internal systems, harnessing the power of technology, and continuously improving our ability to transfer reliable information from the field to our customers.
We are introducing CocoaWise™: A dedicated customer portal which unlocks valuable sustainability progress and impact data, and storytelling materials to our customers in an interactive, engaging and personalized way. Through the portal, you can gain more transparency and confidence in your sustainable supply chain, and deepen your connection with the cocoa farming communities your cocoa is sourced from.
Consumer insights
Understand your consumers' behaviors
We have compiled an extended repository of in-depth consumer insights from over 7,000 consumers across 10 European countries, allowing you to gain a deeper understanding of your consumers' sustainability perceptions and behaviors. These country specific consumer insights are a valuable tool when it comes to making relevant sustainability investments, for building an inspiring sustainability story, and for connecting and communicating your sustainability involvement and impacts with your customers in a more concrete and compelling way.
Our customers are our key partners in the journey towards a fully sustainable cocoa and chocolate supply chain
Which is why we would like to invite you to join us in committing to the promise to transform the sector. Your promise has the power to make a difference in the livelihoods of cocoa growing communities, while directly influencing and shaping your consumers' demand for sustainable products. In parallel, investing in sustainability and committing to a promise that best aligns with your vision and resonates with your stakeholders will allow you to realize your corporate sustainability commitments, strengthen your reputation and grow your brands.