Carbon Footprint
Taking action to reduce the Corporate and Product-based emissions in our cocoa business
Addressing carbon emissions is especially important for us as cocoa is a particularly climate-sensitive crop, and small changes in climate could have a potentially large impact on cocoa supply and the farmers who produce it. We are investing in the development of products created from more sustainable raw materials in order to, among other things, reduce our carbon footprint and help our customers meet their sustainability and climate goals.
Cargill has committed to:
Cargill Cocoa & Chocolate plays its part in addressing environmental challenges such as climate change. We have a public commitment to zero deforestation in our direct and indirect cocoa supply chain by 2030. In 2018 we launched our Protect our Planet Strategic Action Plan that aims at addressing the environmental impacts in our cocoa supply chain.
A lens into our carbon footprint
On our journey to delivering full transparency, we have assessed our total corporate emissions related to our cocoa supply chain (Scopes 1, 2 and 3) and have calculated the footprint of our cocoa products. We based our calculations on recognized benchmarks (greenhouse gas protocol, GHGP) and a state-of-the-art deforestation assessment methodology. We had our methods verified externally by a third party, Quantis.

Carbon footprint
The sum of all greenhouse gas (GHG) emissions released (and removed from) the atmosphere. (GHG) footprint has many sources, with Land Use Change being one of them. This sum is expressed in carbon dioxide-equivalent (CO2-e).
Scope 1, 2 and 3 emissions
A corporate footprint (Scopes 1, 2 and 3) measures GHG emissions from all activities related to a corporation. This includes:
Scope 1: Direct - Emissions from sources directly controlled by Cargill, such as production facilities.
Scope 2: Indirect - Emissions generated from purchased electricity consumed by Cargill.
Scope 3: Indirect - Emissions generated by sources not directly under Cargill's control, including production of raw material, capital goods, transportation/distribution of goods, leased assets, business travel, commuting, franchises and waste, among others.
Land use change (LUC)
A process by which human activities transform the natural landscape, referring to how land has been used, usually emphasizing the functional role of land for economic activities. Examples of land use changes are deforestation, forest degradation, or increase in croplands.

Today, we can say that our Scope 3 emissions account for more than 95% of our corporate (Cargill Cocoa & Chocolate) carbon footprint. Deforestation, which is part of what is called Land Use Change (LUC) is one of the biggest contributors to the carbon footprint of cocoa production; it accounts for 66% of our total carbon footprint.
Our approach to reducing carbon emissions
With deforestation accounting for 66% of Cargill Cocoa & Chocolate's carbon footprint, eliminating deforestation is a key priority for us. Our Protect Our Planet Strategic Action Plan is enabling us to take concrete action to end deforestation in our supply chain and contribute to restoration of agricultural and forest landscapes. We holistically address the connected issues affecting natural landscapes, agriculture and farmer resilience to ensure a more sustainable and secure supply of cocoa for generations to come.
Tackling deforestation and restoring landscapes starts with knowing where to look. In our direct supply chain we collect GPS boundary polygons of farms (geolocalized farms). Working together with the World Resources Institute Global Forest Watch initiative, we overlay these polygons with satellite-based, geospatial data on forests and forest loss to quantify historical deforestation footings and the associated GHG emissions. As such, we gain insight into where deforestation is happening and are able to take targeted mitigating (e.g. agroforestry) and preventative (e.g. farmer training on efficient, environmentally sound and safe farming practices) measures.
Supporting industry's collaborations
Cargill is an active participant in the industry's efforts to incorporate land-related emissions into world inventories and standards, such as the WRI (World Resources Institute) and the Science-Based Target initiative (SBTi).
We are actively participating in the environmental working group led by the European Cocoa Association (ECA) aimed at exploring a sector-wide approach to quantifying the carbon footprint of cocoa production and cocoa and chocolate supply chains.


In addition, we are one of the original signatories of the industry's Cocoa and Forests Initiative (CFI) in which we committed to no further conversion of any forestland and ending deforestation in Ghana and Côte d'Ivoire. All signatories publish annual reporting on progress. We have issued two Annual CFI Progress Reports: 2019 and 2020.
Our work towards eliminating deforestation is rooted in our broader company commitment to transforming our agricultural supply chains to be deforestation-free, through prioritized supply chain policies and time-bound action plans as outlined in the Cargill Policy on Forests.
In parallel, we take action to address Scope 1 and Scope 2 emissions in our cocoa operations. For example, since 2017 we run a fully automated solar power facility in Tema, Ghana. More lately, in October 2021 we began operations at two state-of-the-art facilities in Hoogtij, Amsterdam, the Netherlands. Our two warehouses are expected to substantially reduce emissions, as they are fully electric and located close to our production facilities, which enables alternative transportation to be utilized.

How we help our customers reduce their own carbon footprint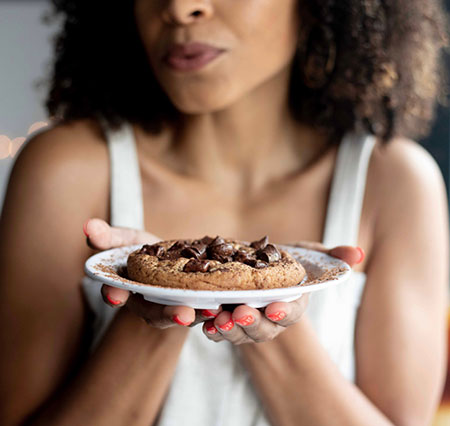 Addressing carbon emissions is important not only for us as a business but also for our customers, who want to reduce emissions in their supply chains. We also expect this demand to grow due to the upcoming EU regulation on deforestation-free products.
As a key link in the supply chain of cocoa and chocolate ingredients, we feel responsible to not only support our partner farmers but also our customers in addressing climate change in their own operations, given that the cocoa products they purchase from us fall into their own Scope 3 footprint.
We invite our customers to move their purchase to Promise Cocoa, i.e. cocoa derived through our sustainability program, the Cargill Cocoa Promise. The Promise Cocoa beans are entirely sourced through our direct networks from known and trusted farmers and farmer organizations benefitting from the Cargill Cocoa Promise. Promise Cocoa is always verified sustainable by an independent auditor.
| | | | | |
| --- | --- | --- | --- | --- |
| Fact 1 | | Fact 2 | | Fact 3 |
| Promise Cocoa products are likely to have a lower carbon footprint than their non-Promise Cocoa alternatives - from a few percentage points up to 50% lower depending on the cocoa content*. This is due to the LUC and deforestation risk assessment and mitigation capabilities we have established within the Promise Cocoa sourcing network. | | 1 metric ton of Promise Cocoa has a carbon footprint of 4.2 metric ton CO2e, which is 2.4 times lower than the carbon footprint of non-Promise Cocoa (as per Economic Allocation method**). | | The higher the cocoa content in the product, the higher the difference observed in the carbon footprint between Promise Cocoa and non-Promise Cocoa products. In fact, Promise Cocoa liquor, butter, powder and dark chocolate have on average half (50%) the carbon footprint of their non-Promise alternatives.* |

* assuming non-Promise Cocoa alternatives land use change is best represented at the country-level and similar sourcing for other ingredients.
** 1 metric ton of non-Promise Cocoa has a carbon footprint of 9.9 metric ton CO2e . These results vary as per the usage of LUC methods. There is a +/- 10% uncertainty/ tolerance range from Life Cycle Assessment method used.

Today, our customers can gain visibility into their carbon emission data and insights through the CocoaWise™ Portal. Using our online Carbon Footprint Calculator, they can calculate their reduction potential and see for themselves how Promise Cocoa can help them reduce their own carbon footprint (Scope 3 emissions).
If not mentioned elsewise, all West Africa photos in relation to sustainability are by Sandrine Bénitah « @Sandrine Bénitah »