Climate
Innovating together for a better future
Our food system is resilient, but it's never faced challenges quite like this. Our population is growing, our water sources are dwindling, and our climate is changing.
We're doing everything we can to meet the challenge accross the global food system, from reducing emissions across our global supply chains to building sustainable practices into farming processes around the world.
Addressing climate change and helping farmers isn't mutually exclusive. In fact, farmers and agriculture are how the world can solve today's challenges. We're committed to working with our partners around the world to improve their environmental impact and to supporting and empowering farmers, whose livelihoods are increasingly affected by the impacts of climate change.
We're taking action to:
Reduce emissions across our operations and key supply chains
Taking steps like innovating in emissions-reducing technology and investing in renewable energy to power our operations and working with farmers on projects that improve soil health and reduce emissions across our North American beef supply chain.
Partner with customers and suppliers to develop cleaner products
Investing in the development of products created from more sustainable raw materials to reduce our carbon footprint and help customers meet their sustainability and climate goals.
Create incentives for farmers to implement sustainable practices
Creating new, diverse revenue opportunities that compensate farmers to adopt soil health practices that reduce carbon emissions and helping to scale the market for bio-based products and alternative protein options.
Support climate change legislation and incentives
Promoting decarbonization in agriculture, manufacturing, and energy. We fully endorse the Paris Climate Agreement and our Scope 1, 2 and 3 goals are approved by the Science Based Target Initiative (SBTi), the globally accepted standard for ensuring emission reduction goals are aligned with the Paris Climate Agreement.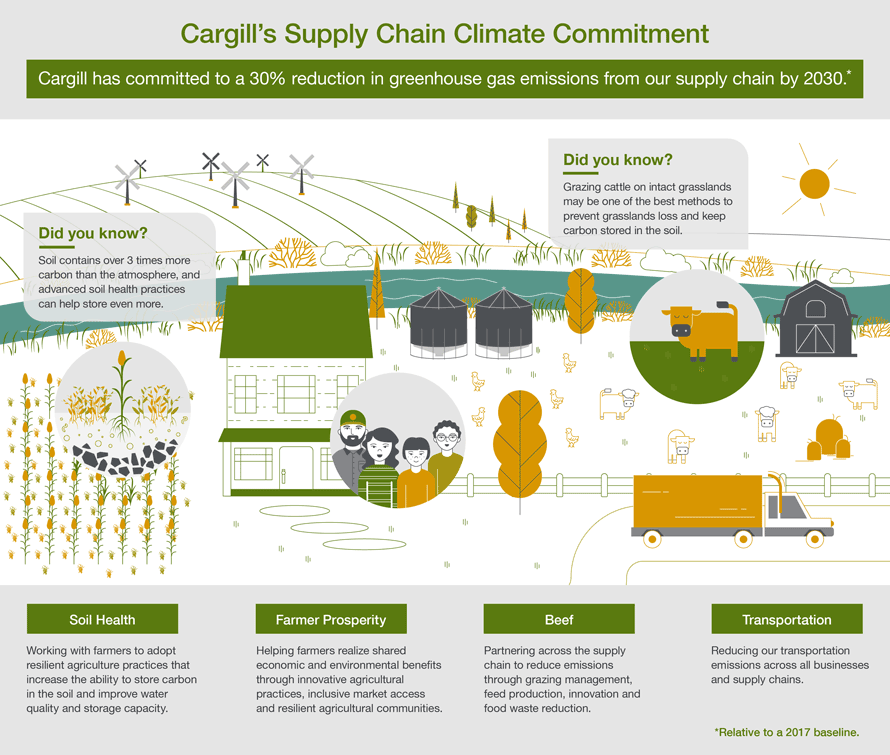 News Highlights