Protecting Forests
Transforming supply chains to be deforestation- free
Protecting our planet's forests and their surrounding ecosystems is critical to fulfilling our purpose of nourishing the world in a safe, responsible and sustainable way. We are firmly committed to eliminating deforestation from our supply chains in the shortest time possible, and we are accelerating our efforts. We promote responsible production that benefits farmers and surrounding communities and are focused on innovative solutions that are economically viable for farmers. Our Cocoa, Palm and Soy Supply chains are our priorities for these efforts.
Our commitment
Cargill is committed to transforming our agricultural supply chains to be free of deforestation by 2030. Our Policy on Forests lays out our overarching approach to achieving this target globally across our priority supply chains. It is founded on our belief that farming and forests can and must coexist. We are delivering on our commitment through time-bound policies and action plans in our cocoa, palm and soy supply chains. See our Policy on Sustainable Soy – South American Origins, South American Soy Action Plan, Sustainable Palm Oil Policy and Commitments and Cargill Cocoa Promise for more details.
Actions we're taking
We're engaging farmers to drive inclusive transformation. Our commitment to change starts with engaging farmers. We are working to identify innovative, market-based mechanisms to provide incentives for farmers to protect forests and native vegetation even when they have the legal right to convert that land.
We're increasing transparency. We are investing in traceability and working diligently to increase the visibility of our supply chain for our customers and stakeholders. Increased supply chain transparency allows us to gather data in a more sophisticated manner and act based on insights. We are striving to create visibility, transparency, and insights through supply chain mapping.
We're taking a multi-stakeholder approach to drive collective action. Sector-wide transformation is necessary to truly protect vital ecosystems. We believe that our individual and industry efforts will jointly lead to innovative solutions. That's why we are taking a multi-stakeholder approach – working with farmers, customers, industry groups, NGOs, researchers and governments – to drive collective action and transform the food supply chain.
We're increasing offerings of verified Deforestation- and Conversion-Free (DCF) products. While we are working to transform our entire supply chain, we offer DCF products for customers today, including:

Soy: Our Triple S (Sustainably Sourced & Supplied) soy scheme is verified DCF and available to all our customers globally. Through Triple S, farmers receive a premium payment for their increased sustainability and safety measures.

Palm oil: We offer segregated certified palm oil produced according to the principles and criteria established by the Roundtable on Sustainable Palm Oil (RSPO), which verifies forest protection and social and environmental safeguards are met during the oil's production and harvest.
Cocoa: Our Protect Our Planet Strategic Action Plan is helping us take concrete action to end deforestation in our cocoa supply chain and contribute to reforestation. 43% of our total cocoa volume is third-party certified sustainable, either via Rainforest Alliance or Fairtrade.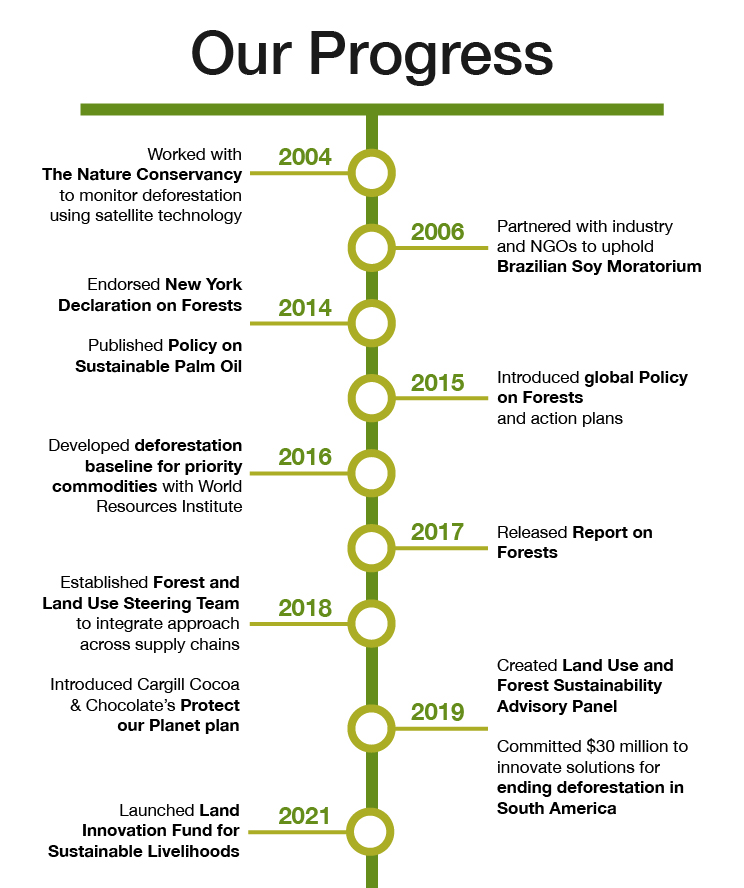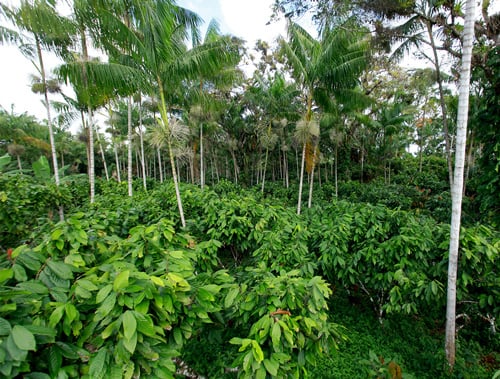 Sign Up for Our Newsletter
Updates about Cargill's efforts to protect forests delivered to your inbox.
Land Innovation Fund for Sustainable Livelihoods
We have committed $30 million to source and scale innovative ideas to help end deforestation in South America.
Tackling deforestation through landscape approaches
Broader initiatives are helping address challenges that extend across multiple commodity supply chains.
A new framework is bringing together industry stakeholders to promote a sustainable cocoa sector in Cameroon and protect the third-largest forest range in the Congo Basin.
[EMEA, Middle East & Africa]/[Cote d'Ivoire, Ghana]