Sustainability Services: Introducing the Promise Programs
Three innovative opportunities to build sustainability and your business.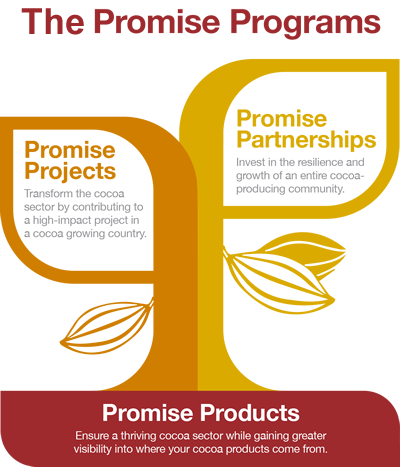 Social, economic and environmental challenges make cocoa growing communities especially vulnerable. As one of the largest players in the cocoa sector, we believe we have a responsibility to address these challenges at origin and foster greater resilience and prosperity.

We are already delivering many positive outcomes, but we can achieve so much more by working in collaboration with our customers. The Promise Programs enable you to drive impact at origin and build your brand by allowing you to:
Gain greater visibility into your sustainable cocoa and chocolate products.*
Make a direct, positive contribution at origin, by investing in projects that align with your brand values.
Build consumer loyalty with impact data and marketing content that demonstrate how you're creating a thriving cocoa sector for generations to come.
Programs offered by Cargill Cocoa & Chocolate North America.
*All sales of sustainable cocoa and chocolate products are matched to an equivalent purchase of third-party certified cocoa beans, and audited for adherence to third-party chain of custody requirements through Cargill's supply chain.
If not mentioned elsewise, all West Africa photos in relation to sustainability are by Sandrine Bénitah « @Sandrine Bénitah »