Wilbur®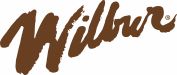 In 1884, H.O. Wilbur founded Wilbur Chocolate in Philadelphia, Pennsylvania. From these humble American beginnings, the company grew to become a leader in chocolate product development.
We're proud to carry on the Wilbur brand legacy and take it one step further – by bringing you exceptional chocolate products made for the tastes of today. Our products are formulated and delivered to meet the exacting specifications of our valued customers.
Our product offerings include:
Chocolate chunks
Chocolate coatings
Chocolate drops
Compound drops
Confectionery coatings
Ice cream coatings
Wilbur® History
The story of Wilbur® is, in many ways, the story of American enterprise. Born at the height of the Industrial Revolution as a general confectionery in 1865, Wilbur's founders chose to narrow their focus in 1884, to specialize in the production – and perfection – of chocolate alone.
1865 - Henry Oscar Wilbur and Samuel Croft start up Croft & Wilbur in Philadelphia, PA

In 1865, Henry Oscar Wilbur and Samuel Croft start a confectionery business in Philadelphia, Pa. Operating under the name of Croft & Wilbur, they produce molasses candies and hard candies. A few years later, their business grows by so much that they require a new facility and move to 1226 Market St., in Philadelphia.

1884 - Business is separated into H.O. Wilbur & Sons, a cocoa and chocolate manufacturer, and Croft & Allen, a candy manufacturer

In 1884, Wilbur and Croft decide to separate the business into a cocoa and chocolate manufacturer and a candy manufacturer. H.O. Wilbur & Sons manufacture the chocolate products, while Croft & Allen continue the hard candy and molasses candy business. H.O. Wilbur is assisted by two of his three sons: William Nelson and Harry L.

1894 - Wilbur Buds are introduced

In 1894, the company seeks a new way to sell chocolate and develops a technique where chocolate is deposited into a solid shape that resembles a flower bud..

1905 - Lawrence H. Wilbur joins the company

A third generation of Wilburs joins the business in 1905, in the form of H.O.'s grandson, Lawrence H. He later develops the machine to foil wrap the famous Wilbur Buds®, which prove to be very popular with consumers.

1927 - Ideal Cocoa and Chocolate Company merges with Brewster Chocolate Co.

In 1927, Brewster Chocolate Co. of Newark, N.J., purchases Ideal Cocoa and Chocolate Company. The company is renamed Brewster-Ideal Chocolate Co.

1968 - Wilbur is purchased

On October 18, 1968, Wilbur becomes a wholly owned subsidiary of MacAndrews & Forbes Company.

1992 - Cargill Purchases Wilbur Chocolate Company, Inc.

In 1992, Wilbur Chocolate Company, Inc. is purchased by Cargill, Incorporated. The Minnesota-based business is a global leader in the production and marketing of food, agricultural, financial and industrial products and services.

2002 - Wilbur purchases Omnisweet and Peter's Chocolate

In June of 2002 Wilbur Chocolate Company, Inc. purchases Omnisweet, a manufacturer of specialty compound chips, low-melt ice cream flakes and other unique, value added products. The company is renamed Wilbur Limited and is a division of Cargill Limited.
In October of 2002, Wilbur also purchases the Peter's Chocolate brand from Nestlé USA of Glendale, California.

2010 - Wilbur Chocolate Company, Inc. changes its name

In 2010, the official company name is changed from Wilbur Chocolate Company, Inc., to Cargill Cocoa & Chocolate, Inc.
Some Cargill products are only approved for use in certain geographies, end uses, and/or at certain usage levels. It is the customer's responsibility to determine, for a particular geography, that (i) the Cargill product, its use and usage levels, (ii) the customer's product and its use, and (iii) any claims made about the customer's product, all comply with applicable laws and regulations.