Regenerative Agriculture
Helping farmers mitigate and adapt to climate change while continuing to produce food for a growing global population
As our climate continues to change, it's becoming increasingly clear that our food system needs to change along with it. Climate change is causing more frequent and severe weather events, shifting growing seasons and declining soil health. We believe transformation must start where the food system begins – at the farm. Regenerative agriculture practices have the power to sequester greenhouse gas emissions, improve water quality and use, and build up healthy soil for the next generation.
Our vision is to make regenerative agriculture commonplace across our global supply chains – helping farmers produce food more sustainably while increasing their profitability and resiliency. We're working to scale up the adoption of regenerative agriculture by supporting farmers in their transition.
Our Commitments
Advance regenerative agriculture practices across 10 million acres of North American farmland by 2030.

Provide training on sustainable agriculture practices and improve access to markets for 10 million farmers by 2030.
Solutions rooted in agriculture
Every producer's most valuable asset is the land they farm. It's the key to their livelihood and long-term productivity and something to pass down to the next generation. Yet, every farm is unique and in a different place when it comes to the adoption of regenerative agriculture. That's why we partner with farmers and support them in adopting practices that will work best for their specific location, crops and business model.
Cargill collaborates with farmers in transitioning to regenerative agriculture through multiple pathways. Our partnerships help farmers enhance their systems through innovative management of inputs and resources, building resilience and improving farm economics.

Cover crops
Farmers plant cover crops, such as winter rye or crimson clover, during winter or other seasons that fall outside their primary cash crop. This prevents soil erosion and adds biomass.

Reduced tillage
Instead of plowing or tilling the land to prepare soil for planting, reduced and no-till practices such as planting on top of ridges formed during cultivation minimize soil disturbance and allow crop residue to remain on the ground.

Nutrient optimization
The overuse of fertilizers can lead to nitrogen losses in the atmosphere. Farmers can reduce this risk by applying smart management practices—such as soil testing and using enhanced efficiency fertilizer products.

Grazing management
By managing cattle movement, grazing time and intensity, a controlled approach to cattle roaming can improve grassland soils and biodiversity, and sequester carbon.

Agroforestry
The intentional integration of trees and shrubs with pasture or cropland can provide myriad benefits, from increased biodiversity to improved water quality and availability to carbon sequestration.
Supporting farmer-led adoption
Cargill is working with farmers and ranchers at every level of production to accelerate and expand the adoption of regenerative agriculture practices. We provide a portfolio of options that enables us to meet farmers where they are and deliver foundational economic and environmental benefits to their operations.
From our place at the center of the agricultural supply chain, we're connecting farmers with customers – helping them meet their respective business objectives and sustainability commitments while pursuing a partnership roadmap for long-term success. We're also collaborating across NGOs, academic institutions and industry associations to expand knowledge, awareness and adoption of regenerative agriculture practices globally.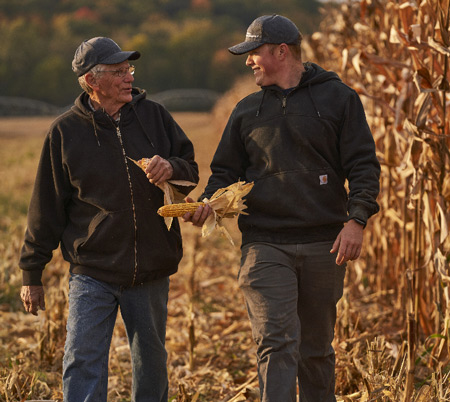 Cargill RegenConnect® provides opportunities for farmers through environmental markets
Cargill RegenConnect is supporting the adoption of regenerative agriculture by connecting farmers to growing opportunities in environmental markets and sustainable supply chains. Through this voluntary, market-based program, Cargill provides financial incentives to farmers for environmental outcomes that help to decarbonize agricultural supply chains. Cargill offers farmers access to agronomic experts who can provide customized guidance on how to implement and optimize regenerative agriculture practices. These practices help open doors to Cargill's downstream customers, who are counting on agricultural supply chains to help achieve their sustainability goals. Cargill RegenConnect launched in North America in 2021, and based on its success, expanded to Europe in 2023.
Learn more about how to enroll in Cargill RegenConnect in the U.S. or in Europe.
"I think this is a good way to preserve this soil, keep our best dirt where it is in the fields … and keep this land profitable and productive for as long as we can." – Tyler Bruns, farmer in Missouri (U.S.) and Cargill RegenConnect participant
"Our fields were green and the soil stayed where it was at. How do you put a price on that? To me, that's priceless." – Todd Dzingle, farmer in Nebraska (U.S.)
Carbon farm management system pilot
Our work with Soil Capital is helping wheat farmers in France and Belgium and soy farmers in Argentina select practices that deliver a carbon management system for their farms.
Comparative research in Brazil
In Brazil, we are partnering with the Insituto Fórum do Futuro to better understand both the environmental and economic benefits of regenerative agriculture. Through the Regenera Cerrado project, we are conducting research that examines both large and small farms that have already adopted regenerative practices compared against conventional farming systems. The results will be shared with farmers to help them better understand how regenerative practices may benefit their respective operations.
BeefUp Sustainability
Through Cargill's BeefUp Sustainability initiative, we're partnering with customers, farmers, ranchers and nonprofits to reduce greenhouse gas emissions in our North American beef supply chain by 30% by 2030.
Our award-winning program capitalizes on three years of success in the U.S. by paying farmers across France, Germany, Poland and Romania to adopt regenerative agriculture practices.
Agroforestry in cocoa-growing regions
In West Africa, we're working with PUR to help restore and preserve native forests by funding the cost of seedlings and providing growers with on-the-ground expertise.
Canola growers in Australia
Our collaboration with Nutrien Ag Solutions is focused on demonstrating a capacity to reduce emissions from canola production.