Regenerative Agriculture
Agriculture is how Cargill is working to mitigate climate change, regenerate soil and improve water use, while nourishing the world in a more sustainable way.
Soil is a living, breathing ecosystem that does more than simply provide nutrients for plant growth. Healthy soil uses plants' photosynthesis to pull carbon from the atmosphere, improves water quality, increases drought resilience and enhances farmer livelihoods. That's why we're focused on unlocking the potential of farmland and natural ecosystems, with targeted supply chain interventions, advancing regenerative agriculture practices and systems and policy solutions that benefit farmers, ranchers, customers and the broader food system.
We're Building Farmer-Focused, Regenerative Agriculture Relationships
While pockets of regenerative agriculture systems exist in North America, there is a need to more rapidly scale soil health practices so that nature and people – including farmers – can reap the benefits. Cargill is working with partners, customers and other stakeholders across the supply chain to help implement soil health practices and unlock the climate change mitigating potential in farmland and natural ecosystems, which directly ties to Cargill's commitment to mitigate climate change, protect and enhance water resources and promote farmer livelihoods.
As a start, we are working with farmers to advance regenerative agriculture practices across 10 million acres of North American row crop farmland by 2030. In addition to this goal focused on crops, we are exploring ways ranchers can adopt sustainable grazing practices to harness the potential of their cattle to restore and protect natural ecosystems, like prairies. And we're making sure it's all done in a way that offers long-term sustainability benefits to local communities.
Soil Health Institute
Cargill is partnering with the Soil Health Institute to assess, demonstrate and communicate the economics of soil health management systems across North America. As part of the work, Soil Health Institute scientists have analyzed over 120 experimental research sites across North America to gather data on soil health management practices and interviewed 100 farmers across 9 states to assess impacts of soil health management practices on farmers' profitability.
Soil Carbon Project
Cargill has partnered with The Nature Conservancy, McDonald's and Target to support Nebraska farmers in adopting and implementing proven soil health practices to help mitigate greenhouse gas emissions and adapt to the impacts of climate change. Established through the BeefUp Sustainability initiative, the five-year, $8.5 million project will impact 100,000 acres of row crops commonly used for feed production in a key beef-producing region.
The Soil and Water Outcomes Fund
Cargill is working with the Iowa Soybean Association to help row-crop farmers implement regenerative agriculture practices through the Soil and Water Outcomes Fund. Farmers are incentivized on a per-acre basis for adoption practices like planting cover crops, reducing tillage and optimizing nutrient management.
Practical Farmers of Iowa
Working with the Practical Farmers of Iowa (PFI), Cargill has launched two pilot programs focused on boosting adoption of cover crops in Nebraska and in major growing regions tributary to the Mississippi, Illinois and Ohio river waterways. Through the partnership, PFI consults with farmers at no cost and also helps connect them to additional resources such as field days and webinars. To date, 201 farmers are enrolled in the programs, covering more than 26,000 acres.
International Maize and Wheat Improvement Center
In Mexico, Cargill has been working with Bimbo and the International Maize and Wheat Improvement Center (CIMMYT) for over three years to implement programs that enable corn farmers to adopt sustainable agriculture practices such as soil conditioning, fertilizer and nutrient management and irrigation, which have provided water savings of over 1 billion liters since they began.
Sustainable Grazing
Through the Ranch Systems & Viability Planning Network, Cargill is joining the World Wildlife Fund, the Walmart Foundation and McDonald's to connect and support ranchers with technical expertise, training and tools to help advance grazing practices that improve the health of the land. By improving management of one million acres over five years, this BeefUp Sustainability effort will help drive increased carbon storage and sequestration, improved water infiltration and better outcomes for biodiversity.
Soil Capital
Cargill is working with Soil Capital on a project in France and Belgium to help farmers adopt regenerative agriculture practices like cover crops and reduced till through the use of a carbon farm management system, which will help farmers identify the best management systems to reduce carbon emissions on their farms.
Midwest Row Crop Collaborative
Cargill is a member of the Midwest Row Crop Collaborative to explore new approaches and find solutions that increase productivity while ensuring soil health, protecting water, addressing the factors contributing to climate change, and supporting farm families. As a unique partnership aligned to drive positive environmental change in the upper Mississippi River Basin, the Midwest Row Crop Collaborative develops solutions for removing barriers to widespread adoption of regenerative agricultural practices.
We're partnering with farmers around the world
Regenerative agriculture has to start on the farm. That's why we have set a global goal to provide training on sustainable agricultural practices and improve access to markets for 10 million farmers by 2030. We're partnering with farmers to adopt and scale sustainable agricultural practices that build long-term economic viability of their farming businesses, supporting the next generation of farmers. We are working to improve inclusive access for farmers to the best available markets through our business investments and activities to ensure their products can get to the markets where they are most valued.
We're Helping Farmers Build Healthier Soil
Soil health is a win-win. It provides farmer's financial benefits, responds to customer concerns and helps preserve our natural resources for generations to come. It's also one of the most effective ways for farmers to increase crop productivity and resilience while improving the environment. And just as soil health is critical to helping slow climate change, it's also fundamental to the long-term prosperity of farmers and ranchers.
That's why Cargill is supporting regenerative agriculture practices like reduced tillage, optimized fertilizer use, sustainable grazing practices, and adopting the use of cover crops where feasible. These options help build organically rich soils to draw more carbon from the atmosphere, allow farmers to limit chemical inputs, reduce soil tillage and increase productivity all of which can help ensure the viability of farmland for countless generations to come.
Cargill RegenConnect
Through our regenerative agriculture program – Cargill RegenConnect – we are working to connect farmers in the U.S. and Canada to new, emerging markets, while helping them prepare for the future of farming. We make it easy for farmers to adopt new soil health practices by providing compensation, access to technical support, simple enrollment and data collection, and transparent measurement and verification options.
Learn more about how to enroll in a Cargill regenerative agriculture program.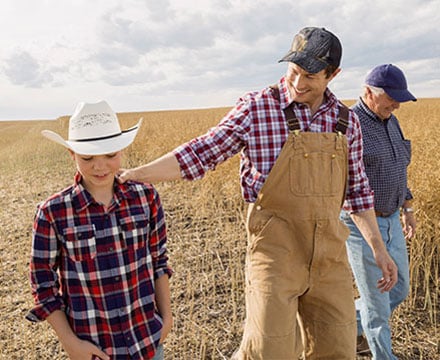 Because it's not just this generation of farmers that matter.
It's all the generations to come, too.
"
"To me, farming is fun. In a lifetime, you maybe get 40 chances to grow a crop? It's something that, at the end of the year, you can actually see the effort you put into it, but it's more than feeding the world. There's a lifecycle. The good Lord gave us this land for a short period of time. I have to choose what I'm going to pass on."