Regenerative Agriculture
Agriculture is how Cargill is working to mitigate climate change, regenerate soil and improve water use, while nourishing the world in a more sustainable way.
Soil is a living, breathing ecosystem that does more than simply provide nutrients for plant growth. Healthy soil uses plants' photosynthesis to pull carbon from the atmosphere, improves water quality, increases drought resilience and enhances farmer livelihoods. That's why we're focused on unlocking the potential of farmland and natural ecosystems, with targeted supply chain interventions, advancing regenerative agriculture practices and systems and policy solutions that benefit farmers, ranchers, customers and the broader food system.
We're Building Farmer-Focused, Regenerative Agriculture Relationships
While pockets of regenerative agriculture systems exist in North America, there is a need to more rapidly scale soil health practices so that nature and people – including farmers – can reap the benefits. Cargill is working with partners, customers and other stakeholders across the supply chain to help implement soil health practices and unlock the climate change mitigating potential in farmland and natural ecosystems, which directly ties to Cargill's commitment to mitigate climate change, protect and enhance water resources and promote farmer livelihoods.
As a start, we are working with farmers to advance regenerative agriculture practices across 10 million acres of North American row crop farmland by 2030. In addition to this goal focused on crops, we are exploring ways ranchers can adopt sustainable grazing practices to harness the potential of their cattle to restore and protect natural ecosystems, like prairies. And we're making sure it's all done in a way that offers long-term sustainability benefits to local communities.
We're partnering with farmers around the world
Regenerative agriculture has to start on the farm. That's why we have set a global goal to provide training on sustainable agricultural practices and improve access to markets for 10 million farmers by 2030. We're partnering with farmers to adopt and scale sustainable agricultural practices that build long-term economic viability of their farming businesses, supporting the next generation of farmers. We are working to improve inclusive access for farmers to the best available markets through our business investments and activities to ensure their products can get to the markets where they are most valued.
We're Helping Farmers Build Healthier Soil
Soil health is a win-win. It provides farmer's financial benefits, responds to customer concerns and helps preserve our natural resources for generations to come. It's also one of the most effective ways for farmers to increase crop productivity and resilience while improving the environment. And just as soil health is critical to helping slow climate change, it's also fundamental to the long-term prosperity of farmers and ranchers.
That's why Cargill is supporting regenerative agriculture practices like reduced tillage, optimized fertilizer use, sustainable grazing practices, and adopting the use of cover crops where feasible. These options help build organically rich soils to draw more carbon from the atmosphere, allow farmers to limit chemical inputs, reduce soil tillage and increase productivity all of which can help ensure the viability of farmland for countless generations to come.
Find out how regenerative agriculture can support your farm and learn more about Cargill's soil health programs.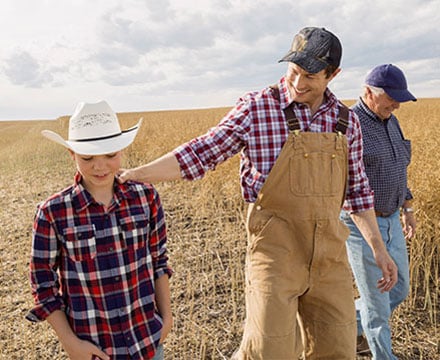 Because it's not just this generation of farmers that matter.
It's all the generations to come, too.
"
"To me, farming is fun. In a lifetime, you maybe get 40 chances to grow a crop? It's something that, at the end of the year, you can actually see the effort you put into it, but it's more than feeding the world. There's a lifecycle. The good Lord gave us this land for a short period of time. I have to choose what I'm going to pass on."