A soy plant produces 60 to 80 pods with three pea-sized beans in each. Its adaptability gives it a wide growing range across different areas of major producing countries.
A bushel of soybeans weighs 60 pounds and produces about 11 pounds of oil and 48 pounds of protein-rich meal (American Soybean Association). Although soybeans are considered an "oilseed," the value of the soybean meal derived from processing a ton of soybeans usually exceeds the value of the oil (FAO). The oil is primarily used for human consumption in a wide variety of food products, and the meal is predominantly put to use as animal feed. Soybeans are the world's largest source of animal protein feed and the second-largest source of vegetable oil (USDA). Other soy products are used in a broad range of foods from tofu to candy bars.
The U.S. is the world's largest producer and exporter of soybeans. Although export volumes out of the U.S. have risen markedly from the 1980s to today, the U.S. share of total exports worldwide has dropped from about 90 percent to 40 percent over the same time period (USDA). This reflects substantial growth in soybean production in other markets, particularly Brazil and Argentina.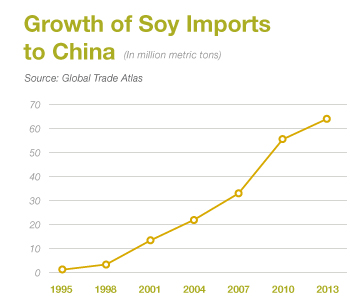 Where does this increase in production go? China's rapid economic growth in recent decades has spurred an increase in total food consumption and a shift in diet to more soy-fed animal protein. These forces have combined to make it the world's largest importer of soybeans by a tremendous margin, with its 2013 imports of the commodity larger than those of all other countries combined (Global Trade Atlas).
As populations grow and incomes rise in other emerging economies across Asia and Africa, soybean flows also could expand significantly into these markets because of soybean meal's effectiveness as an animal feed. Just how useful is soy as an animal feed? On a 100 percent grain diet, a pig needs about 5.4 pounds of feed to put on one pound of live weight. But by adjusting that diet to 80 percent grain and 20 percent soy protein, that same pig only needs about 2.7 pounds of feed to add one pound of live weight. This doubling of feed conversion efficiency means more meat from less feed, and allows the world to save a great deal of grain, land and natural resources as meat consumption rises.
Where we operate
As a global leader in purchasing, processing and moving agricultural commodities, Cargill has a significant presence in soybean supply chains. We buy soy from farmers across major production areas, particularly the U.S., Brazil and Argentina. We process soybeans into a wide variety of food and feed products, as well as biodiesel. And we use our logistical capabilities as one of the world's largest dry bulk shippers to move soybeans and related products from the places they are most efficiently grown to markets where they are consumed. We also use soybean products as renewable substitutes for a range of petroleum-based ingredients in industrial applications such as foam for furniture and fluid for power transformers.
How we improve the sustainability of soy supply chains
Soy's versatility for use in both food and feed has made it an excellent crop to help meet the world's growing demand for food and changing dietary habits. But as production has increased, especially in Latin America, stakeholders in soy supply chains have recognized the need to protect sensitive environments and ensure sustainable soy production. To this end, Cargill is working with farmers, industry partners, communities, governments and NGOs to develop responsible solutions.
Protecting natural resources
Cargill led the industry by partnering with The Nature Conservancy (TNC) in 2004 to pioneer a pragmatic, market-based approach to reducing deforestation in Brazil's Amazon biome. Our work with TNC, coupled with renewed enforcement efforts by the Brazilian government, has helped drive an overall reduction in deforestation rates of more than 80 percent. The approach we developed is now being used as a model by the Brazilian government as it implements a new Forest Code.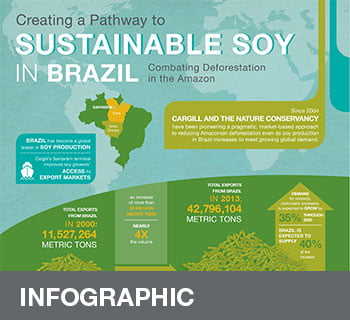 On July 24, 2006, Cargill worked with industry and NGO partners to put in place the Soy Moratorium in Brazil. As part of this agreement, we committed not to purchase from or offer financing to farmers who grow soy on lands in the Amazon biome that were deforested after that date. Recently, the Soy Moratorium was adapted to align with Brazil's new Forest Code and extended through May 2016.
Since the agreement was put in place, we have joined an ongoing working group with other members of our industry associations — ABIOVE and ANEC — as well as TNC, World Wildlife Fund, Greenpeace, Conservation International and Instituto de Pesquisa Ambiental da Amazônia. Mapping and monitoring efforts developed by the working group and conducted by independent specialist Globalsat, using satellite imagery from Brazil's space agency, have confirmed the Soy Moratorium's impact on reducing deforestation in the Amazon biome. The working group continues to focus on reducing deforestation and ensuring sustainable soy production in the Amazon. This includes significant training work with farmers to help them comply with the Brazilian Forest Code, enhance workplace safety and use responsible agricultural practices.
Empowering farmers
We work with soy farmers at all levels of production to help them achieve commercial success while growing crops in a sustainable way. In the U.S., our NextField™ precision agriculture system helps farmers "micromanage" their fields with just the right inputs relative to a field's nutrient profile, minimizing fertilizer waste while boosting production. In Argentina and Paraguay, we have worked with 400 farmers to source more than a million tons of certified responsible soy in 2013 and 2014.
With a $3 million grant to TNC in 2011, we expanded a pilot program in Brazil to train farmers that supply our port terminal at Santarém in responsible farm management practices and ecological restoration techniques. The program is testing environmental impacts beyond just deforestation, including pesticide use and water quality. It will reach up to 20 municipalities in the state of Mato Grosso and cover close to 25 million hectares of land.
We also are working to help smallholder soy farmers find commercial success. In Brazil, we work with more than 5,300 smallholders, offering them free agronomic analysis and other technical support while also paying them a premium on their crops. Newly arrived on former cattle pastures and abandoned crop land, many of these small family farmers initially have difficulty establishing and growing their operations, but a couple of years in this program can help them build homes and buy farm equipment. The soybeans we buy from these smallholders are turned into renewable biofuels at our refinery in Três Lagoas.

Partnering with others
Through our membership in ABIOVE, Brazil's industry association for vegetable oils, we are supporting the Soja Plus Program, which encourages environmental conservation, better agricultural practices and improving the rights and well-being of rural producers and other workers in soy supply chains. To date, the program has reached more than 6,200 producers in Brazil.
In Europe, we participate in soy certification programs that meet European Union-recognized sustainability criteria. We have certified soy supply chains conforming to one or more of these recognized standards in the U.S., Canada, Paraguay, Argentina and Brazil. For instance, about 20 of our sites have certificates through the International Sustainability and Carbon Certification (ISCC) program, which independently verifies a range of sustainability criteria. We participate in the 2BS voluntary scheme, which looks at similar factors.
We also developed an independently verified sustainability certification program of our own, named Sustainably Sourced & Supplied. Farmers who commit to this program pledge to produce their crops under three basic criteria: no deforestation, reduced greenhouse gas emissions and responsible working conditions. In addition, the farmers work with Cargill agronomists to continuously improve the sustainability of their crop production. Farmers in Brazil, Paraguay and Argentina are enrolled in this program, and it is endorsed by the Netherlands Feed Industry Trade Association.
In addition to the partnerships and programs listed above, we are a member of The Round Table on Responsible Soy, a working group dedicated to implementing measures for making global soy production sustainable and responsible. RTRS has members from the agricultural and financial industries and the NGO community, and is focused specifically on practices for soy production, processing and trading that are economically, socially and environmentally sustainable.
More resources
Cargill's work to create sustainable soy supply chains in Brazil
Cargill's partnership with The Nature Conservancy
Round Table on Responsible Soy