Sustainable Soy Transparency
Identifying and communicating areas of highest risk and priorities for taking action
Our commitment to reporting
Cargill is committed to transparency – in our own operations and across our global supply chains. As we continue to increase our transparency, we expect to publish a new companywide ESG report in late 2022. The upcoming report will integrate our supply chain progress reports into a global, unified report – providing updates on Cargill's ESG strategy as well as our South America Soy supply chain-specific details previously found in the mid-year update.
South American Soy Sustainability Report 2022 mid-year update - English

South American Soy Sustainability Report 2021 - English, Portuguese, Spanish, French

South American Soy Sustainability Report 2021 mid-year update - English, French, Portuguese, Spanish

South American Soy Progress Report 2020 – English, French, Portuguese, Spanish

South American Soy 2020 mid-year update – English, French, Portuguese
Mapping and monitoring
We have been working for two decades to improve the sustainability of soy. During that time, we have significantly improved our ability to map and monitor our supply chain. We have advanced from mapping by georeferenced single points to the more sophisticated methodology of polygon mapping all our direct suppliers' farm boundaries. Drawing on satellite data from external sources, this more sophisticated method helps us identify and monitor land use connected to the soy we buy in a much more precise way.
Once the polygons are defined and matched to farming operations, we will be able to monitor and respond to any conversion in our supply chain more quickly. We aim to complete the mapping process as quickly as possible. See our Grievance Process for details about how we address grievances raised in relation to our supply chain.
We share updates on our progress with our customers through the SoyaWise™ traceability portal.
Assessing risk
Using our risk assessment methodology, we are conducting a comprehensive risk assessment of our soy supply chain in order to prioritize areas most in need of engagement.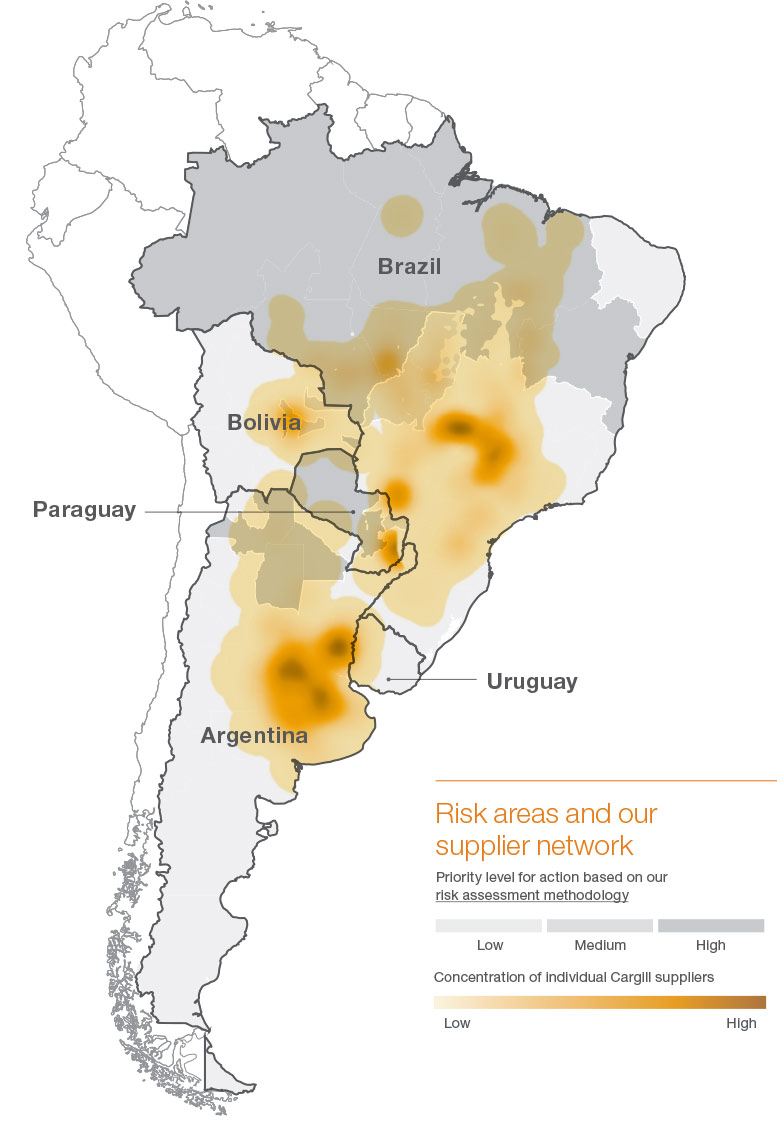 Priority areas for protection
To assess the impact of soy production, it us useful to understand the environments in which it occurs, particularly in three of South American's major biomes: the Amazon, Cerrado and Gran Chaco. These biomes spread across several countries and are vastly different in their natural characteristics and the local communities that depend on them:
The Amazon: The world's biggest tropical forest, home to an immense amount of biodiversity and indigenous cultures. Soy farming occurs mainly around its edges.
The Cerrado: A savannah that stretches across Brazil's agricultural heartland. Farming activity here serves as the backbone for local economies and 46 million inhabitants.1
The Gran Chaco: The continent's second-largest forest, which spreads across parts of Argentina, Bolivia and Paraguay. It is home to important biodiversity and many different communities.