Sustainable Palm Oil Policy and Commitments
Cargill commits to a transparent, traceable and sustainable palm oil supply chain
Download Cargill's Policy on Sustainable Palm Oil (PDF): English Bahasa Español
Policy summary
Cargill's commitment to producing and sourcing palm oil in an economical, environmentally sustainable and socially responsible manner is embodied in our responsible production requirements that aim to deliver palm oil that is produced in accordance with "No Deforestation, No Peat and No Exploitation" (NDPE) practices. Cargill commits to a traceable, transparent and sustainable palm oil supply chain that:
Protects high conservation value (HCV) areas, high carbon stock (HCS) forests and peatlands regardless of depth
Respects and upholds the rights of workers, indigenous peoples and local communities
Enables smallholders to become successful businesspeople, improving their livelihoods through responsible production, maximizing yields and improving quality
Upholds high standards of transparency through reporting of traceability, time-bound implementation plans, resolving grievances and achieving third-party verified policy compliance
We will work to ensure that all palm oil and palm products that Cargill produces, trades or processes are in line with these commitments (see policy for more details).
We will collaborate and seek the support of suppliers, customers, governments, non-governmental organizations and other stakeholders to implement this policy.
Measuring our progress
Cargill's Palm Oil Roadmap articulates and prioritizes the actions we are taking to meet our commitment to build a transparent, traceable and sustainable palm oil supply chain. We measure and regularly report our progress (see Reports and Publications and Palm Sustainability Dashboard).
Broader commitments
Responsible land use and the protection of individual and community rights are key challenges affecting the palm oil industry. In addition to addressing these topics in our Policy on Sustainable Palm Oil, which details specifically how we address deforestation in our palm oil supply chain, Cargill's broader Forest Policy and Human Rights Commitment also govern our actions. These documents articulate Cargill's commitment to eliminate deforestation and protect human rights in our supply chains. Our Supplier Code of Conduct is another key element of our palm oil policy. For more information about our work to encourage responsible labor and human rights in our palm supply chain, see the Engagement section.
Governance
Sustainability management is integrated into the functioning and management structure of Cargill and is overseen by the Executive Team led by the Chairman and Chief Executive Officer. The Executive Team provides strategic direction that ensures our actions are aligned with our purpose — to nourish the world in a safe, responsible and sustainable way.
Reporting to the CEO is the Chief Sustainability Officer who leads the implementation of sustainability practices across different integrated commodity supply chains.
To ensure sustainability efforts are operationalized across the organization, the Corporate Sustainability Hub was established in 2019 to share learnings and best practices across diverse supply chains and with the broader industry to drive sector-wide transformation.
Our Grievance Panel is made up of business leaders and sustainability leads whose responsibility it is to review our commercial relationship with noncompliant suppliers, make recommendations and determine next steps for the company.
Within our palm oil supply chain, we created the Sustainability Implementation Lead role in 2014 to drive strategic alignment in upstream and downstream sustainability practices of the business and lead implementation of our NDPE policy supported by country managers, operations and communications teams.
The implementation of our NDPE policy is led by the Sustainability Leads, country managers and operations teams.
Our operations teams are located in key sourcing regions (Malaysia, Indonesia and Latin America) to provide ongoing support and ensure supplier compliance with our NDPE policy.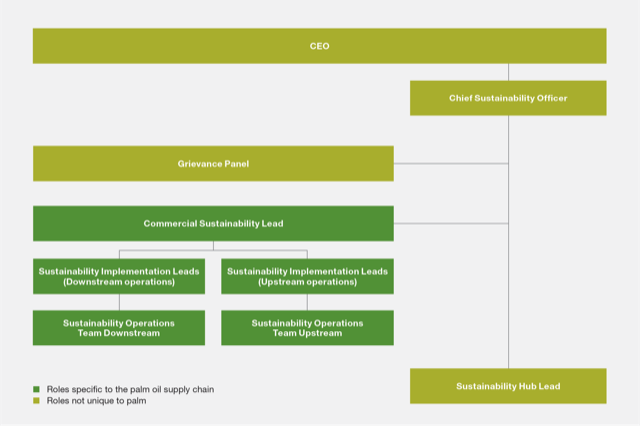 Our sustainability policies and human rights commitment reinforce Cargill's intent to operate more sustainable supply chains while supporting agricultural development.