Palm Oil Sustainability News and Reports
Building on a strong foundation
As we fulfill our purpose to be the leader in nourishing the world in a safe, responsible and sustainable way, our work across complex global supply chains is critical to how we serve our customers and keep our global food system strong. Our goal is to build a 100 percent transparent, traceable and sustainable supply chain by 2020. We are making progress to deliver on our commitments.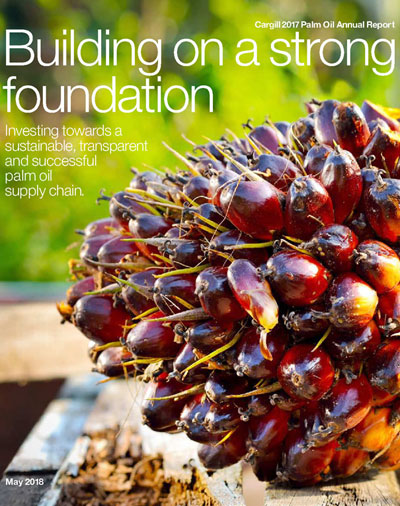 Cargill's 2017 Palm Oil Report and 2018 Action Plan
Investing towards a sustainable, transparent and successful palm oil supply chain.
In 2017, we continued making progress toward our goals. These are a few highlights of areas where we are making an impact:
Traceability: 96 percent of our volume is traceable to mills and 55 percent is traceable to plantations.
Labor and human rights: Cargill independently assessed our own plantations and launched efforts within our supply chain focused on labor in Malaysia. We also partnered on industry-led initiatives in Indonesia through the Decent Rural Living Initiative.
"No Deforestation, No Peat, No Exploitation" (NDPE) sourcing policies: 65% of our direct suppliers have an NDPE policy and we continue to engage our direct and indirect suppliers on the implementation of these commitments to drive continuous improvement
Outlook for 2018
Cargill's action plan for 2018 advances our 2020 commitments through:
Verification mechanisms: Measuring and verifying our progress to increase transparency and improve processes is critical. We are conducting baseline assessments to identify areas of improvement, and strategies to more effectively engage producers to verify sustainable sourcing practices.
Sustainable landscape approaches: In 2017, we developed a methodology in Indonesia to prioritize landscapes for conservation. By adopting sustainable landscape approaches, we can ensure greater alignment with the producers operating in those landscapes. We will launch new landscape projects in 2018.
Technology: We are investing in satellite mapping in collaboration with World Resources Institute's Global Forest Watch. Global Forest Watch Pro, which will be rolled out in 2018, will provide a management system to track issues across the company's supply chain in near-real-time and address concerns in accordance with our grievance procedure.
Partnerships: We are aligned with global efforts for sustainable development, including the U.N. Sustainable Development Goals. Unique to the palm sector, we support national initiatives, such as Malaysian Sustainable Palm Oil and Indonesian Sustainable Palm Oil, to embed sustainability principles. We support efforts to strengthen existing market standards, including the Roundtable on Sustainable Palm Oil, which is reviewing its Principles & Criteria, and other industry working groups.