Addressing environmental and social issues through landscape programs in Indonesia
Many of the challenges in the palm oil supply chain, such as deforestation and human rights concerns, are not specific to a single supplier or to the palm sector alone. To tackle issues that are common within a region and across commodities, Cargill collaborates with a variety of stakeholders through interventions at the landscape level. Working together through landscape programs, we can better address persistent, complex social and environmental risks involving multiple mills, growers and buyers, and engage with public institutions whose participation is needed to enforce systemic change.
In Indonesia's Riau province, we are partnering with Proforest to implement multiple landscape programs in the Siak and Pelalawan districts and in the village of Sungai Linau. Bringing companies, growers, buyers, local governments and other stakeholders together through these landscape programs is proving to be an effective approach for driving long-term, transformational change.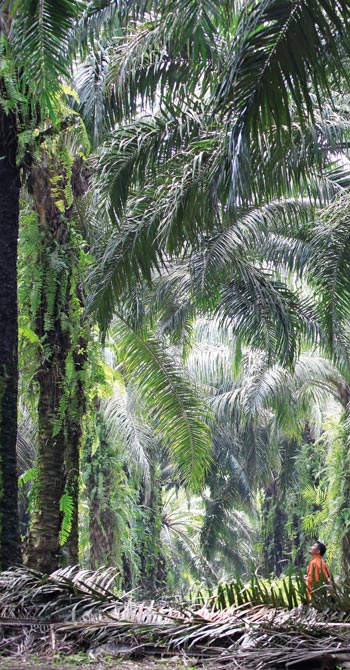 Siak and Pelalawan Landscape Program
Since 2018, a coalition formed by Cargill and eight other companies has been working with the Consortium of Resource Experts, known as CORE – which includes the NGOs Daemeter and Proforest – to implement the Siak and Pelalawan Landscape Program. The program is focused on achieving several key objectives: 1.) protecting and enhancing forests, peatlands and natural ecosystems; 2.) empowering smallholders and local communities to improve their livelihoods; 3.) ensuring respect of labor and land rights within the palm sector; and 4.) pursuing sustainable palm oil production goals through improved district policies and plans.
The program now includes more than 50 mills, 23 government organizations and 17 NGOs. More than 15 villages participate in the program, representing over 221,000 hectares of land. Training has been provided to more than 1,400 villagers on the topics of forest and peatland restoration, sustainable agricultural practices, village mapping and traceability, gender equity and women's empowerment. Village support programs have been created to improve use of nature-positive farming practices, including conservation of forests, biodiversity and peatlands. The village support programs also establish fire brigades and provide firefighting training to help prevent deforestation.
Being able to trace the palm supply from the mills where it is processed to the plantations and villages where it is grown is an important step in the battle against deforestation. Knowing where the palm is being grown allows for monitoring of those areas to detect issues and rapid response to prevent further deforestation. Within the Siak and Pelalawan districts, there is now 100% traceability to plantations at the village level. That information is key to verify compliance and intervene where action is needed across the landscape.
Cargill is committed to eliminating deforestation from our agricultural supply chains globally to be deforestation and conversion-free (DCF) by 2030, and this commitment to sustaining our most important natural resources begins with the stewards of our earth – farmers. To protect our lands tomorrow, we must invest in their health and resiliency today. By innovating and implementing sustainable solutions that preserve our lands, conserve water sources, and support farming resiliency, we can help people and communities thrive for the long term.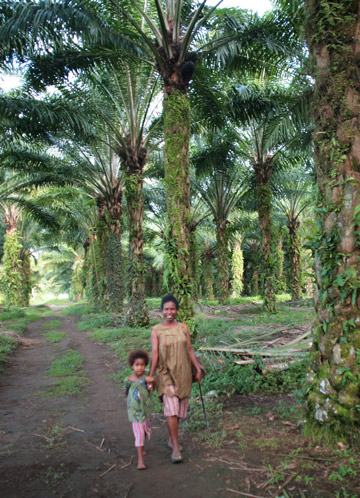 Sungai Linau Production Landscape Program
We also are working with smallholder palm growers in Sungai Linau village, located in the Bengkalis district, as part of a landscape program to test new approaches for managing and monitoring lands outside of the licensed areas known as palm concessions, where palm plantations are permitted. Through our experience, we have learned that the satellite monitoring and systems for addressing grievances that have been successful in halting deforestation within larger concessions need to be tailored for the needs of smallholders. To align on our approach, Cargill, Proforest and companies from every stage of the palm oil supply chain came together to create the Palm Oil Collaboration Group and a Production and Protection Beyond Concessions (PPBC) Action Group. The PPBC approach we are testing in Sungai Linau focuses on the need for engagement with smallholders and support for rural livelihoods along with conservation of peat and forest areas.