Southern Central Forest Spine landscape project: Connecting the dots between forest, soil, and people
The Southern Central Forest Spine (SCFS) Landscape in Peninsular Malaysia is home to several species of flora and fauna and contains important wildlife corridors for tigers and elephants. However, a gradual decrease in the forest cover over several decades has disrupted the forest ecosystem, broken links between forests, and increased conflicts between humans and wildlife, especially elephants.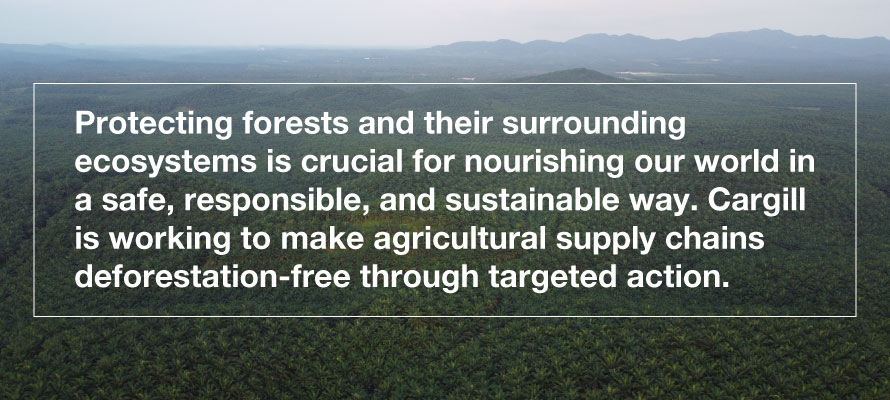 The company has partnered with Earthworm Foundation, a non-profit organization that has been working on supply chain transformation projects in Malaysia since 2013. Cargill and Earthworm have been working together on the SCFS landscape project since 2021 with the goal of protecting and restoring forests in the region.
Karl Yen Quek, Country Head, Earthworm Foundation Malaysia, and Pitt Onn Wong, Engagement Manager – Sustainability, Cargill Malaysia, talk about what the project aims to achieve.
What is the significance of the Southern Central Forest Spine (SCFS) landscape project?
Karl: The SCFS is a sourcing region for forest products and commodities that are essential for many companies. We believe that addressing individual supply chains to minimize the impact on forest cover and adopting a landscape approach can together deliver much better outcomes, as it allows companies, growers, buyers, local governments, and civil society to jointly tackle complex social and environmental challenges with greater focus and impact. The SCFS project aims to create a sustainable landscape model to demonstrate the business case of balancing sustainable production, forest conservation, and rural livelihoods, at scale.
How is the landscape approach addressing the need for responsible land use?
Karl: We are training the local farmers and plantation owners to improve farm management practices; and exploring regenerative agriculture approaches to keep the soil fertile and productive and maintain biodiversity. We are also exploring a coalition of companies, NGOs, and academia that will develop and implement long-term solutions for preserving biodiversity in the Southern Central Forest Spine.
Moreover, we have identified a corridor with high frequency of elephant movement, where we, in collaboration with our field partners, will pilot an integrated program that will help humans and elephants live side-by-side peacefully.
What do your trainings for farmers include?
Pitt: Farmers often assume that the higher the fertilizer input, the better the productivity. In reality, this is not necessarily the case. Farmers waste a lot of money if they purchase more fertilizers than actually required. Moreover, as crops only absorb a certain amount of nutrients, the additional fertilizer input would run to waste and cause soil degradation, thus adversely affecting the sustainability of farming operations.
By providing proper training and education to farmers, we help them apply fertilizers efficiently, with minimal wastage. This helps them optimize resources and improve earnings. They can instead focus their resources on areas such as pest management and farm upkeeping, and even diversify their income by doing inter-cropping (planting other cash crops such as watermelon).
How is traceability aiding reforestation in this landscape project?
Pitt: Traceability is a very important aspect of the SCFS project, for which we are working with palm oil producers, service providers, and NGOs. Knowing where oil palms are grown enables us to monitor those areas closely, detect any issues/risks quickly, and respond appropriately to prevent deforestation.
Cargill is committed to eliminating deforestation from our agricultural supply chains globally to become deforestation-and-conversion-free (DCF) by 2030. This commitment to sustaining our most important natural resources begins with farmers, the stewards of our earth. Many of the challenges in the palm oil supply chain, including deforestation, are not specific to a single mill or the palm sector but are common within a region and across commodities. To drive meaningful change, Cargill focuses on supplier engagement at the mill level as well as through multi-stakeholder interventions at the landscape level.
Deforestation targets and outcomes under the SCFS landscape project
| 2025 Targets | Status at the end of 2021 |
| --- | --- |
| >75% palm oil mills to have No Deforestation, No Peat, No Exploitation (NDPE) action plans | 40% mills have NDPE action plans |
| >50% reduction in deforestation | Deforestation in 2021 was 26% lower than in 2020 |
What are your learnings from the project, and what is the way ahead?
Karl: One, it is very important to engage with key governments to achieve reach and sustained impact. Two, you need to understand the unique context and challenges of the landscape to be able to design effective interventions. Three, it is important to have partners with different, complementary capabilities.
In 2021, we began designing a solid impact measurement approach that we intend to apply across all landscapes. We have also created platforms for strengthening collaboration between stakeholders. We will build on these elements in 2022 and beyond.