Palm Traceability
Moving forward with traceability to plantation
Through deliberate, measured steps, Cargill is building a responsible palm oil supply chain. Traceability is one of the steps in this journey. It is a means to an end, enabling us to understand our supply chain and improve our palm oil sourcing and sustainability. Collaboration is fundamental to success in achieving a more sustainable supply chain as much of the oil we process comes from third party refiners, aggregators or mills. The only places we source directly from mills is in Malaysia where we source from third party mills for our refineries there, and in Indonesia where we may source from our own mills.
The first step is establishing traceability to the mill. We accomplish this by collecting the mills' names, GPS coordinates and certification status. Each mill is analyzed through desktop research and satellite mapping to identify potential environmental and social risks in its draw area. Risk indicators include forest cover loss, peat, proximity to protected areas, fire alerts and certification status.
Click here to download Cargill's mill list.
For the fourth quarter of 2018, Cargill achieved a global combined average traceability to mill of 92 percent and 40 percent traceability to plantation. Our own plantations and mills in Indonesia are fully traceable.
We continue to seek ways to improve traceability in China and India, where traceability remains a challenge. Cargill Investments (China) Ltd recently participated in the fourth China Roundtable on Sustainable Palm Oil to share best practices in sustainable palm oil production and procurement in China. Such discussions are necessary first steps in building suppliers' trust in sharing traceability information and their understanding of the need for more sustainable supply chains.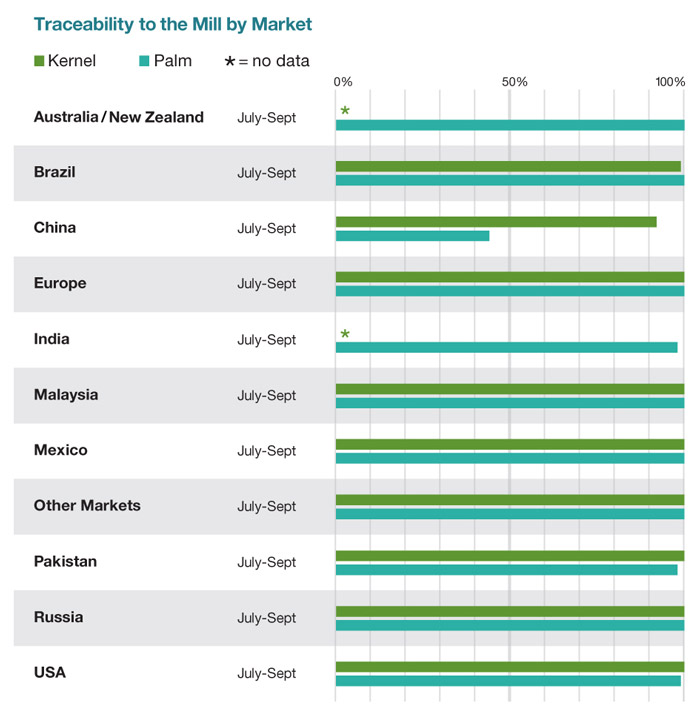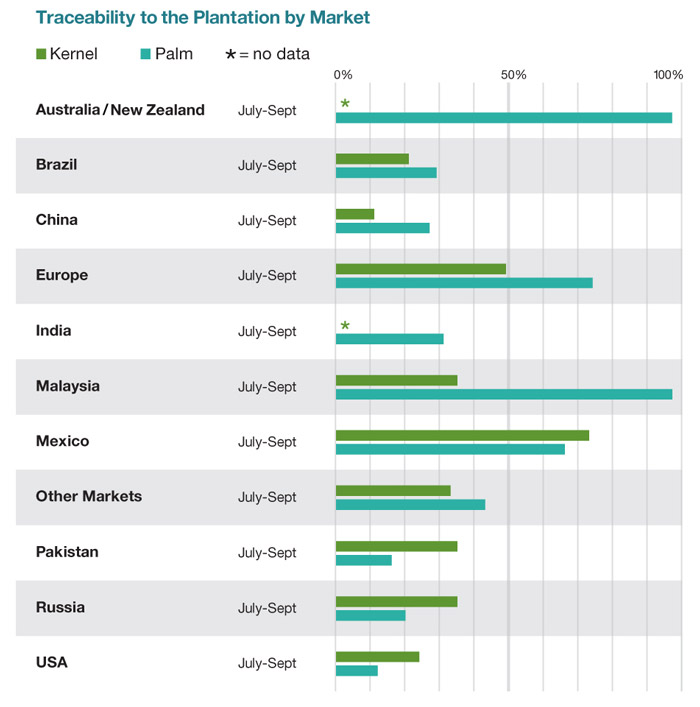 Note: Traceability to plantation is defined as known information about the FFB suppliers; estates (names, parent company name, gps coordinates/addresses, % volumes, certification status), dealers (names, % volumes) and smallholders (number of smallholders, % volumes, certification status). RSPO Segregated oil sourced also fits into this category of fully plantation traceable. The traceability data included in this report should be considered estimates, and the percentages were calculated based on self-declarations by our suppliers. The data covers what we physically delivered and processed. Cargill is cooperating with industry partners to develop verification and reporting of traceability information.
'Other markets' includes palm and kernel products shipped to Latin America (those countries not individually indicated already) UK, Central and Eastern Europe (the Caucasus), West and North Africa, Middle East, central and South Asia, Asia Pacific, and the Pacific rim. In some cases, palm and/or kernel products may be bought from another supplier who has a 'No Deforestation' policy and is mapping their supply chain but is unwilling to share their data. We are proactively engaging these suppliers to address this issue. In the absence of substantive progress, some sourcing relationships may be reconsidered. We will do this in a transparent manner.