Netting zero: Helping fish farmers fight climate change
Read Time: 5 minutes
August 03, 2023
Cate Cannon understands the challenge — and the responsibility — of farming in the sea.
As the sustainability manager of Scotland-based Kames Fish Farming, she knows that seafood is an increasingly important source of protein for our growing global population.
Yet seafood farming can be challenging for the environment.
With aquaculture feed often responsible for 60-90% of the total carbon footprint of the harvested fish, farmers like Kames are looking to partners like Cargill for help reducing their carbon footprint — all while delivering high-quality, nutritious seafood.
"We are proud to lead the way," Cate says. "Carbon efficiency will only be fully achieved if we work together across the whole supply chain."
That is where Cargill's SeaFurther™ Sustainability initiative comes in. Through this sustainable aquaculture program, we are bringing together customers and suppliers around the world to help them produce the seafood the world needs and minimize their impact on the planet. The goal: reduce the carbon footprint of our customers' farmed seafood by 30% by 2030.
"It's fantastic that this initiative and open communication is happening rapidly and at scale," Cate says.
For Kames, Cargill has helped identify "hot spots" that could lessen the company's carbon footprint. Those include raw materials for feed and energy use on the farm.
The partnership with Cargill has been a "a personalized journey" with tailored guidance that has "helped us make a substantial difference in our emissions without impacting our overall business," Cate adds.
How does SeaFurther Sustainability work?
To help seafood farmers chart a path to net-zero emissions, Cargill's SeaFurther initiative focuses on three key areas:
Transforming raw materials used in feed ingredients: Whether by implementing regenerative agriculture practices, optimizing processing or streamlining logistics, we are working directly with our suppliers to find ways for them to reduce their greenhouse gas (GHG) emissions.
Optimizing production: Optimizing production includes managing energy use in feed production and farming, streamlining transportation and logistics, and tailoring our feed to the fish and their environment.
Safeguarding animal health: Cargill's Research & Development experts take time and care to develop fish nutrition that enhances the health of farmed fish. Healthy fish grow more efficiently, so more fish can be grown using fewer resources with fewer GHG emissions.
Learn more about SeaFurther and how we're advancing sustainable aquaculture throughout the seafood supply chain.
Reducing aqua nutrition emissions with … soil?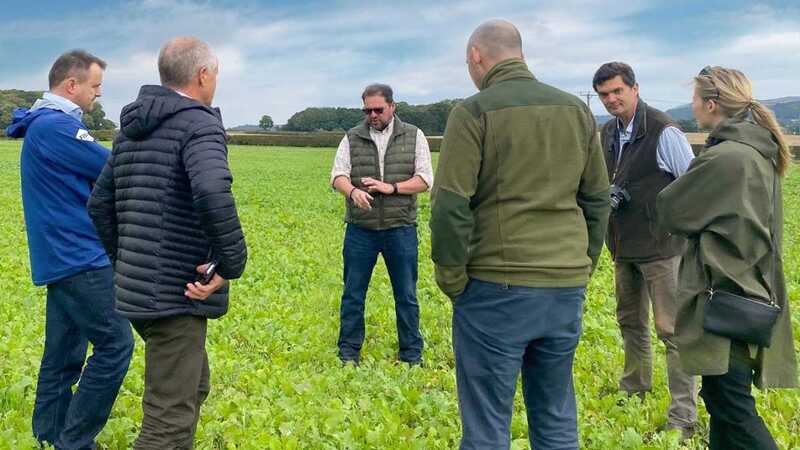 Farmer Alan Petch (center) explains what regenerative agriculture means in practice to a group visiting Petch's farm in the United Kingdom last fall.
You might not think of wheat and rapeseed as crucial to reducing the carbon footprint of fish feed.
Yet those two important ingredients in salmon feed are at the heart of a new Cargill program that supports farmers in adopting processes that regenerate the soil and benefit the environment.
Reducing emissions in producing those two crops is an important way to help lower salmon feed's footprint without impacting the fish's nutrition. That is why Cargill carried out a pilot project with eight farmers across 1,500 hectares (about 3,700 acres) of rapeseed and wheat fields in the United Kingdom. Through regenerative agricultural methods, the pilot reduced 1,000 tons of carbon dioxide (CO2) equivalents.
"Regenerative and sustainable practices must be commercially viable; we must look at them with production in mind," says Alan Petch, one of the participating farmers. "The project acknowledges this, which is why I was keen to get involved."
The project also connects farmers like Alan with other stakeholders throughout the supply chain, allowing them to collectively address carbon emissions.
"In aquaculture, retailers, farmers and feed companies have set emissions reduction targets, but can only achieve these with activities further upstream," SeaFurther Sustainability Program Lead Dave Robb notes. "This pilot project shows us the potential impact that can be made through applying regenerative agricultural practices."
Cargill Aqua Nutrition Sustainability Report 2022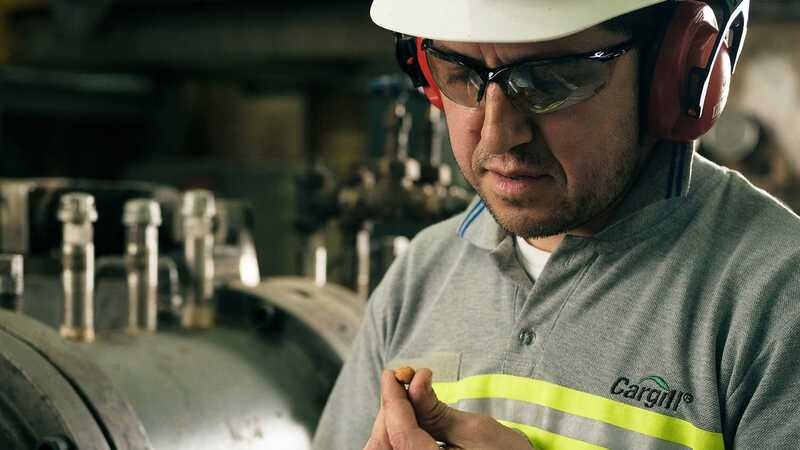 Cargill recently launched its annual sustainability report, which highlights our continuous progress in making a positive impact from the center of the aqua value chain. This report continues deepening our transparency on key sustainability topics, including our supply chain, operations and product performance.
Sustainability from the inside out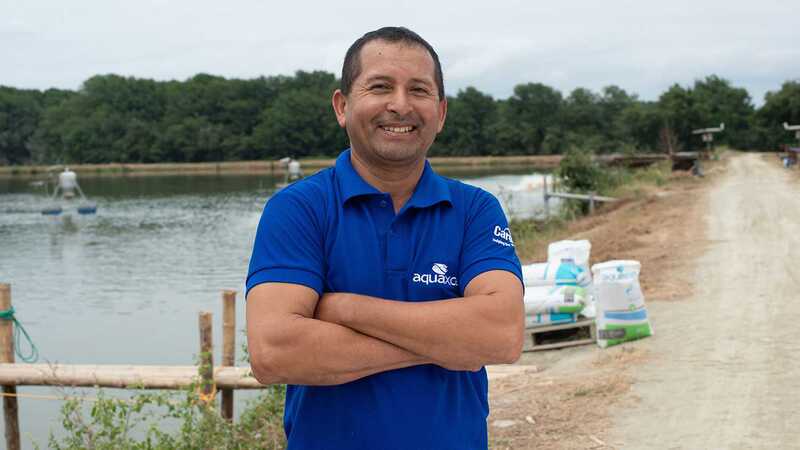 Aquaxcel is bringing cleaner water for growing shrimp in Indonesia, thanks to the recent development of micro-pellets for feeding.
When it comes to sustainability, seemingly small changes can make a big impact.
Take our packaging operations, for example. Cargill recently introduced lighter bags for our Nurcare and Aquaxcel feed brands in Vietnam, which contain 15% less plastic. That means 72 tons less plastic this year (and 144 tons less per year by 2032) and 2,500 tons less GHG emissions just in Vietnam.
Aquaxcel is also bringing cleaner water for growing shrimp in Indonesia, thanks to the recent development of micro-pellets for feeding. As small as .5 millimeters, the high-quality pellets help shrimp grow quickly and with strong immune systems.
Beyond that, the pellets leach less and take longer to dissolve, which means less food in the ponds, cleaner water, less water treatment, and a healthier and more sustainable growth cycle.
"We are committed to improving the livelihoods of farmers and contributing to Indonesia's economic growth," says Chia-Ye Siam, Cargill aquaculture's managing director for Malaysia and Indonesia. "The new micro-pelleted shrimp feed helps produce high-quality shrimp in shorter cultivation periods and in larger quantities."
Insects and algae in fish feed? Yep.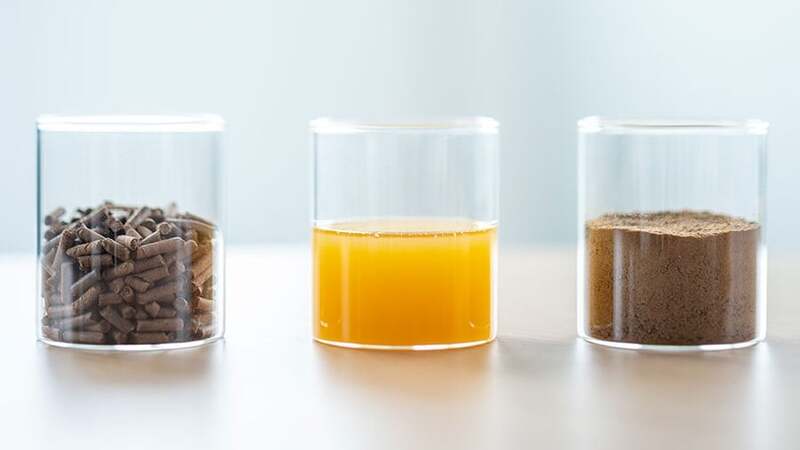 Cargill is innovating sustainably by introducing novel ingredients with a lower carbon footprint, like insects and algae oil (Photo courtesy of Innovafeed).
Speaking of feed: In the past, marine ingredients — like fishmeal and fish oil derived from wild-caught fish — were a big component of aquaculture feed. But as the industry grows, aquaculture will need more than the finite supply of marine ingredients to produce enough seafood.
Cargill is helping supplement those marine ingredients with novel inputs like insects and algae oil. Why? Those alternatives offer important nutrients without taxing ocean ecosystems.
Take, for example, the expansion of our partnership with Innovafeed, a growing producer of insect meal that increases our customer offerings across novel ingredients and feed sustainability. Beyond offering high-quality feed, Innovafeed's insect meal saves up to 16,000 tons of CO2 for every 10,000 tons of insect protein.
"
"
The challenges and opportunities around sustainable aqua nutrition are complex, and our customers are looking for Cargill's help to meet their emission reduction targets," says Helene Ziv-Douki, president and group leader of Cargill's aqua nutrition business. CQN is uniquely positioned at the center of the aqua value chain and brings expertise, experience, and partnerships to help our customers reduce their environmental impact while helping the aqua industry operate more sustainably."
More stories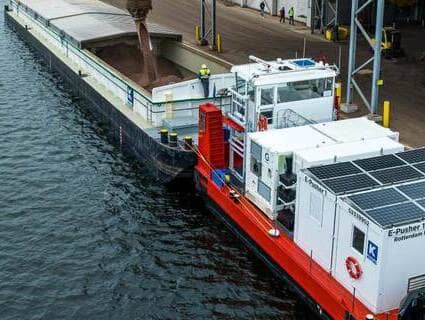 Silent. Efficient. The world's 1st zero-emission electric barge.
Cargill and Kotug International have partnered to create the first fully electrified industrial setup for inland shipping.
[]/[]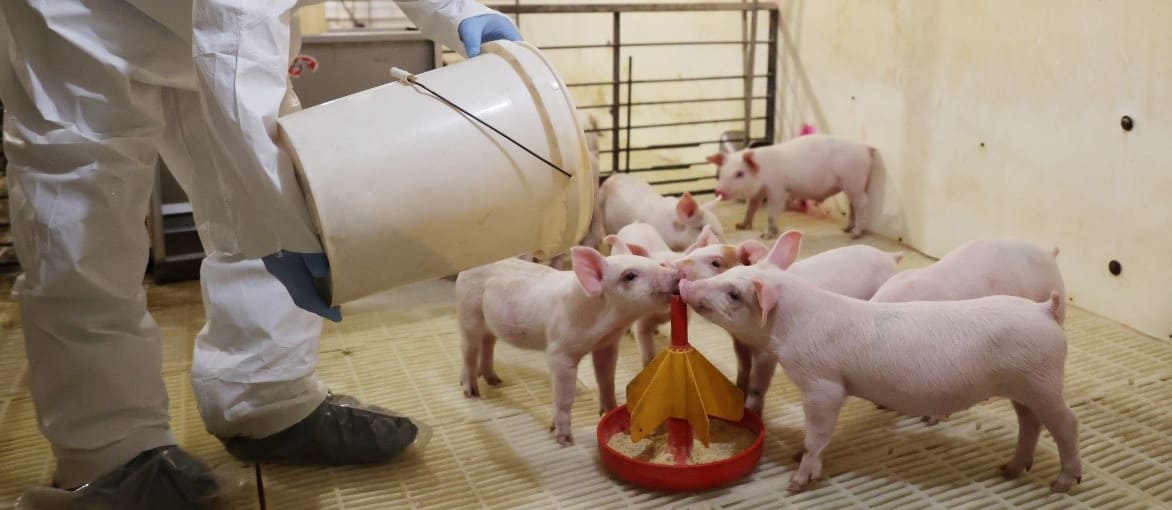 Insects, algae oil and plants: 3 ways Cargill is helping feed animals more sustainably than ever
Across our animal and aquaculture feed business, sustainability is the name of the game
[Latin America]/[Colombia]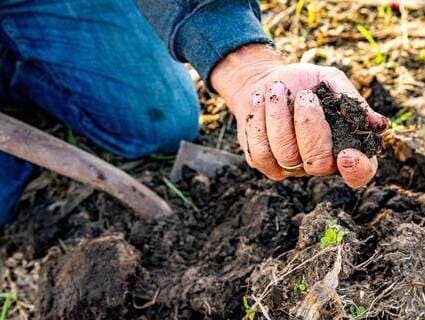 Digging in: Cargill's regenerative agriculture program brings healthier soil and profits to more European, U.S. farmers
Cargill's RegenConnect® program is building on its success in North America to expand to more U.S. states and Europe
[]/[]