Sustainability Reporting
Cargill Aqua Nutrition Sustainability Report 2022

Cargill Aqua Nutrition is uniquely positioned in the aqua value chain – backed by our decades of experience and Cargill's technical and market expertise – to connect supply and demand, facilitate the exchange of best practices and information and help our partners create sustainable practices and products the global market desires.
Sustainability challenges in aquaculture are complex: in a world that is increasingly hungry for protein, aquaculture products must be a growing, healthy and sustainable part of the solution. As one of the largest aquafeed businesses worldwide, producing feed for multiple species – including salmon and shrimp – Cargill Aqua Nutrition has the scale and expertise to drive the necessary changes to meet this demand sustainably.
Cargill Aqua Nutrition has launched its 14th annual Sustainability Report that highlights our continuous progress in making a positive impact from the center of the aqua value chain. This report continues to build on our transparency on key sustainability topics, providing reports on our supply chain, own operations and product performance.
Learn how with the right vision and collaborative attitude with our stakeholders, we are making it happen.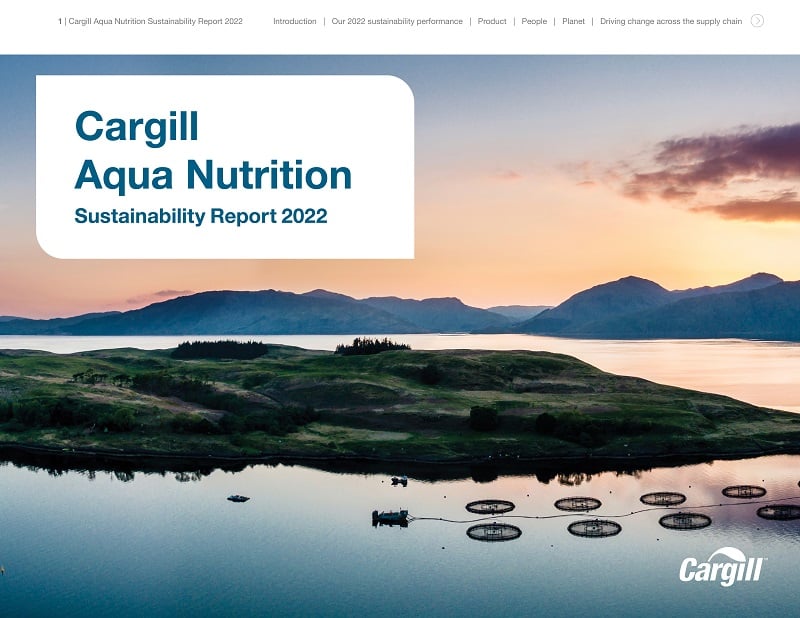 Highlights from the 2022 report include:
SeaFurther Sustainability: Reducing aqua farming's carbon footprint
Although most carbon emissions from farmed fish and seafood stem from the raw materials mix, several other factors can be addressed to reduce its carbon footprint. Improved reporting can help identify and remedy emissions hotspots. With our signature SeaFurther™ Sustainability program, we work with salmon farmers as well as ingredient suppliers to reduce greenhouse gas (GHG) sources embedded in the value chain. Our aim is to help reduce carbon emissions from salmon farming by 30% by 2030.
Regenerative agriculture pilot saves 1,000 tonnes of carbon
Aquaculture's carbon footprint mainly stems from the mix of raw materials in the feed. In 2022, we teamed up with eight U.K. farms to pilot the same climate-friendly regenerative agriculture practices to achieve a 1,000-tonne carbon reduction. Regenerative agriculture aims to restore the soil's health and resilience, using techniques like low- or no-tilling, planting cover crops to prevent runoff and oxidation, crop diversity, and pollinator strips. As a result, the soil becomes a carbon sink instead of a source of emissions, reducing the carbon footprint of crops grown in it. In 2023, our goal is to sign up more farmers and avoid over 10,000 tonnes of emissions.
Improving ocean stewardship through Fishery Improvement Projects (FIPs)
Our work to improve the sustainability of marine ingredients continues. In addition to buying certified fishmeal and oil we are also increasingly engaged in fishery improvement programs to develop more sustainable management and fishing practices. As well as working to create more credible and time-bound FIPs in our supply chain, we have also worked with WWF and Finance Earth to develop a new fund for future FIPs. At the same time, we continue our work to develop and use more fishery by-products as feed ingredients. Over the last 20 years, we reduced our use of marine ingredients for the average global salmon feed composition by nearly 80%. In 2022, 41% of our total marine ingredients by volume were sourced from trimmings, as opposed to forage fish. In addition, 91.4% of the marine ingredients for our coldwater feeds were from certified or improvement program sources.
Innovation inside our operations to maximize performance and minimize environmental impact
Whether it is at our R&D facilities or in the field with our farmer partners and suppliers, we are always working on new ways to optimize our feeds, save resources, and support our customers and the animals in their care. We continue to increase our use of alternative ingredients like insect meal and algae oil, for example, to help expand our raw material basket so we can produce more feeds sustainably, and we are developing better feed packaging solutions to keep many tonnes of plastic out of the environment.
Promoting fish health to lower aquaculture's environmental footprint
Cargill supports fish health and welfare with functional feeds that strengthen animals' immune systems under stressful situations, reducing the need for medication like antibiotics. In 2022, sales of functional feeds reached their highest level since 2017. We saw a 71% reduction in coldwater antibiotic feed sales since 2017.
Cargill Aqua Nutrition Sustainability Reports - English
Cargill Aqua Nutrition Sustainability Reports - Spanish