Sustainability Reporting
Cargill Aqua Nutrition Sustainability Report 2021

We are raising the bar to accelerate sustainable ingredient sourcing, prioritize animal health and welfare, and drive innovation to help our customers do more with less.
The challenges ahead of us are significant: aquaculture accounts for over half of the seafood produced globally, and with a rapidly growing global population there is increasing demand on our industry to provide healthy nutrition for all. As one of the largest aquafeed businesses worldwide, Cargill Aqua Nutrition represents a critical link in the seafood supply chain. We are leveraging our scale, our expertise, and our commitment to sustainability to drive the necessary changes to meet the rising need for more responsibly produced seafood.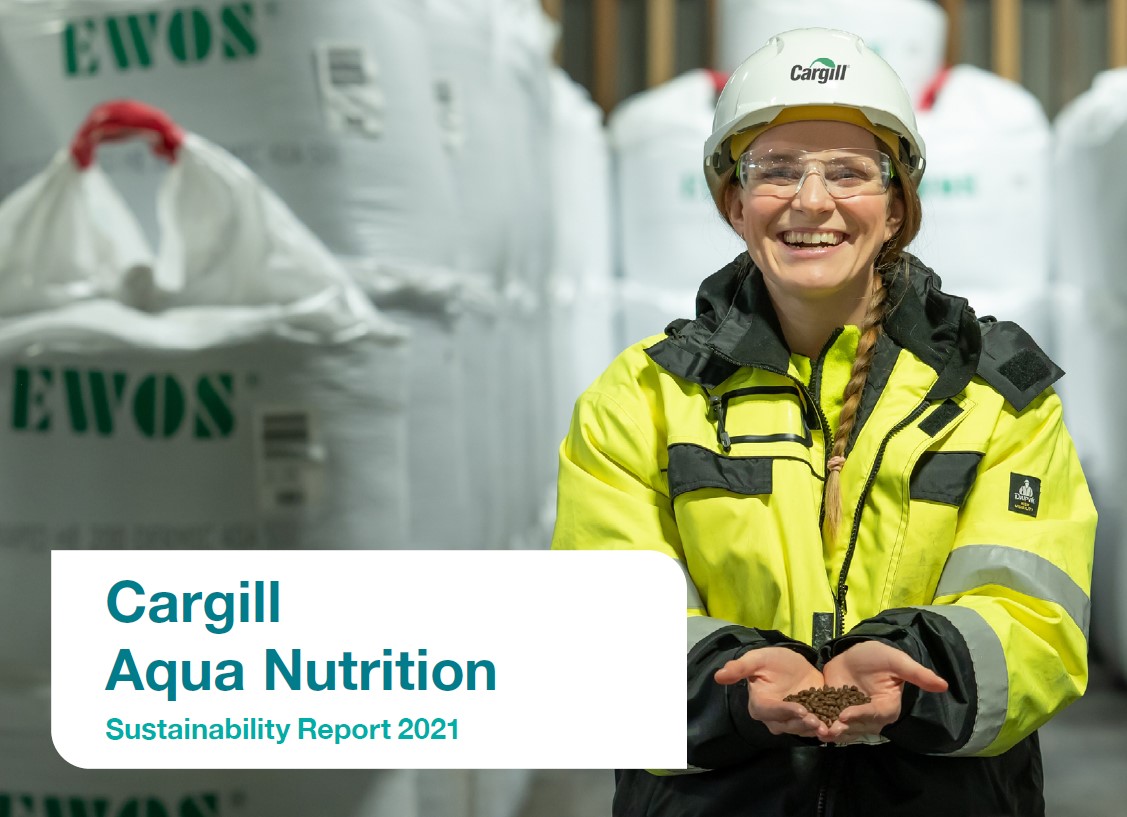 Sustainability challenges in aquaculture are complex, but as we demonstrate in this year's report, also possible to address. With the right vision and collaborative attitude, we can make it happen.
Highlights from the 2021 report include:
Driving circular and sustainable ingredients
For the first time, our annual feed production—for both coldwater and warmwater species—surpassed the use of 50% co-product ingredients, and 40% of our marine ingredients came from trimmings and by-products.
When a key source of marine ingredients—blue whiting from the North Atlantic—lost its MSC certification in 2020, we stopped buying it. Collaborating with other feed producers, we encouraged the local fisheries to act. In 2021, they entered into a Fishery Improvement Program, working towards better long-term fisheries management strategies.
Scaling up use of novel ingredients
To date, insect meals and algal oils have been the products commercially implemented through our novel ingredient strategy. In 2021, we helped launch the Millennial Salmon project to build on this. We also extended our global partnership with Innovafeed to bring novel ingredients to scale. Our commitment to jointly develop and market insect meal as a viable – and sustainable – ingredient in aquafeed will help our customers raise more seafood with less environmental impact.
Refitting facilities for zero emissions
Our Bergneset feed mill in Norway was converted to become fully electrified, using renewable hydroelectricity— generating almost zero GHG emissions. The conversion was completed and launched in 2022.
Bringing SeaFurther™ Sustainability to life
In March 2021, we launched SeaFurther™ Sustainability, our flagship sustainability program helping farmers reduce the environmental footprint of their fish by at least 30% by 2030. By doing so, we'll help the industry save 2 billion kilograms of CO2—the equivalent of removing more than 400,000 cars from the road in one year. Just a few months after launch, producers from Norway, Scotland, and Chile joined us on this path, and we're now actively identifying and implementing GHG reductions. This has paved the way for more sustainable supply chain opportunities in 2022 and the program's expansion to more customers.
Learn more about our 2021 Aqua Nutrition Sustainability Report
Product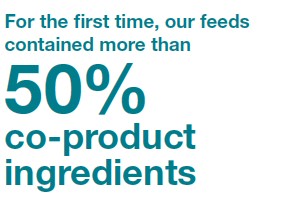 The source and quantity of ingredients used in our feed is important to us and of great interest to stakeholders. In 2021, we again increased our use of co-product ingredients, including marine ingredients. For shrimp, tilapia, and other warmwater species, our feeds contained 65% co-products. For salmon and trout feeds, we continued building our novel ingredient strategy, incorporating ingredients like algal oil and insect meal at more than 4% inclusion and paving the way for significantly greater use in the years ahead.

People
Our purpose begins with a safe, supportive working environment. In 2021, we advanced diversity, equity, and inclusion in our business by increasing the representation of women in leadership positions by 10% and identifying 20 projects across our global facilities – like building mother's rooms – to make our workplaces more comfortable for all. Outside our own walls, we delivered a training program specifically for woman shrimp producers from Mexico, Central America, and Ecuador. So far, more than 70 have graduated.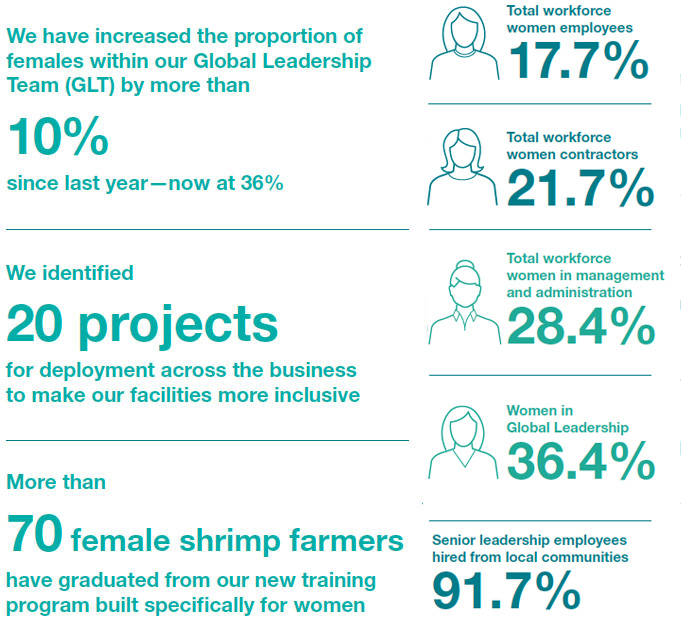 Planet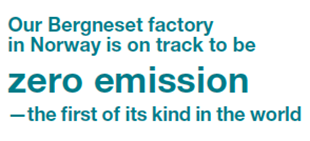 Considering our operations in a comprehensive and planetary context is key to understanding our business-wide sustainability performance. We continue to leverage the power of third-party certifications for quality and environmental management in our own facilities and for the ingredients we source. For our salmon and trout feeds, we maintained very high sourcing of certified marine- and terrestrial-origin ingredients, and we are eager to be amongst the first feed mills certified to the forthcoming Aquaculture Stewardship Council (ASC) Feed Standard, expected in early 2023. Energy efficiency and emissions in our coldwater facilities has improved compared to our 2017 baseline, but our business growth of our warmwater sector has made it difficult to achieve the same reductions. We are actively working to find solutions for better performance.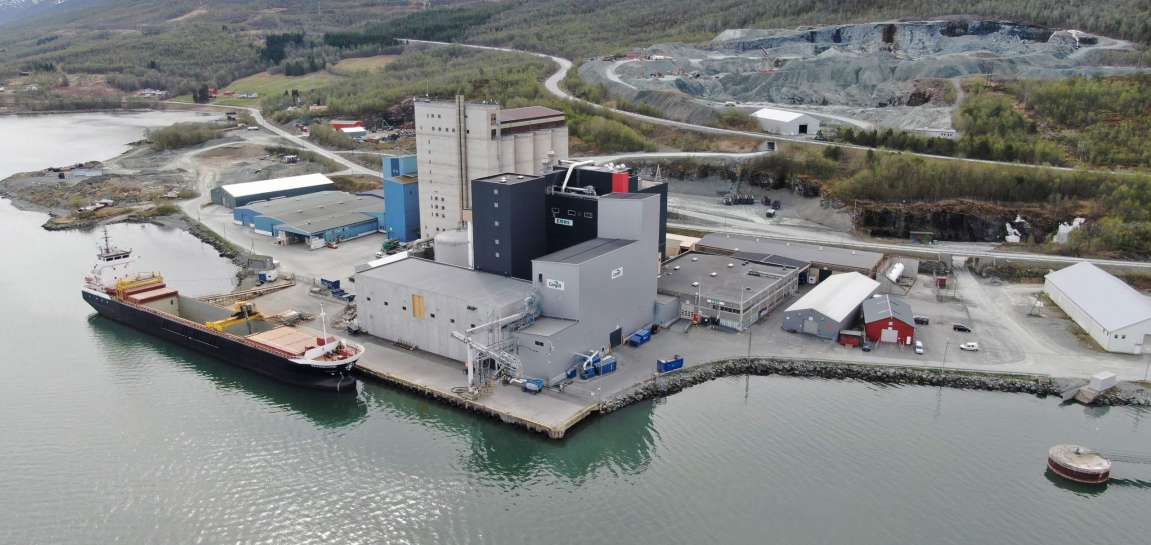 SeaFurther™ Sustainability
Our SeaFurther™ goal is to help fish farmers reduce their carbon emissions by at least 30% by 2030, and exciting things happened in 2021. In this first year of launch, the program completed its science-based methodology documentation, developed a central Life Cycle Assessment (LCA) database, signed on three customers, and began working on identifying and taking action on greenhouse gas emissions reductions. Looking ahead, we will continue focusing on three key areas to reach our ambitious target: transforming raw materials, optimizing production, and safeguarding animal health. Join or follow our progress: cargill.com/seafurther.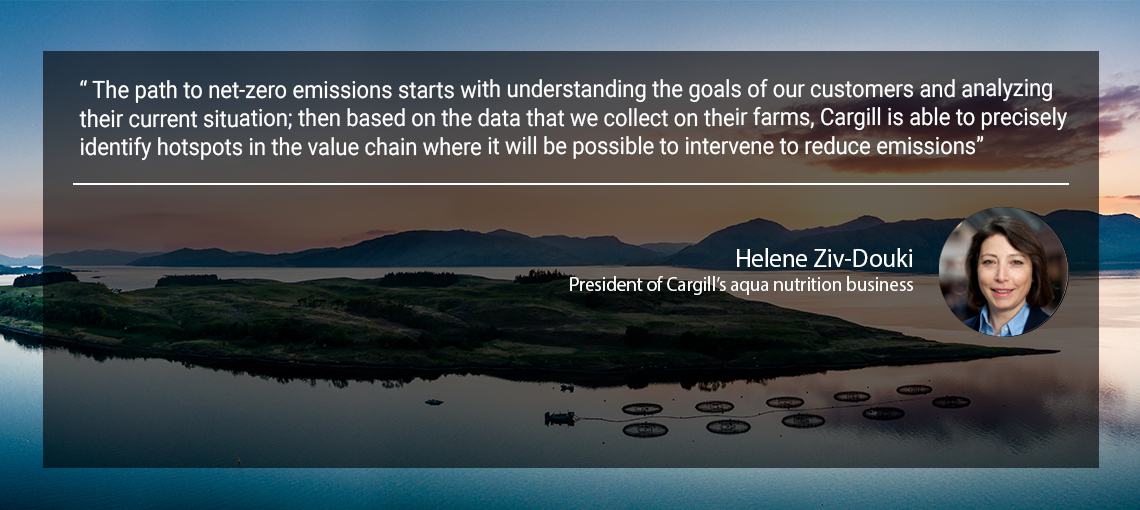 Cargill Aqua Nutrition Sustainability Reports