Our Framework
We continually monitor and evaluate our programs to make sure they are as impactful as possible
We know that continuous learning and improvement will ensure our programs remain effective, relevant and impactful. That is why we established a Results Framework and invested in a strong Monitoring and Evaluation system to analyze our performance in reaching our targets. We continuously work on embedding sustainability in decision-making at all levels within the organization.
Results Framework
We have applied our Theory of Change to help us develop a Results Framework. We use this to identify the types of interventions that will collectively deliver results (or outcomes) that support our Sustainability Goals.
This approach helps us to gain a better understanding of the correlation between our activities and achievements, and helps us measure and report progress over time. As a result, we can plan our interventions more effectively, because we understand why and how our actions lead to specific outcomes.
The example below illustrates how our Results Framework works: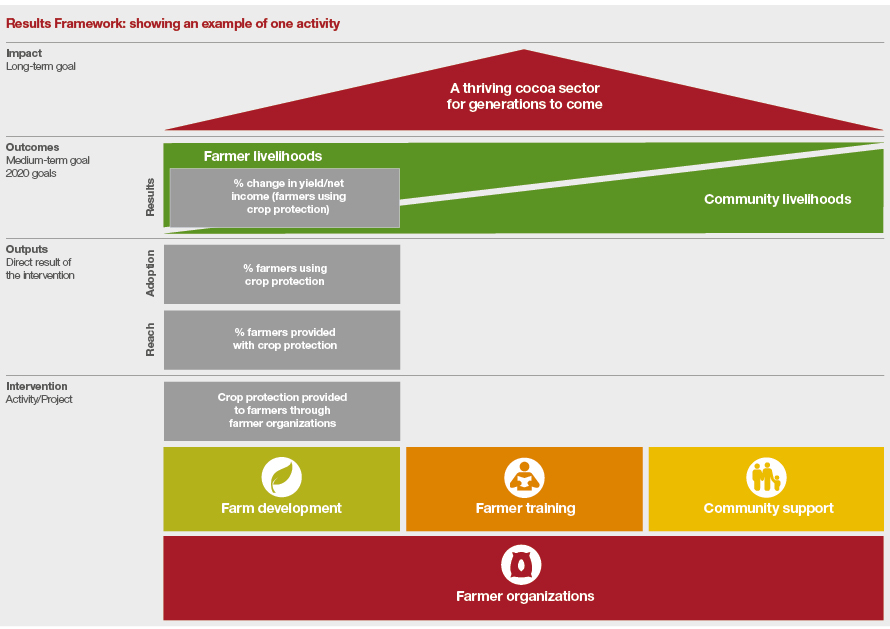 The Framework, combined with insights from our data on reach and adoption and our experience in the field, helps us to understand which interventions work best to farmers and their communities and why.
To track and measure our progress, we have developed a consistent methodology: our Monitoring and Evaluation system.
Monitoring and Evaluation
We believe that it is crucial to have a consistent methodology to measure progress and performance. This is set out in our Monitoring and Evaluation system, which helps us to capture learnings at three different levels:
Results of our interventions in areas such as farmer training, farm development and community support. These are measured either through their reach (for instance, the number of farmers provided with fertilizer) or their adoption (the number of farmers using fertilizer).
Impact of farmer and community livelihoods programs. This reflects the changes that occur thanks to multiple successful interventions (for example, the percentage change in yield or net income for farmers that have received and used the fertilizer).
Impact of the Cargill Cocoa Promise. This assesses to what extent our interventions and programs have contributed to our overall objective of a thriving cocoa sector for generations to come.
Our Monitoring and Evaluation framework has allowed us to gather more accurate data and gain valuable learnings. This has enabled us to design and develop the most effective programs and continuously refine our sustainability strategy based on up-to-date data and insights.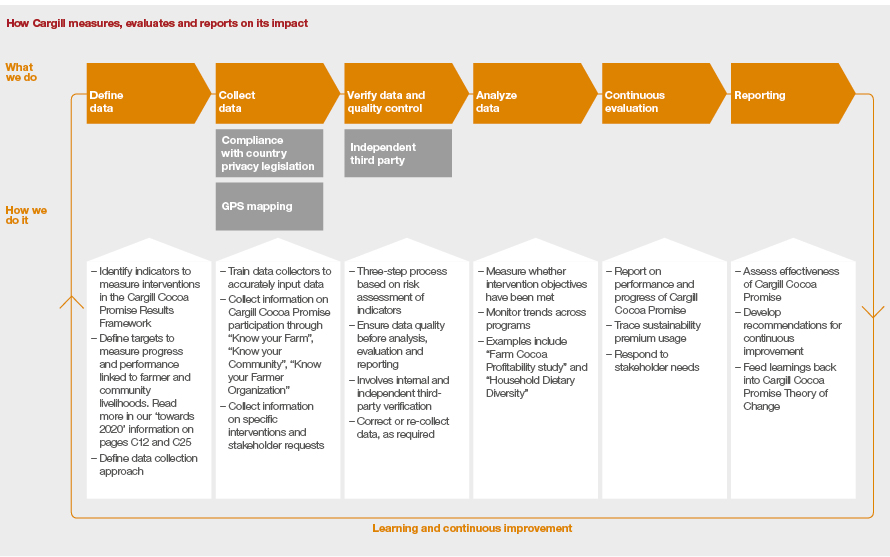 If not mentioned elsewise, all West Africa photos in relation to sustainability are by Sandrine Bénitah « @Sandrine Bénitah »