Welcome to la Familia: For Cargill's Rumba Meats, celebrating Hispanic heritage goes far beyond the dinner table.
Read Time: 2 minutes
October 07, 2022
For Latinos, "la rumba" is more than music, more than a party, more than a dance. It's a celebration of a way of life — of culture, history and future.
That celebration also is the inspiration behind each product from Rumba Meats, Cargill's brand of fresh variety meats focused on traditional Latin American recipes.
But that's not all. For the fourth year in a row, Rumba Meats is celebrating the tremendous impact of the Hispanic-Latino community in the United States during Hispanic Heritage Month by providing scholarships and development opportunities for future Hispanic leaders.
This includes students like María Emilia Mancero, a 2022 scholarship recipient.
"I can proudly say that my Hispanic culture and community is just about anywhere and sharing in similar experiences despite our varying backgrounds makes me proud," María says. "Our voices are our strongest tool — we use them in politics, music, and education to uplift one another and tell stories, and I want to continue using my voice, which Rumba Meats is allowing me to do with this incredible opportunity."
All about familia
Originally launched in 2007 as a multicultural product line, Rumba Meats was repositioned as a Latino-focused brand for its 10-year anniversary in 2017. With a fresh new image, Rumba Meats has become a staple for the Latino community in the U.S.
The change was a smart move: Latinos' purchasing power in the U.S. has increased by an estimated more than $1.7 trillion. Yet, they are not paid equitably and lack access to food, housing and education.
Empowering tomorrow's leaders
This reality is not lost on Rumba Meats. That's why the brand has partnered with the United States Hispanic Leadership Institute (USHLI) to provide 25 scholarships of $1,000 each year to U.S. high school seniors pursuing post-secondary education.
"Our priority remains helping the Hispanic community celebrate and preserve their heritage through food, including empowering today's youth to become tomorrow's leaders at home, work, and in their communities," says Tammy Gonzales, Rumba Meats marketing manager.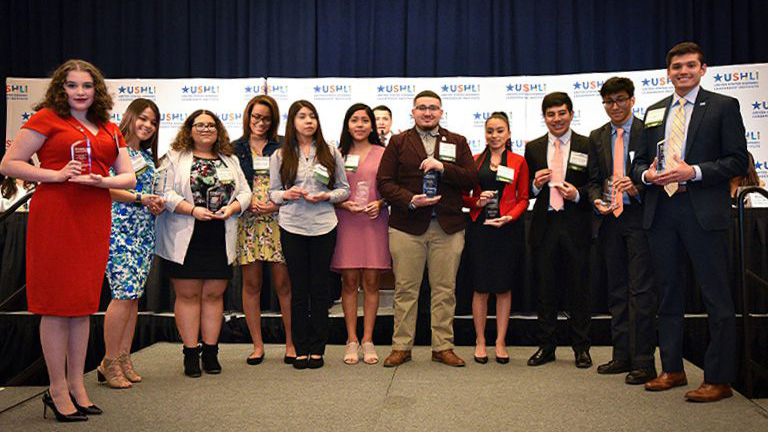 Previous recipients of the Rumba Meats-sponsored scholarships.
The partnership has led to $200,000 in scholarships and additional funding for USHLI's Student Leadership Series program that connects students with resources, tools and support to achieve higher education. To date, the program has reached 908,104 participants in 39 states.
"We are excited to see the endless positive contributions these future leaders will have on our society," Tammy says.
Rumba Meats will also donate proceeds from consumer purchases made between Sept. 1 through Oct. 31 to fund even more scholarships in the future.
Currently enrolled high school seniors across the country can apply for the Rumba Meats Scholarship now through Nov. 30. To learn more, including eligibility requirements, students can click here.
More stories:
New state-of-the-art plant is also a beacon for equity, inclusion and community engagement
Read Time: 2 minutes
[Latin America]/[Colombia]
Aquí + Frescos is the first Cargill-developed app designed to serve end-consumers, developed and distributed in Central America.
Read Time: 2 minutes
[]/[]