What's high-tech, growth-focused and advancing equity? Answer: Our new chicken hatchery in Colombia.
April 14, 2022
In Colombia, Cargill recently opened one of its most technologically advanced chicken hatchery plants.

The facility is also a beacon of equity, inclusion and community engagement.

"This is a company of true female empowerment, and that's the culture we want to foster at the Caribe plant," says an operations supervisor.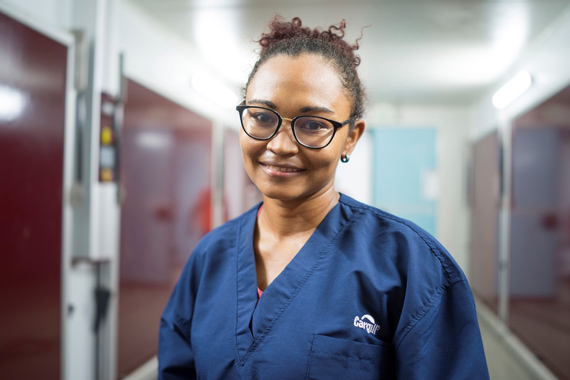 Merlys Altahona, a plant operator at Caribe, Cargill's hatchery plant in Colombia. Every morning, Merlys Altahona straps on gloves and a protective suit before stepping into a pen full of newborn chicks. She oversees the equipment that sprays the brood with a solution she prepared to help the animals grow strong and healthy.
"It's a big responsibility," she says. "One tiny mistake could jeopardize the health of the animals."
Merlys is a plant operator at Caribe, one of Cargill's most technologically advanced hatchery plants. Located off the northern coast of Colombia, Caribe is also a landmark in Cargill's Latin American protein business.
The 31,000-square foot plant features state-of-the-art tech that fosters best handling practices and processes, more accurate environmental control and the welfare of the chicks.

Reaching higher
Carlos Rodríguez is an incubator superintendent for Cargill Colombia. He was part of a team tasked with planning, overseeing and managing the new plant.
"Our leaders wanted us to think beyond our frontiers," he recalls. "It was very ambitious."
After careful consideration, Carlos and his team settled on a building site: Mahates, a small village just outside Cartagena and one of Colombia's main ports.
It was an opportunity for Cargill to invest in local communities. Since the start of operations in late October, almost all the employees have been from the surrounding area.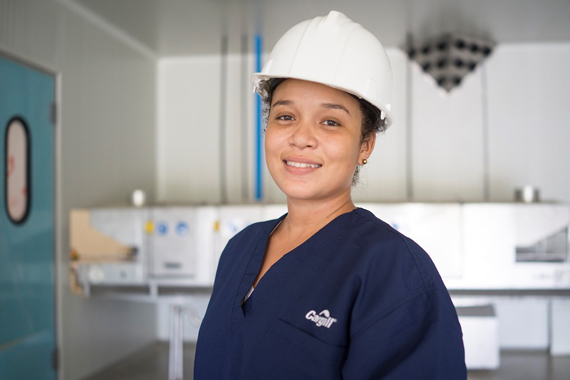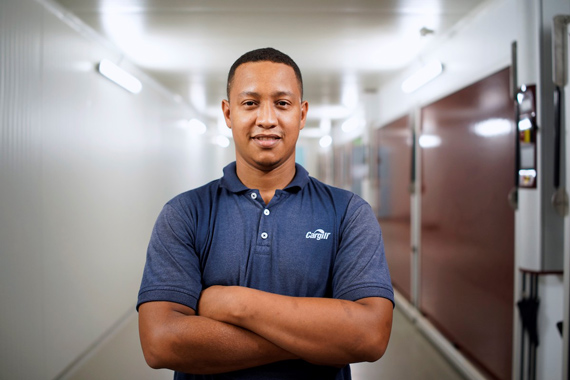 Gender parity at work
As an operations supervisor at Caribe, Elizabeth Corzo embodies this new facility in a unique way: like her, half the employees at the plant are women. This stands in stark contrast to what has typically been a male-dominated industry.
Since joining Cargill eight years ago, Elizabeth has seen the company work continuously to support women with new opportunities.
That's integral to the Caribe plant. The facility is fully equipped with private locker rooms and bathrooms as well as a nursery room and a clinic for all employees.
But it's a culture of equity that's made a real difference for Elizabeth. Leading a team of empowered women and supportive men at Caribe, she is now in a position to help more women reach the opportunities that others, like Merlys, now enjoy.
"This is a company of true female empowerment, and that's the culture we want to foster at the Caribe Plant. There's an opportunity for every woman here."
— Elizabeth Corzo, operations supervisor
Merlys is thrilled to be a part of it.
"I joined Cargill four months ago, and I couldn't love it more," she says. "This is my first job. My mom and brothers are so proud, and I'm proud of myself."
More stories
When Amanda Poldi was recently named to Forbes Brazil's list of '100 Powerful Women of Agribusiness,' it came as a shock.
Read Time: 4 minutes
[]/[]
Aquí + Frescos is the first Cargill-developed app designed to serve end-consumers, developed and distributed in Central America.
Read Time: 2 minutes
[]/[]
A driver falling asleep is a wake-up call for his team. Now drivers are getting a second (and third or fourth) pair of eyes.
Read Time: 2 minutes
[South America]/[]