Partnership & Collaboration
Working with others to promote best practices and raise standards
Industry partners
Cargill is a founding member of the Global Roundtable for Sustainable Beef (GRSB) . We support the GRSB definition of sustainable beef principles and criteria and are working to help translate that guidance to regional initiatives that adapt to local requirements. We also are helping lead efforts with the Canadian Roundtable for Sustainable Beef (CRSB) and U.S. Roundtable for Sustainable Beef (USRB).
We also support the North American Meat Institute (NAMI) and National Cattlemen's Beef Association's (NCBA). Beef Quality Assurance (BQA) animal handling standards.
Learn more about our commitment to humane animal treatment.
Collaborating with customers
We partner with customers to improve the sustainability of beef production. Our work with McDonald's in Canada is a good example. In 2014, McDonald's committed to begin sourcing a portion of its beef from sustainable sources in 2016. Cargill participated as a core member of the McDonald's Sustainable Beef Pilot project team focusing on the beef supply chain from cows all the way through beef processing. With cooperation among organizations including the CRSB, the Canadian Cattlemen's Association, the Alberta Beef Producers and the World Wildlife Fund, the pilot project is serving as a foundation for the CRSB to build a Canadian sustainable beef framework.
Through our active membership in the CRSB and GRSB, we helped ensure alignment between the pilot project, the roundtables and Canadian industry stakeholders. This pilot project was the first to incorporate and validate the GRSB principles and criteria. Two Cargill facilities in Canada – Spruce Grove and High River – went through third-party verification using the sustainability indicators developed by the pilot project.
The pilot project provides an opportunity to share best practices for improving sustainability outcomes and is helping meet McDonald's need for verified sustainable beef in the Canadian market. Now we are working on improving our ability to track and report traceability information and determining how to support our customers' ability to make consumer-focused sustainability claims. The project is helping to expand consumer trust in Canadian beef as a sustainable source of protein.
Creating end-to-end value
Cargill's certified sustainable beef initiative is an effort to implement the Canadian Roundtable for Sustainable Beef's (CRSB) Certified Sustainable Beef (CSB) Framework in our Canadian supply chain. The initiative enables Cargill's retail and foodservice customers to source certified sustainable Canadian beef and to market beef products to Canadians with an on-product CSB logo and claim. The CRSB's Framework increases consumers' trust that the beef they buy for their families comes from responsible and sustainable beef producers across Canada. Cargill's implementation of the CSB Framework has helped Canada become the first country to deliver beef from certified sustainable sources, establishing Canadian beef as synonymous with sustainability in the global market.
Both of Cargill's Canadian abattoirs – High River, AB and Guelph, ON – are certified to the CSB requirements. Meaning, any cattle processed at either of these facilities can qualify if they meet all CSB requirements prior to processing. Producers wanting to learn more about how to make their cattle eligible for the CSB Framework can go to the CRSB website or contact any of the CSB Framework's approved certification bodies, a list of which can be found on the CRSB website.
Cargill and our participating customers are grateful for beef ranchers' and farmers' dedication to responsible practices, and we have chosen to recognize that effort financially in the form of Qualifying Cattle Credit Payments. These payments are issued monthly for all qualifying cattle processed in the prior period. Payments are provided to every certified operation that owned these qualifying animals as a thank you for the upfront investment made to demonstrate sustainable practices within Cargill's supply chain according to the CSB Framework auditing process.
In addition to this ongoing Qualifying Cattle Credit Payment, Cargill is also funding a pilot Recognition Credit to be issued in 2023 for qualifying cattle processed in 2022. This incremental payment will ensure all CRSB Certified operations who maintained their CRSB Certified status through 2022 and into 2023 will receive a minimum $400 CAD in total annual credit payments relative to Cargill's 2022 implementation of the CRSB Certified Sustainable Beef Framework. The credit will only apply to those producers who have not already received at least $400 CAD in return for the Qualifying Cattle Credits. The credit will be paid to CRSB Certified operations regardless of whether their qualifying cattle were ultimately sold into Cargill.
Temple Grandin: Advocating for transparency
Dr. Temple Grandin has improved animal welfare by designing livestock and harvesting areas at meat processing plants, including at Cargill's beef and pork facilities in North America. Grandin also advocates greater industry transparency and encouraged third party, remote video auditing (RVA), which Cargill has in all of its beef plants for animal welfare purposes.
Dinner with Temple Grandin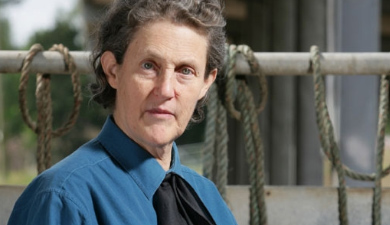 The animal welfare expert talks about her decades of work with Cargill and what's next in the animal protein industry.
Newsletter signup
Updates about Cargill's efforts to protect forests delivered to your inbox.