Partnership & Collaboration
Working with others to promote best practices and raise standards
Industry partners
Cargill is a founding member of the Global Roundtable for Sustainable Beef (GRSB) . We support the GRSB definition of sustainable beef principles and criteria and are working to help translate that guidance to regional initiatives that adapt to local requirements. We also are helping lead efforts with the Canadian Roundtable for Sustainable Beef (CRSB) and U.S. Roundtable for Sustainable Beef (USRB).
We also support the North American Meat Institute (NAMI) and National Cattlemen's Beef Association's (NCBA). Beef Quality Assurance (BQA) animal handling standards.
Learn more about our commitment to humane animal treatment.
Collaborating with customers
We partner with customers to improve the sustainability of beef production. Our work with McDonald's in Canada is a good example. In 2014, McDonald's committed to begin sourcing a portion of its beef from sustainable sources in 2016. Cargill participated as a core member of the McDonald's Sustainable Beef Pilot project team focusing on the beef supply chain from cows all the way through beef processing. With cooperation among organizations including the CRSB, the Canadian Cattlemen's Association, the Alberta Beef Producers and the World Wildlife Fund, the pilot project is serving as a foundation for the CRSB to build a Canadian sustainable beef framework.
Through our active membership in the CRSB and GRSB, we helped ensure alignment between the pilot project, the roundtables and Canadian industry stakeholders. This pilot project was the first to incorporate and validate the GRSB principles and criteria. Two Cargill facilities in Canada – Spruce Grove and High River – went through third-party verification using the sustainability indicators developed by the pilot project.
The pilot project provides an opportunity to share best practices for improving sustainability outcomes and is helping meet McDonald's need for verified sustainable beef in the Canadian market. Now we are working on improving our ability to track and report traceability information and determining how to support our customers' ability to make consumer-focused sustainability claims. The project is helping to expand consumer trust in Canadian beef as a sustainable source of protein.

Temple Grandin: Advocating for transparency
Dr. Temple Grandin has improved animal welfare by designing livestock and harvesting areas at meat processing plants, including at Cargill's beef and pork facilities in North America. Grandin also advocates greater industry transparency and encouraged third party, remote video auditing (RVA), which Cargill has in all of its beef plants for animal welfare purposes.
Dinner with Temple Grandin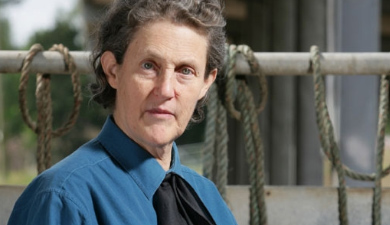 The animal welfare expert talks about her decades of work with Cargill and what's next in the animal protein industry.
Newsletter signup
Updates about Cargill's efforts to protect forests delivered to your inbox.